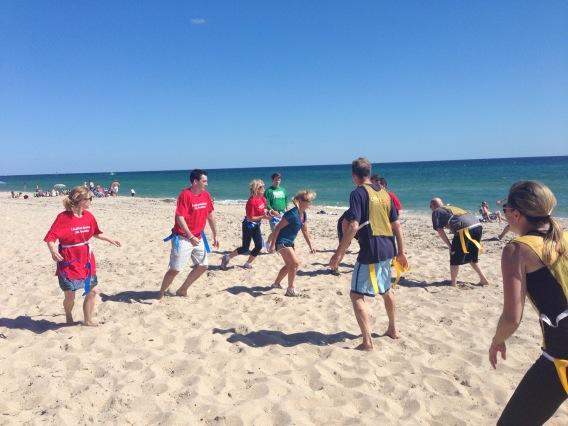 You go, Ann! Traveling press had a football match against Romney staff this weekend.
Mitt Romney with Rob Portman, staff and traveling press play touch football today… https://t.co/JwQfNLvB pic.twitter.com/WzNqo160

— Chrissie #OnlyMarco (@ChrissieSiggela) October 21, 2012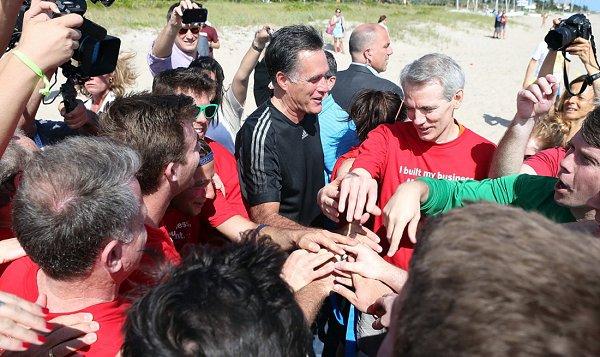 For campaign vs press beach football game, Romney does the coin toss. NYT's @ashleyrparker wins on "tails." pic.twitter.com/5PWTE5AI

— Jan Crawford (@JanCBS) October 21, 2012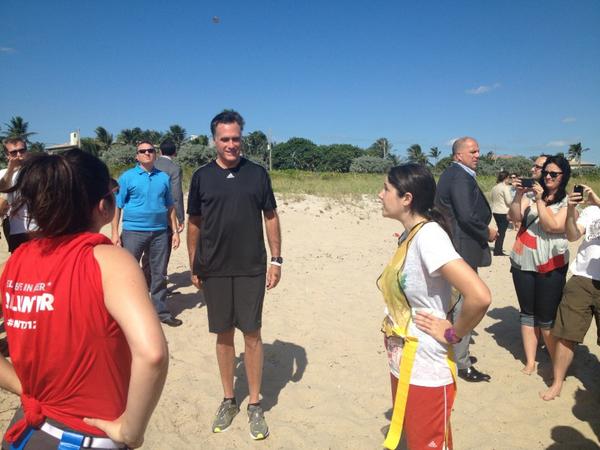 Gov drops by today's staff vs press flag football game. pic.twitter.com/wmFgdp3W

— Garrett Jackson (@dgjackson) October 21, 2012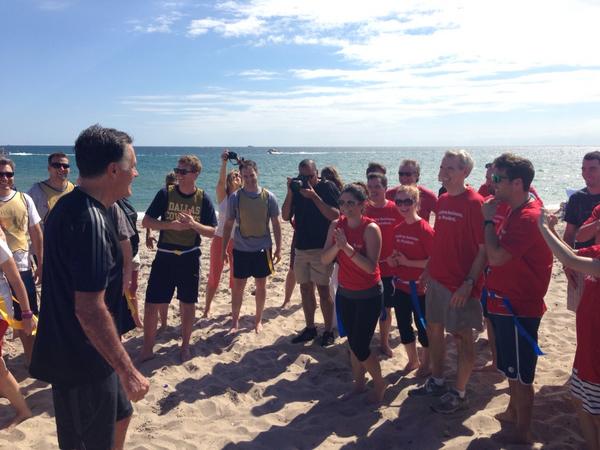 Romney jokes at press vs campaign staff flag football game on Florida beach, "Where's Chris Christie when we need him? He's our line."

— Steve Brusk (@stevebruskCNN) October 21, 2012
Ha! Governor Christie was a no-show. But, they didn't need him; Ann dominated the field. Fight like a girl? She's got it covered!
Awesome photo–> RT @dgjackson: @AnnDRomney following her blockers (secret service and @rick_gorka) pic.twitter.com/3VAhW5i1

— Ted Newton (@Ted_Newton) October 22, 2012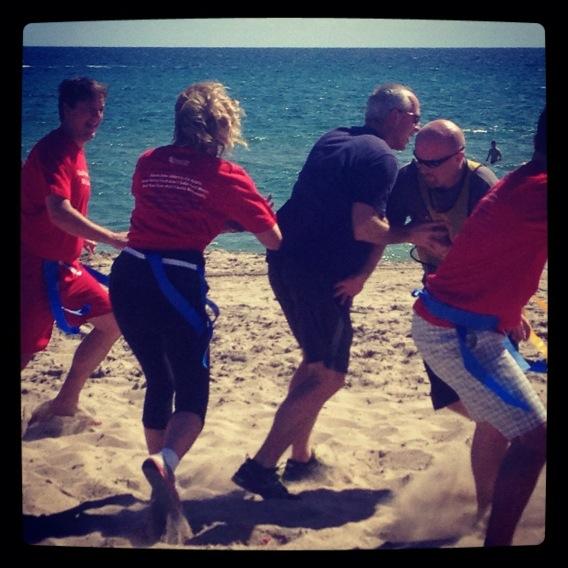 Twitter cheers her on.
@dgjackson @anndromney Love these pictures! Keep them coming! And way to go, Mrs. R.!

— Meg (@HeyMegRow) October 21, 2012
@dgjackson @AnnDRomney You go, Sista!

— terri rae sanislo (@terrisanislo) October 21, 2012
Ann continues to dominate as Carl Cameron does some kind of sporty thingie move.
Great photo by Eric Draper. @AnnDRomney runs with football as @CampaignCarl comes in for the stop. #RomneyRyan2012 pic.twitter.com/8jRcF0tD

— Garrett Jackson (@dgjackson) October 21, 2012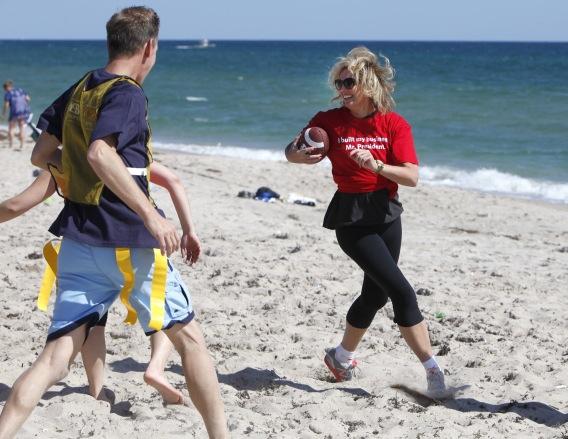 And, touchdown!
https://twitter.com/alliegdc/status/260047814707535872

love love LOVE that she did this! RT @Sarah_Boxer: In Romney staff vs press football, @AnnDRomney dominated #gameon pic.twitter.com/g9aqizGF

— Katherine Cresto (@kcresto) October 21, 2012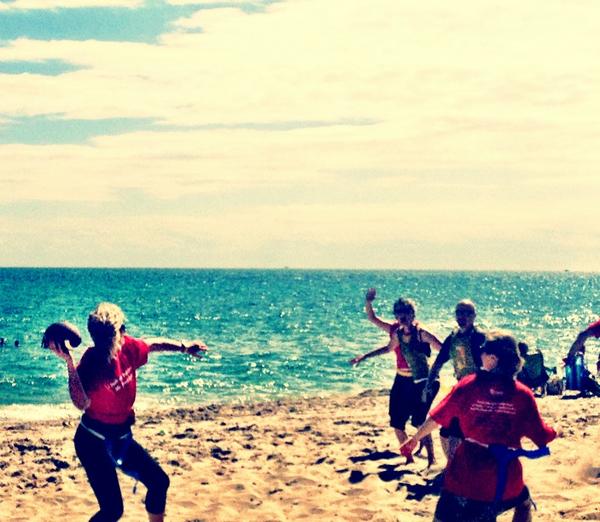 @dgjackson @AnnDRomney @Rick_Gorka KUDOS ANN!!! 🙂

— DiAnna (@TexasGirlDidi) October 22, 2012
Next FLOTUS @AnnRomney running Football at Beach game Romney Staff vs Press. ended in Tie 14-14 #tcot #tlot #icon pic.twitter.com/n0LyQLNT

— Lyn Su (@Lyn_Sue) October 22, 2012
What would the score have been without Ann? Brava, lady! Gracious, kind, smart, beautiful and a football queen!
The Romneys' grandsons, however, were more interested in these cute puppies.
Grandsons Parker and Miles spot a cute puppy as they walk to a burger restaurant in Florida with Gov and @anndromney pic.twitter.com/xCxIPx8f

— Garrett Jackson (@dgjackson) October 21, 2012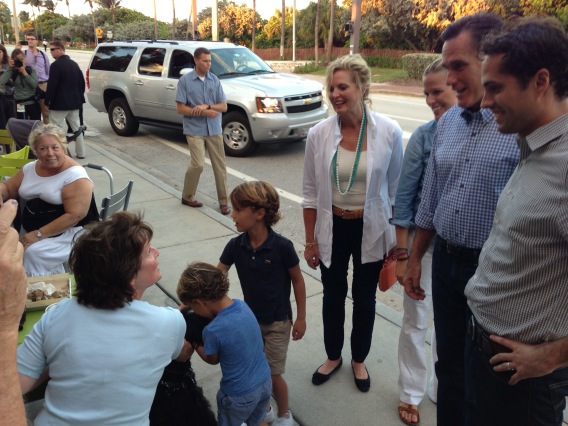 Adorable!
Recommended Twitchy Video