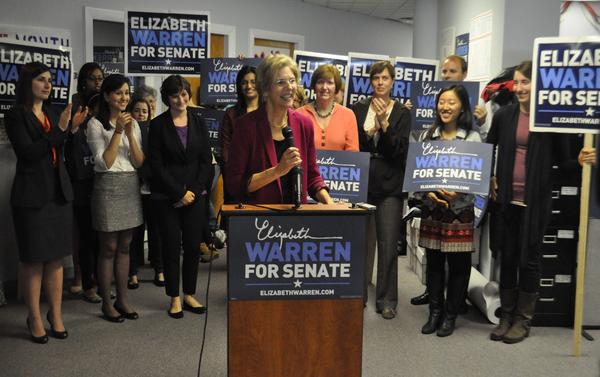 Men need not apply, evidently.
Oh, the Faux-mance! Newly minted besties, Democrat Senate candidate Elizabeth "Sitting Bull" Warren and liberal tool Sandra Fluke met up today. That thought would be bad enough, but they had to up the ick by squeeing about it on Twitter.
.@elizabethforma Couldn't b prouder 2 stand w/ Elizabeth Warren b/c she'll stand w/ #women all of the time not just some of the time! #masen

— Sandra Fluke (@SandraFluke) October 16, 2012
Kissy face! Hurl. Twitter users first pulled out their barf bags, then they brought the funny.
https://twitter.com/robharrison13/status/258245273657159680
Heh. Maybe they exchanged Pow Wow Chow recipes!
https://twitter.com/twitr_patter/status/258244478823985154
https://twitter.com/JustAnotherMo/status/258244538097889280
@elizabethforma @SandraFluke Wow 2 Liberal crazies in the same place touting the #Repubs war on women. #phonywaronwomen

— Paul Faulkner (@PaulFolklore1) October 16, 2012
—> RT @PunditReview: Any woman proud to stand with the likes of Sandra Fluke is waging a war on women's intelligence. What a joke. #masen

— Sister Toldjah ツ (@sistertoldjah) October 16, 2012
@slattof @elizabethforma @sandrafluke does "all the time" include before birth?

— Kamilla Ludwig ن (@TheBraveLass) October 16, 2012
https://twitter.com/Murf_is_Lawless/status/258249503222677505
Your faux-mance may be blooming, ladies, but Twitter users are just not that into you. But, thanks for the giggles! And thanks for something else, Sandra:
https://twitter.com/InManibusDei/status/258214987003211776
Zing!
To change your comments display name, click here.