Is there something funny, Joe? We've been having fun at the vice president's expense all week in the lead-up to tonight's debate, but things have turned serious over the last couple of days as the State Department has broken ranks with the White House and admitted that there was no protest which led to the deaths of four Americans in Libya on Sept. 11.
Vice President Biden, though, just couldn't stop smirking as Paul Ryan called out the administration on its massive security failures overseas. We think we've finally found something creepier than Jim Messina's #ForAll pose.
https://twitter.com/maddiebeveridge/status/256562514236669953
https://twitter.com/annika_boone/status/256562492153683968
https://twitter.com/imjohndavis/status/256562405209948162
Well, it certainly looks insane.
Update:
Well, that didn't take long. Biden's smirk has its own Twitter account.
Biden's smirk has evolved into laughter, but not everyone is in on the joke. Ryan fans aren't amused, and even some Obama supporters are unsure how Biden's condescending approach is playing with the audience.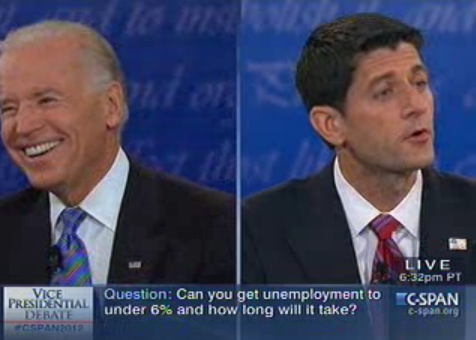 https://twitter.com/ToddKincannon/status/256565090776670209
To change your comments display name, click here.