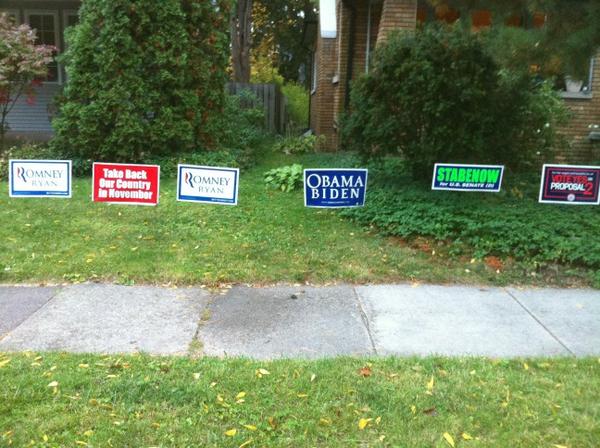 Oh yes, he did! Comedian and Fox News contributor Steven Crowder is a happy sign warrior! He posted a picture this morning of the sign battle he is having with his lefty neighbor. Don't cross The Crowder, people!
Twitter users are delighted and weigh in with some signature snark.
@scrowder That's great. I love that they're creeping right up to the property line!

— Kerry Housley (@kerryhousley) October 7, 2012
@scrowder this needs to be mediated … I'm calling the UN

— Rob Casapulla (@RobCasapulla) October 7, 2012
Heh. Some advice to secure the victory is offered.
@scrowder @WashingtonDCTea I would keep your lawn overly manicured. Make the neighbors look unruly and unkept.

— [name] (@kwall76) October 7, 2012

https://twitter.com/TheCrazyOtt/status/254930012443123712
@scrowder put some empty chairs by his Obama signs

— BigDadio #Cruzin (@BigDadios) October 7, 2012
@scrowder You want to really bug them? get this sign printed up into gigantic size and put it on your lawn. pic.twitter.com/VvaR8PDW

— Conservagrl (@conservagrl) October 7, 2012
@scrowder Vistaprint. 8 Foot banner. Sweep the leg, Johnny.

— Father Dan Beeman (@inthelineofmel) October 7, 2012
Oh, make it happen, Crowder! As these Twitter users point out, he needs to watch for vandalism. Lefties are desperate and unhinged, especially after President Obama's pitiful debate showing.
@scrowder Good for you! My Romney sign has obviously been kicked. 🙁 Don't back down!

— Crystal Turner (@turner_tess) October 7, 2012
Normally the leftists tear the signs down or deface – "@scrowder: The sign #WAR with my leftist neighbor continues… pic.twitter.com/329m1B8j"

— Kenny K (@WellyWorld) October 7, 2012
Keep the pictures coming, Crowder. Happy warriors are supporting you in this battle and the path to victory is yours!
To change your comments display name, click here.