Being commander-in-chief is hard. The president stopped by a campaign office today to visit volunteers, and not only did he generously bring a stack of pizzas — he indulged in a little whine as well.
We know the president's been hard at work; we have photographic evidence from the White House that he eventually broke down and called Benjamin Netanyahu from the confines of his office. Of course, that was after field trips to visit Jay-Z and Beyoncé, David Letterman and the women of "The View."
President ObamaPhone can (almost) always be counted on to phone it in when pressed, but he couldn't help lamenting to his volunteer supporters that "they" won't let him out to play.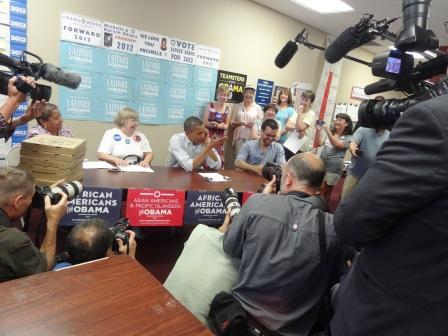 Homework can be a drag, can't it? Are "they" quizzing him on tough questions, like the amount of the national debt? Whether or not Egypt is an ally? How to spell "Ohio"?
https://twitter.com/Dianne93101/status/252914302539948032
If staying inside and working is such a drag, might we suggest a change of career?
To change your comments display name, click here.