Ann Romney made her first late night television appearance Tuesday night on "The Tonight Show with Jay Leno."
Be sure to watch @AnnDRomney on @jayleno tonight. pic.twitter.com/J5tg8n7b

— Sarah Haley (@sarahhaleyTN) September 26, 2012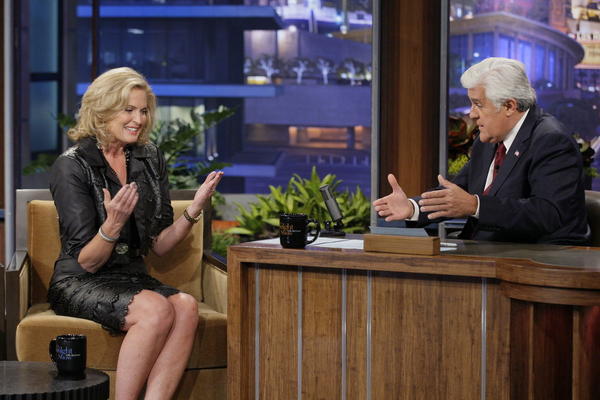 https://twitter.com/michaeljvance/status/250897548502523904
Predictably, some desperate, venomous Romney-bashers showed their true War on Women colors by blasting Mrs. Romney's "slutty" black leather "dominatrix" outfit. Guess families aren't off limits after all, huh?
Ann Romney on Jay Leno wearing her favorite slutty black biker girl outfit. Not age approprite. Trying too hard to look and be youthful….!

— cornelius james. (@carenagecorny) September 26, 2012
What's Ann Romney wearing? She looks like a Country Western dominatrix @Karoli

— News Junkie (@Flameretardnt) September 26, 2012
Ann Romney, awkward cowgirl dominatrix beauty pageant contestant – not a good look. #tonightshow

— ThingsThatMakeUGoHm (@KaylaWildflower) September 26, 2012
https://twitter.com/theb2xpress/status/250817364378132480
Odd, we thought libs were all about the biker chicks.
Oh, right… Bring in Ann Romney and NOW biker women are creepy… No double standard here… #WarOnWomen @TheToast2012 pic.twitter.com/uwFJhOzh

— Billy Cole (@WilliamColeFL) September 26, 2012
As always, class warriors came armed with breathless kvetching about the price of Mrs. Romney's clothes.
The left's best attack against Ann Romney is her "expensive" clothes. You'll also notice these morons retweeting celebrities soon after.

— eric (@eriContrarian) September 26, 2012
But eat the riiiiiiich!!!11!
I know next to nothing about women's fashion, but I'm fairly sure that leather outfit cost more than I make in a month. #AnnRomney #Leno

— AverageBro (@AverageBro) September 26, 2012
an ugly outfit that she prob paid waaay too much for RT @Toure RT @profblmkelley: Ann Romney is wearing what on the Tonight Show????

— Marissa (@arieswriter) September 26, 2012
Eventually libs dropped their obnoxious sartorial policing to focus in on one terrible, no good remark.
Asked by Leno to reflect on the significance of the first Mormon president, Mrs. Romney said she hoped that if her husband were elected, "We would see more of the same, that prejudices are left behind."
How dare Mrs. Romney even mention anti-Mormon prejudice? That's not real prejudice, you see. That's just completely fair and rational examination of a candidate's background (if you're a lib). And besides, the Romneys exhale bigotry with every breath. Or something.
Poor @anndromney having to face prejudice! I wonder how many country clubs the Mormon was denied entry to. #ShutUpAnn http://t.co/cgISwbbW

— The Truth Hurts (@LaVeritaFaMal) September 26, 2012
Right , a Mormon prez who lies about welfare to bait white people to vote for him. Right: a vote agaunst prejudice. #Romney

— Donna Ladd (@DonnerKay) September 26, 2012
No Ann Romney, a female lesbian muslim and a male gay jew as prez and veep would show prejudice had been left behind. Mormon? Not so much.

— candle (@zantetsuken76) September 26, 2012
Ann Romney says that electing a Mormon president would show prejudice is in the past. Coming from the guy who wants to outlaw gay marriage.

— Logan Lafferty (@MrLeviathan) September 26, 2012
'Ann Romney: Election of a Mormon president would be a signal that 'prejudices are left behind.' She has NO clue what PREJUDICE is

— iamlinda ⌘- (@pica2pixel) September 26, 2012
@AnnDRomney ur so fake u want to see prejudice left behind.. u guys hate gays!! #shutup

— Sonshine La Ray (@SonshineLaRay) September 26, 2012
https://twitter.com/muddyspoon/status/250916239210340353
https://twitter.com/Queen_LaDiva/status/250812898304200704
@AP @APCampaign – That made me laugh out loud since since prejudice & inequality are hallmarks of the Romney/Ryan campaign!

— Rowan Celeste (@rowan_celeste) September 26, 2012
Ann Romney on Leno; said wants to "leave prejudices behind" if her Mormon husband is elected. Isn't not allowing gays 2 marry a prejudice?

— Michael Cook (@Cookster74) September 26, 2012
https://twitter.com/RunCraftier/status/250917962616287232
Prejudice? What prejudice?
Apparently I missed the Duchess Ann Romney, dressed in black pleather? How did she manage to pull it up over the magic undies? #P2

— Suss (@BrnEyeSuss) September 26, 2012
Prejudice? Unless Mormons start wearing magic underwear on the outside of their clothes, we don't know who they are. http://t.co/1oeahQey

— Daniel Robinson (@daguro) September 26, 2012
Ann Romney on Leno wearing Palin's cast-off biker clothes. WTF. Maybe she's wearing the black magic undies tonight. http://t.co/NMA4eKj6

— yobaba (@yoyobaba) September 26, 2012
Mrs. Romney speaks out against prejudice and bigots respond with magic underwear barbs. Despicable liberal tolerance on parade.
To change your comments display name, click here.