Democrat apologitis continues! Senator Kerry and the U.S. embassy in Islamabad, Pakistan, continue to not get the White House's new memo. Days after the murders at our consulate in Libya, the White House finally admitted that it was a terrorist attack, after blaming a crummy video that no one saw and condemning free speech. For a week.
Yesterday, the U.S. embassy in Islamabad continued the State Department's pattern of apologizing for ouchy feelings. Free speech is so meany pants! And today, they did it again. Right before yet another round of violence in Pakistan . What brought the apologitis on this time? Why, Senator John Kerry, natch.
Senator John Kerry met in Washington yesterday with Pakistani Foreign Minister Hina Rabbani Khar and Ambassador Sherry Rehman.

— US Embassy Islamabad (@usembislamabad) September 21, 2012
Senator Kerry met with them yesterday in Washington, where he condemned free speech.
#Pakistan-US: As we kick off the FM's first official visit to Washington, we look for dialogue to be focused, substantive and constructive.

— SenatorSherryRehman (@sherryrehman) September 19, 2012
By substantive and constructive, she clearly means apologetic and craven.
Picture: #US Senator John Kerry speaks after meeting with Foreign Minister Hina Rabbani Khar & Amb @sherryrehman #PakUS pic.twitter.com/abslfsaQ

— Shafiq Solangi (@ShafiqSolangi) September 21, 2012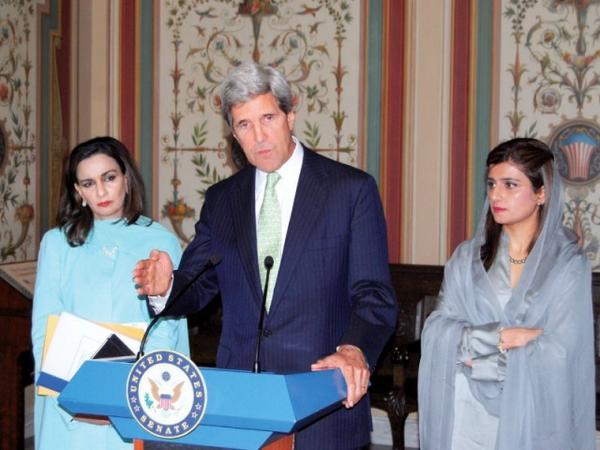 Senator Kerry made these remarks to the media after an hour-long meeting with Foreign Minister Hina Rabbani Khar and Ambassador Sherry Rehman at Capitol Hill. Senator Lugar, Senator Bob Casey, and other members of the Senate Foreign Relations Committee also attended the meeting.

"All of us in the US, all of us condemn this senseless intolerance exhibited by the video which very few Americans saw and have seen. We feel it is without any legitimacy, any potential redeeming quality. It is an insult to everybody," said Senator Kerry. He added that no religion deserves disrespect, and the US was founded on the principles of tolerance, that everyone needs to work towards.
Right. Tolerance for thee, but not for me. "Senseless intolerance" … which no one saw.
Sen. Kerry: All of us condemn the sensless intolerance exhibited by the video which few Americans have seen

— Huma Imtiaz (@HumaImtiaz) September 20, 2012
By saying the video has no redeeming quality and no legitimacy, he's saying that free speech itself is not legitimacy enough. Free speech itself is a redeeming quality, Senator, and one upon which this great nation was founded. What is truly an insult to everyone, including the men and women who have died protecting our freedom, is your gross disregard for The Constitution. You seek to quash free speech, based on perceived insults to certain protected quarters, by condemning the free exercise thereof. Free speech is redeeming, sir. The quashing of it is sickening.
@usembislamabad Where's the official tweet about the first amendment rights for the maker of that film…regardless of its content?

— Geo Yoda (@geoman65) September 21, 2012
https://twitter.com/canuck_033/status/249171112477483008
Pakistan's foreign minister almost topped him with this statement.
In her remarks, Foreign Minister Khar thanked Senator Kerry for his statements on intolerance. "Islam is a religion of peace, Prophet Muhammad (PBUH) was a messenger of peace," said the minister.
Peace? This is peace?
'Special day of love': Mob violence breaks out in Peshawar on national protest holiday
Americans warned to avoid Sydney and Melbourne amid fears of protests
To change your comments display name, click here.