While most of us were reacting in shock and horror last week to images of the American flag being torn down from our embassy in Cairo, another startling bit of news emerged: President Obama had been booked for an appearance on "The Late Show with David Letterman." That had to be a case of bad timing, right? Certainly the president would reschedule seeing that, well, the world was on fire.
Nope.
Outside our windows at 30 Rock @barackobama on his way to @Late_Show w/ David Letterman pic.twitter.com/Mb2onY2d

— Anthony Terrell (@AnthonyNBCNews) September 18, 2012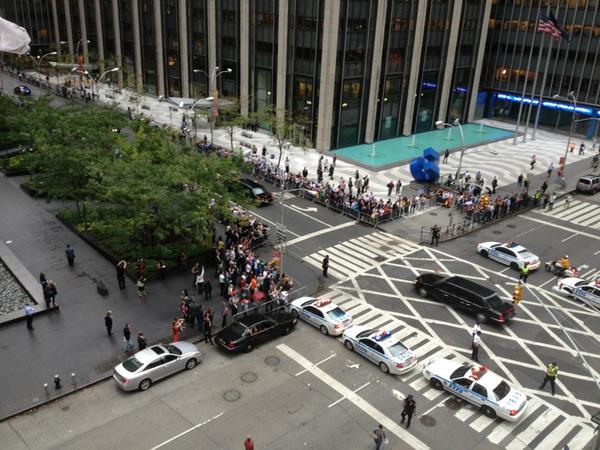 Middle East Burns, Economy Sputters, Obama Drops by Letterman Before Beyoncé Bash http://t.co/Vv3Q94RF

— Larry O'Connor (@LarryOConnor) September 18, 2012
Some things are just too important to miss, like a fundraiser at Jay-Z and Beyoncé's club and a side-trip to Letterman's comfy chair. Reporters were there to give us a preview of tonight's show, because this is news, right? In case you can't stomach it, here's a summary of the appearance in easy-to-digest tweets.
The great uniter took a swipe at the super-secret Romney fundraiser video, floating the campaign's line that Obama is and always has been there for all of us.
On Letterman, Obama jabs Romney: "What I think people want to make sure of, though, is you're not writing off a big chunk of the country."

— Peter Baker (@peterbakernyt) September 18, 2012
Taping Letterman, asked about Mitt Romney's 47% comment, Pres Obama says as a president, you've got to work for everybody, not just some.

— Mark Knoller (@markknoller) September 18, 2012
Obama tells Letterman being POTUS means representing everyone. Is he planning to start that soon? His term is almost over. #fairshare

— Rick Moore (@RickMoore) September 18, 2012
No really. Obama is actually going to claim he doesn't divide people tonight on Letterman. The RNC needs to gather up all the divisive clips

— RBe (@RBPundit) September 18, 2012
Obama, fresh from a Democratic National Convention which bumped Sandra Fluke to a prime-time speaking role, denies that the national suffers from a growing entitlement mentality.
Obama on Letterman ""There are not a lot of people who think they're entitled to something."

— John Sexton (@verumserum) September 18, 2012
Romney's opponents say the undercover video just proves further how out of touch Romney is. Obama, though, understands your pain — the man's working two jobs, after all!
Asked by Letterman about campaigning as an incumbent, Pres Obama said it's harder because you have 2 jobs – "but the plane's nicer now."

— Mark Knoller (@markknoller) September 18, 2012
Obama surprised many by answering some pointed questions from Letterman about the Fast and Furious gun-walking scandal. Well, almost.
Letterman told Obama how grown up daughters look. "Does that kill you?" Obama: "It worries me, but they're surrounded by men with guns."

— Alex Leary (@learyreports) September 18, 2012
I thought we didn't joke about the daughters, as kids are strictly off limits. Oh, wait.
Why is Obama meeting with Letterman, a man who made sexual jokes about Palin's daughters? #WarOnWomen #p2

— Will Antonin (@Will_Antonin) September 18, 2012
@will_antonin I'm going to just throw this wild guess out there – is it because he is an no class idiot?

— Patrick Arnold (@PatrickArnold6) September 18, 2012
Anything else going on in the world?
So Obama is discussing the murdered ambassador with Letterman?

— Frank J. Fleming (@IMAO_) September 18, 2012
You mean that YouTube video which killed all those people? Handled.
Obama also talks Libya with Letterman. Says US govt "obviously" denounced anti-Muslim film, "government had nothing to do with it."

— Jennifer Bendery (@jbendery) September 18, 2012
The episode hasn't aired yet, so we'll have to take the word of the press on that one for now. But really? The White House is sticking with the "blame the video" line, even after Ambassador Susan Rice's disastrous appearance on the Sunday shows?
The first lady made her own television appearance last week to address the number one threat to America's national security: obesity. Letterman and Obama weren't afraid to shy away from this important topic.
AWKWARD: Obama: "You look good." Letterman: "You haven't seen me naked." Obama: "We're going to keep it that way."

— Jennifer Bendery (@jbendery) September 18, 2012
Well, we're glad that's covered. Literally.
To change your comments display name, click here.