The U.S. State Department used Twitter to warn of "large crowds and other gatherings that might turn violent" in Indonesia Monday.
News you can use … or could have used before a violent mob armed with Molotov cocktails, rocks and sticks launched an assault on the U.S. Embassy in Jakarta. The rioting began several hours before the State Department's Twitter warning.
Eleven police officers were hospitalized after being pelted with rocks and attacked with bamboo sticks, said Jakarta Police Chief Maj. Gen. Untung Rajad. Four protesters were arrested and at least one hospitalized.

Protesters burned a picture of President Barack Obama, who spent part of his childhood living here. They also tried to torch a fire engine parked outside the embassy, ripping a hose from the vehicle and igniting it, which sent plumes of black smoke billowing skyward.

…

"We will destroy America like this flag," a protester screamed while burning a U.S. flag. "We will chase away the American ambassador from the country."
Tweets about the escalating riot appeared hours before the State Department's tweet.
Islamic defenders front throwing rocks and molotov cocktails at us embassy jakarta. Police shooting teargas

— step vaessen (@stepvaessen) September 17, 2012
#Jakarta hardliners reportedly taken police by surprise by throwing rocks at the embassy b/c until now protests in #Indonesia were quiet

— Paula Slier (@PaulaSlier_RT) September 17, 2012
https://twitter.com/LailaIstiQomah/status/247630001397186560
Some images of the violence in Jakarta:
The protest spread! US flags burned by protesters in front of US embassy in Jakarta. pic.twitter.com/w3ECWyfM

— Jack Horowitz (@Jackhorowitz) September 17, 2012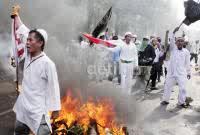 Violence erupts at US embassy in Jakarta: http://t.co/t4ZplW44 pic.twitter.com/Eb6sJeXY

— Jack Horowitz (@Jackhorowitz) September 17, 2012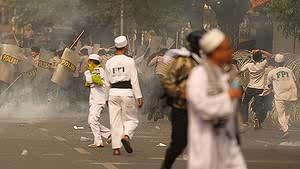 In front of US Embassy Jakarta .. pic.twitter.com/skO1OKJk

— Helen Brown (@hbrown10) September 17, 2012