The protests that started at the U.S. Embassy in Cairo today took an even more ominous turn as news outlets reported the death of a U.S. official in an attack on the American consulate in Benghazi, Libya.
Just last week at their convention, the Democrats offered Sen. John Kerry as the party's voice of foreign policy, criticizing Mitt Romney for drawing his knowledge of Russia from watching "Rocky IV." Tonight, though, with word of the U.S. Consulate in Benghazi having been burned down, the Twitterverse wants to know if there's an empty chair sitting next to that ringing telephone.
That 3am Phone Is Ringing!!!!! American Killed in Libya Consulate Attack. Obama is Silent.

— ** TRUMP ** (@HouseCracka) September 11, 2012
9/11/12: American killed in Libya; US emb. in Cairo overrun; Putin weighs in. At home, Obama trying to label Romney a neophyte. #alleconomy?

— Kasie Hunt (@kasie) September 11, 2012
11 year anniversary of 9/11: US attacked in Egypt & Libya; Obama tells Israel to pound sand. #forward ??? More like speeding in reverse!!!

— Kerrick Whisenant (@kwhisenant) September 12, 2012
Sooo…obama how bout that foreign policy of urs… Diplomat killed in Libya, Morsi meeting w/Iran, & egyptians tearing down US flag on 9/11

— MJ (@malloryjones83) September 12, 2012
Kerry wasn't the only figure from the Democrats' past to emerge for the convention. Former President Jimmy Carter spoke via video, and today's events have him back in the top of people's minds.
So basically Obama went "Full Carter" today.

— Mickey White (@BiasedGirl) September 11, 2012
Wait, has anyone actually seen Carter and Obama in the same room? #justaskin

— Tammy Bruce (@HeyTammyBruce) September 11, 2012
#Obama absent during 9-11 embassy attack. Jimmy Carter seen doing backflips though peanut field exclaiming "I'm now SECOND WORST!" #tcot #p2

— James Madison (@SpiritOfMadison) September 12, 2012
The parallels between Carter and Obama are so concrete it boggles the mind. #p2 #tcot #tlot #Obama2012

— Nathan Hale (@NH92276) September 12, 2012
Embassy is sovereign soil of its country. Attacking embassy is an act of war. Obama acting like Clinton (Kenya & Tanzania) & Carter (Iran).

— Mike Robbins (@MikeRobbinsUSA) September 12, 2012
Carter '79 "@DosMasCervezas: . @AndrewCMcCarthy on #Levin: Can you imagine anyone prior to Obama's election daring to attack a US embassy?"

— dbe928 (@dbe928) September 12, 2012
Anyone know how long it took Carter to make a statement after the Iranian embassy was stormed?

— RBe (@RBPundit) September 12, 2012
Re: Carter response -> RT @KRMullins1964: @RBPundit If my memory serves me, I think it was less than thirty minutes.

— RBe (@RBPundit) September 12, 2012
Pretty much impossible to not see the similarities between Jimmy Carter and Barack Obama when you see this pic.twitter.com/KMlKFxQw

— Dr. Jason B. Whitman (@JasonBWhitman) September 11, 2012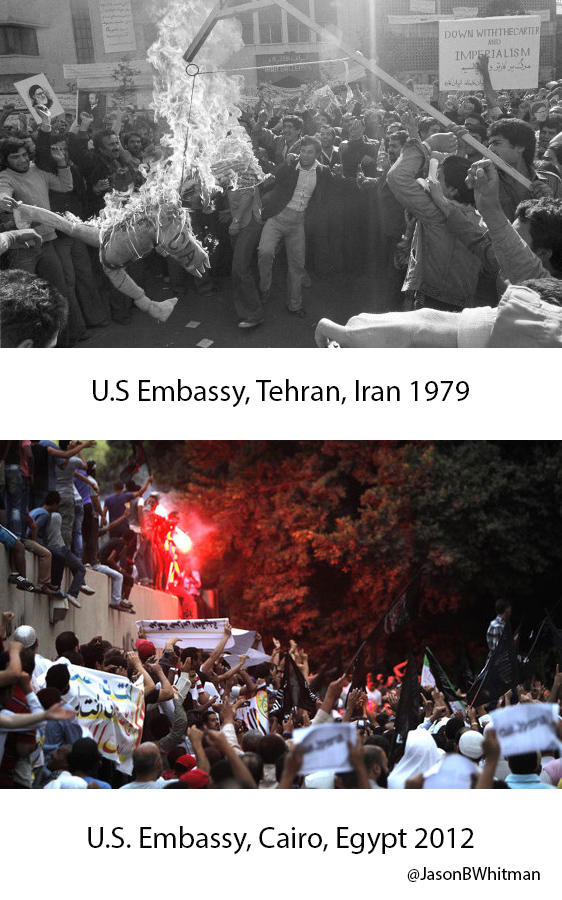 Update:
Romney released a statement Tuesday night saying he was "outraged" by the attacks by Islamists on the U.S. Embassy in Cairo and the U.S. Consulate in Benghazi and calling the White House's response "disgraceful."
I'm outraged by the attacks on American diplomatic missions in Libya and Egypt and by the death of an American consulate worker in Benghazi. It's disgraceful that the Obama administration's first response was not to condemn attacks on our diplomatic missions, but to sympathize with those who waged the attacks.
An administration official attempted to disavow the embassy's original statement earlier tonight, saying it had not been cleared in Washington.
Anyone got money on whether the media will be more upset with Romney's reaction to Obama's failure re: embassies than with Obama? #tcot

— RBe (@RBPundit) September 12, 2012
To change your comments display name, click here.