Hmmm … is that legal? (Answer below: It's legal, but also another glaring example of Obama hypocrisy.) The Washington Free Beacon has more: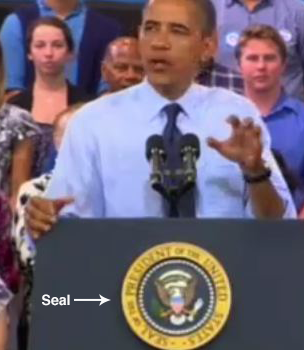 President Obama spoke from behind a podium emblazoned with the official presidential seal during a campaign event Wednesday morning in Las Vegas.

The event, which took place at the Canyon Springs High School, was designated as a 'Äúcampaign event'ÄĚ on the White House'Äôs official daily schedule for the president.
Twitchy reminds you that Obama was against exploiting the presidential seal before he was for it. Flashback:
The seal is back.

For the first time at one of President Obama's re-election campaign events, his lectern displayed the presidential seal.

It had been the policy of the Obama White House that the presidential seal would not be displayed at purely political and campaign events.

The policy ended today at Mr. Obama's campaign speech on the campus of Carnegie-Mellon University in Pittsburgh, where the presidential seal adorned his lectern.

…There's nothing illegal about displaying the presidential seal at a political event being addressed by the president, but until now, the Obama White House felt it was inappropriate.

In 2010, White House Press Secretary Robert Gibbs told CBS News that it had been decided 'Äúthat at strictly political events we would not use'ÄĚ the presidential seal.

However, an Obama campaign official today points out that 'Äúit'Äôs common practice for sitting presidents to use the presidential seal at campaign events when they are running for re-election.'ÄĚ
Recommended Twitchy Video