As Twitchy reported, President Obama and Mitt Romney met today at the White House for a lunch summit. While the media were sadly kept away from the summit and forced to dream up lunch conversations, we were fortunate enough to eventually get a peek at Obama and Romney making nice in the Oval office.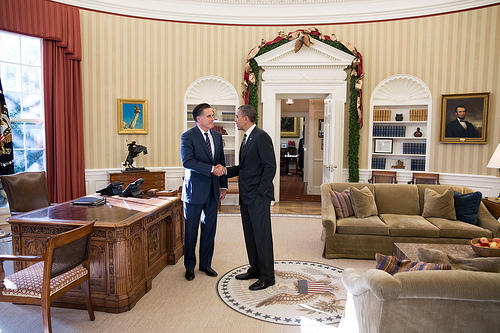 The men reportedly promised to keep in touch. Just like buddies!
https://twitter.com/timmybeaverhaus/status/274259969895985153
The Twitter consensus seemed to be that the photo could best be described as incredibly awkward:
A body language expert apparently agrees with that assessment:
Maybe so. But the body language isn't the only thing about that picture that didn't sit well with people. Some notice that there was something else about the photo that seemed … off:
Just who was that mysterious doorway lurker?
https://twitter.com/ArthurDelaneyHP/status/274252336069758976
Perhaps Photoshop can shed some light on the mystery:
Or maybe it's this guy:
Definitely could be him. Even though the president is all set to jet off to Hawaii for a three-week vacation, the fiscal cliff is always lurking.