Tears.
"This one is for you," "Jack Pinto, my hero" and "R.I.P. Jack Pinto" have been inscribed onto Victor Cruz's cleats.
What a beautiful tribute to one of the victims of the Newtown tragedy by New York Giants wide receiver Victor Cruz. He also reportedly called the family of 6-year-old Jack Pinto, who was a huge NY Giants fan.
Earlier today, Cruz tweeted his prayers and condolences to the young boy's family.
Jack's parents are reportedly considering burying their little angel in Cruz's jersey.
Cruz and his teammates will be playing for all the innocents lost in Newtown.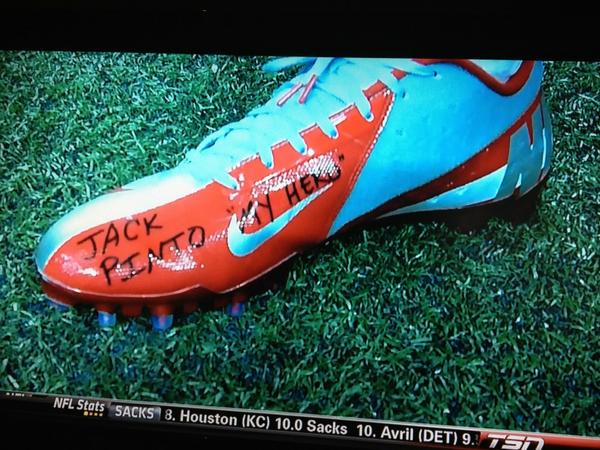 Another glimmer of good in the darkest of times. Thank you, Victor Cruz, for honoring young Jack Pinto with your beautiful dedication.
Amen. Our thoughts and prayers continue to be will all affected. Good luck, New York Giants: "This one is for you, Jack."