Oh, my! How can the headline masters at the New York Post beat that?
https://twitter.com/largelatteplz/status/268371492201439232
https://twitter.com/jessmisener/status/268391730913632256
Does the NY Post deliver? You be the judge. As Twitchy reported yesterday, the voice of "Sesame Street's" Elmo has taken a leave of absence due to allegations of a sexual relationship with a minor.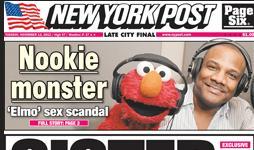 But, wait, there's more. They did a split cover, working in the "unstable twin" Petraeus news, which is just the latest soap opera-esque news to enter the already salacious mix.
https://twitter.com/BonzoTMonkey/status/268392137282969600
A vote for the NY Post:
And one for the Daily News:
What say you, readers? Over the weekend, the Post won round one in the battle of Petraeus covers. What about now? Did the Daily News take this bout?