Oh, my! Matt Drudge took to Twitter to tease a video release scheduled for tonight.
And not from Mother Jones.
Something bombshell-y on the eve of the first presidential debate?
https://twitter.com/DRUDGE/status/253223344441270272
What could it be? These Twitter users hazard some guesses.
https://twitter.com/Wingnutte/status/253225565845331968
Heh.
Twitchy will monitor and update on developments.
Update: The teasing continues!
Update: Oh, my.
FOX NEWS TONIGHT: OBAMA'S OTHER RACE SPEECH
Reaction comes in quickly.
Heh.
Time magazine's Mark Halperin is all stompy foot. Well, stompy lapdog paws.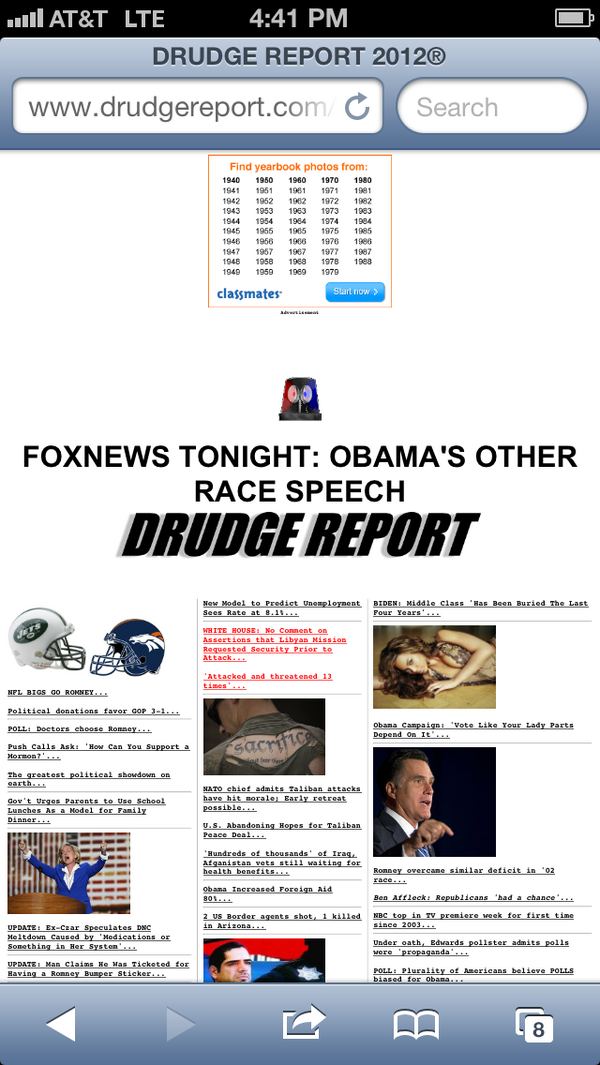 Zing!
Your move, Mark.
Twitchy will continue to monitor and update with further developments.
Update: More teases.
DAILY CALLER: 'For nearly 40 minutes, using an accent he never adopts in public, Obama describes a racist, zero-sum society, in which the white majority profits by exploiting black America'… Developing tonight…
Drudge continued teasing the "curious" tape with these tweets:
https://twitter.com/DRUDGE/status/253274434604003328
https://twitter.com/DRUDGE/status/253276183570030592
https://twitter.com/DRUDGE/status/253276635602763777
https://twitter.com/DRUDGE/status/253277858741514240
Update:
More Twitchy coverage:
Nothing to see here: Progressives dismiss Drudge video tease before it airs
Vile: Lefties can't handle Drudge video tease, spew vicious accusations of racism
'Obama's other race speech' is old news — except for new parts media edited out