This afternoon, Fox News aired a car chase live. Tragically, it ended with a man committing suicide by shooting himself in the head. On live television.
Fox News apologized.
Yet, BuzzFeed and Mediaite felt the need to clip the video and post it.
Absolutely appalling. In a quest for sick viral clicks, BuzzFeed and Mediaite posted the graphic video of a man committing suicide.
Yep, BuzzFeed and Mediaite felt the need to post it. You know, in case you missed it and felt like reveling in a sick snuff video.
This Twitter user thinks they were right to do so.
Yes, people are talking about it. But there is a little thing called human decency. Most on Twitter realize that and give BuzzFeed and Mediaite the business for apparently caring more about viral clicks.
https://twitter.com/steebo77/status/251770548256899072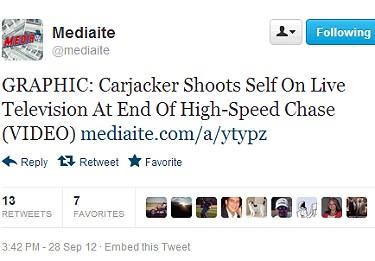 https://twitter.com/KimberlyNFoster/status/251781437412487169
Appalling.
In the meantime, everyone can take the advice of IowaHawk.
And this Twitter user.
recent stories