The TSA just gets worse and worse.
Scott MacFarlane of Cox Media reports that a TSA agent exposed a 17-year-old girl's breasts during a pat-down at LAX. The girl is said to be the grandniece of Texas Rep. Ralph Hall.
But the agent wasn't fired. Why? Because the TSA said it was, like, totally an "accident."
Sure, because it's super easy to accidentally expose a young woman's breasts to the public during a routine pat-down. Sounds a lot like sexual abuse to us.
Since LAX is in Rep. Maxine Waters' district, Hall asked her to submit a complaint to the TSA.
The officer "apologized." Really. A TSA agent slipped a teenage girl's dress off and "accidentally" exposed her breasts and is forced to … apologize? Let's hear it for union contracts!
Update:
Great question.
Update:
So, she was asking for it because of the way she was dressed? Got it.
Call us crazy, but isn't not exposing a woman's breasts without her consent just common decency? The agent doesn't need "counseling on professionalism"; he needs to be punished.
Click the link in the previous tweet to watch the video. MacFarlane reports that the incident happened two years ago, but information about the probe into the TSA incident was just obtained via a Freedom of Information Act request.
Update, Wednesday, Nov. 21:
Reporter Scott MacFarlane released images of the TSA's internal report today. The TSA did indeed blame the girl and her dress for the "embarrassing and unfortunate" accident.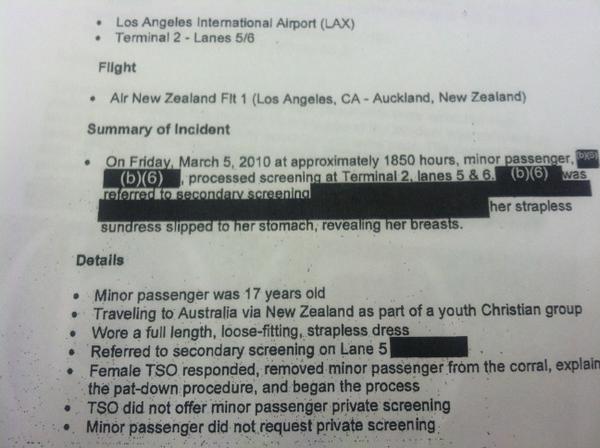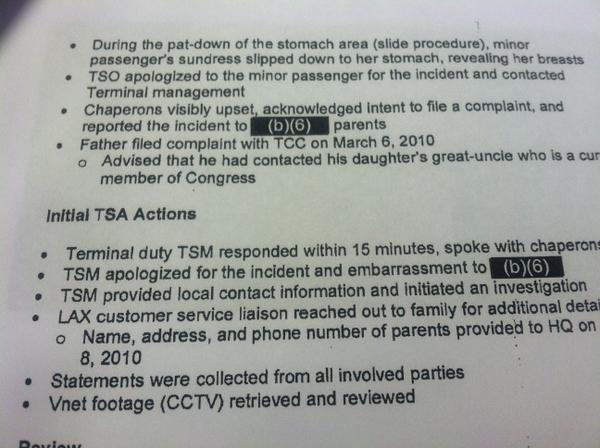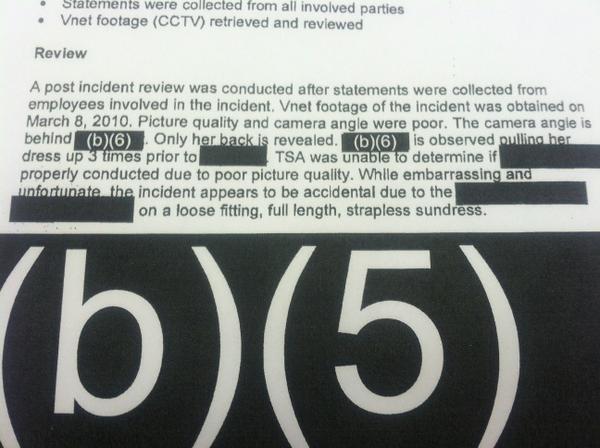 Update:
The TSA refuses to answer questions about its communications with the teen girl and her family.
Update:
In a letter to Rep. Maxine Waters, the TSA said the officer who "screened" a 17-year-old girl's sundress right off her shoulders was "counseled" on "professionalism and customer service."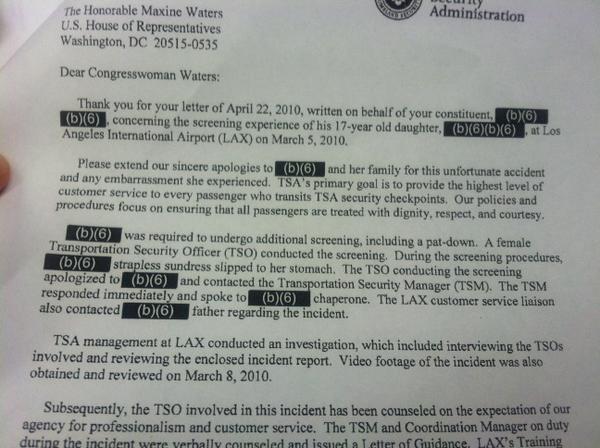 Update:
Evidently Rep. Hall's family chose not to sue the TSA so they could maintain their privacy.
Reporter Scott MacFarlane has done excellent work exposing this incident of abuse by a TSA officer. Please follow him on Twitter at @MacFarlaneNews.