Ann Romney made her first late night television appearance Tuesday night on "The Tonight Show with Jay Leno."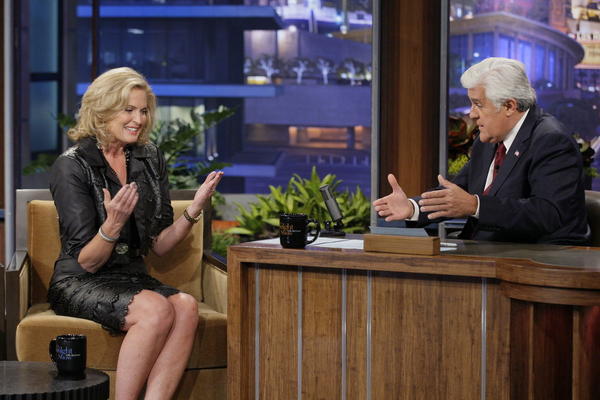 https://twitter.com/michaeljvance/status/250897548502523904
Predictably, some desperate, venomous Romney-bashers showed their true War on Women colors by blasting Mrs. Romney's "slutty" black leather "dominatrix" outfit. Guess families aren't off limits after all, huh?
https://twitter.com/theb2xpress/status/250817364378132480
Odd, we thought libs were all about the biker chicks.
As always, class warriors came armed with breathless kvetching about the price of Mrs. Romney's clothes.
But eat the riiiiiiich!!!11!
Eventually libs dropped their obnoxious sartorial policing to focus in on one terrible, no good remark.
Asked by Leno to reflect on the significance of the first Mormon president, Mrs. Romney said she hoped that if her husband were elected, "We would see more of the same, that prejudices are left behind."
How dare Mrs. Romney even mention anti-Mormon prejudice? That's not real prejudice, you see. That's just completely fair and rational examination of a candidate's background (if you're a lib). And besides, the Romneys exhale bigotry with every breath. Or something.
https://twitter.com/muddyspoon/status/250916239210340353
https://twitter.com/Queen_LaDiva/status/250812898304200704
https://twitter.com/RunCraftier/status/250917962616287232
Prejudice? What prejudice?
Mrs. Romney speaks out against prejudice and bigots respond with magic underwear barbs. Despicable liberal tolerance on parade.