New York Gov. Andrew Cuomo held a press conference tonight to brief the media on gun control proposals he has negotiated with the state's legislature.
YNN Syracuse's Caryn Littler was on hand to live-tweet the announcement.
The centerpiece of the measure would update the state's assault weapons ban of 1994 and limit high-capacity magazines from 10 bullets to seven. Having eight or more bullets in a magazine would result in a $200 fine and a misdemeanor charge. The assault weapons ban would apply to semiautomatic weapons with a detachable magazine.

Private sales would be subject to a background check, with dealers serving as the middle-man and would be able to charge a small fee. Private sales over the internet would also end, according to the draft legislation.
Not everyone listening to the announcement of Cuomo's "common sense approach" to gun control was impressed by what they heard.
https://twitter.com/SeanEwart/status/291004710931025920
https://twitter.com/kn_kovacik/status/291006011710525441
https://twitter.com/dservati/status/291005972581851136
New York State Sen. Greg Ball has been one of the most vocal opponents of the Journal News' plan to publish the names of gun permit holders.
In a nod to the recent outing of gun permit holders by the Journal News, the legislation reportedly includes a provision which would allow gun permit license holders to petition to have their names withheld from public disclosure if they feel the exposure would pose a danger to their safety.
Cuomo said the state Senate is expected to vote on the legislation tonight.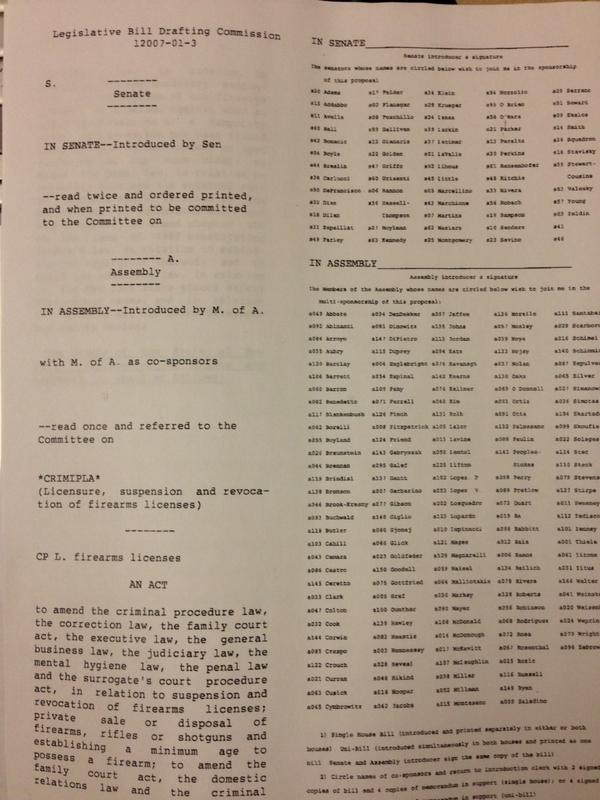 The full text of the bill is available online.
* * *
Update: That was fast.
http://twitter.com/hglaser1/statuses/291010754314907648