While most of us were reacting in shock and horror last week to images of the American flag being torn down from our embassy in Cairo, another startling bit of news emerged: President Obama had been booked for an appearance on "The Late Show with David Letterman." That had to be a case of bad timing, right? Certainly the president would reschedule seeing that, well, the world was on fire.
Nope.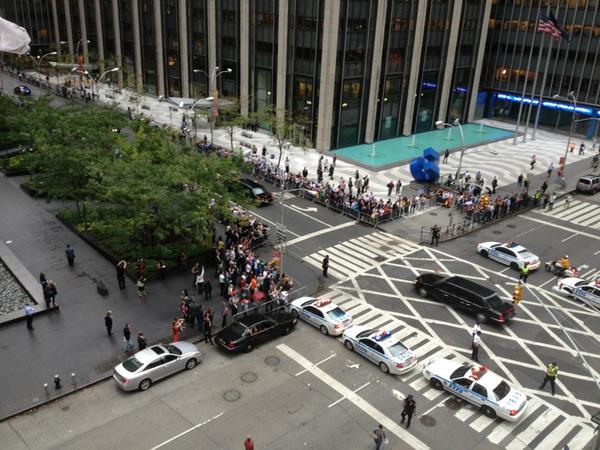 Some things are just too important to miss, like a fundraiser at Jay-Z and Beyoncé's club and a side-trip to Letterman's comfy chair. Reporters were there to give us a preview of tonight's show, because this is news, right? In case you can't stomach it, here's a summary of the appearance in easy-to-digest tweets.
The great uniter took a swipe at the super-secret Romney fundraiser video, floating the campaign's line that Obama is and always has been there for all of us.
Obama, fresh from a Democratic National Convention which bumped Sandra Fluke to a prime-time speaking role, denies that the national suffers from a growing entitlement mentality.
Romney's opponents say the undercover video just proves further how out of touch Romney is. Obama, though, understands your pain — the man's working two jobs, after all!
Obama surprised many by answering some pointed questions from Letterman about the Fast and Furious gun-walking scandal. Well, almost.
I thought we didn't joke about the daughters, as kids are strictly off limits. Oh, wait.
Anything else going on in the world?
You mean that YouTube video which killed all those people? Handled.
The episode hasn't aired yet, so we'll have to take the word of the press on that one for now. But really? The White House is sticking with the "blame the video" line, even after Ambassador Susan Rice's disastrous appearance on the Sunday shows?
The first lady made her own television appearance last week to address the number one threat to America's national security: obesity. Letterman and Obama weren't afraid to shy away from this important topic.
Well, we're glad that's covered. Literally.