The protests that started at the U.S. Embassy in Cairo today took an even more ominous turn as news outlets reported the death of a U.S. official in an attack on the American consulate in Benghazi, Libya.
Just last week at their convention, the Democrats offered Sen. John Kerry as the party's voice of foreign policy, criticizing Mitt Romney for drawing his knowledge of Russia from watching "Rocky IV." Tonight, though, with word of the U.S. Consulate in Benghazi having been burned down, the Twitterverse wants to know if there's an empty chair sitting next to that ringing telephone.
Kerry wasn't the only figure from the Democrats' past to emerge for the convention. Former President Jimmy Carter spoke via video, and today's events have him back in the top of people's minds.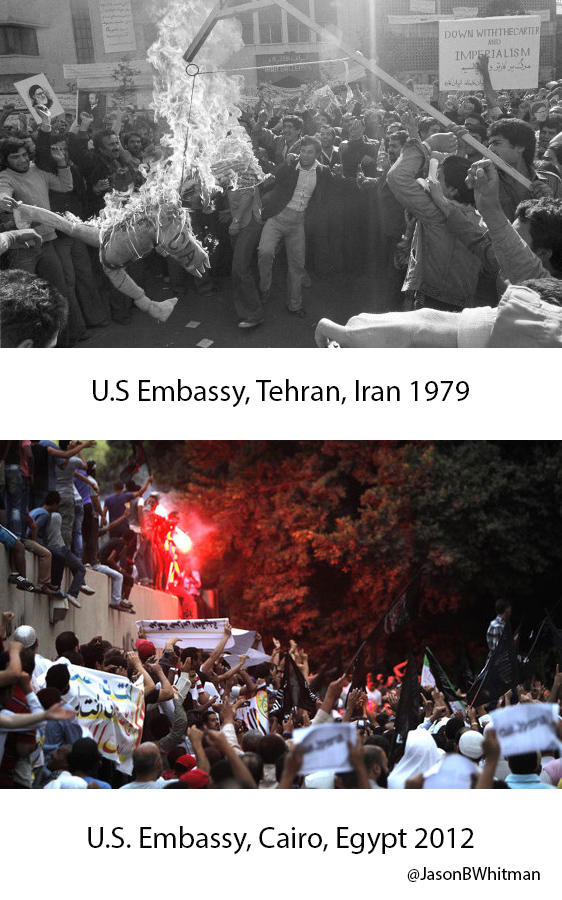 Update:
Romney released a statement Tuesday night saying he was "outraged" by the attacks by Islamists on the U.S. Embassy in Cairo and the U.S. Consulate in Benghazi and calling the White House's response "disgraceful."
I'm outraged by the attacks on American diplomatic missions in Libya and Egypt and by the death of an American consulate worker in Benghazi. It's disgraceful that the Obama administration's first response was not to condemn attacks on our diplomatic missions, but to sympathize with those who waged the attacks.
An administration official attempted to disavow the embassy's original statement earlier tonight, saying it had not been cleared in Washington.