The second grade class that corrected the grammar in tweets of NFL players really restored my hope in the future

—
CristalMethod (@Cristallizing) February 02, 2013
Three tweets from NFL players are on their way to becoming a viral phenomenon after second-grade students in Buffalo, New York, whipped out their red pens for a grammar lesson. Deadspin captured images of the edited tweets from the Elmwood Franklin School Facebook page.
Oh my god this is fantastic. 2nd graders learn grammar by correcting tweets of NFL players. http://t.co/WdkheU37—
Lev Naginsky (@levnaginsky) February 02, 2013
A larger image: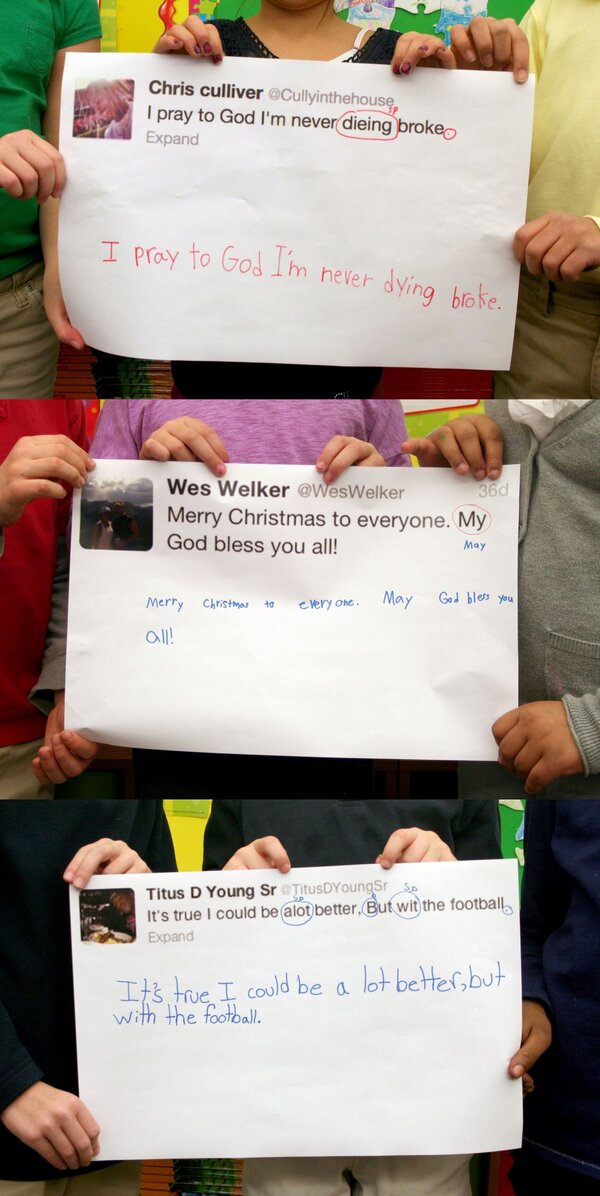 Awesome idea: kids learning spelling and grammar by correcting the tweets of NFL players i.imgur.com/CIAdPmq.jpg—
Rupert H (@rpy) February 02, 2013
To all the adults who shun spelling and grammar on the internet, these second graders will own you: deadspin.com/5980905/second…—
Seattle Sportsnet (@alexSSN) February 01, 2013
Grammar Nazi starts at an early age hehe. Starting with near illiterate athletes will keep you busy. fb.me/1uWdp3rku—
David Lee Tong (@davidleetong) February 02, 2013
And yes, the tweets are real.
It's true I could be alot better, But wit the football—
Titus D Young Sr (@TitusDYoungSr) January 22, 2013
Merry Christmas to everyone. My God bless you all!—
Wes Welker (@WesWelker) December 25, 2012
The 49ers' Chris Culliver deleted the evidence of his spelling error, but Topsy archived the tweet.
Watch out Piers Morgan and Cory Booker. You could be next!