Its very quiet INSIDE Capitol & amazingly Metro train car I was in was empty, completely empty. 4 years ago it was packed.

—
Kelly O'Donnell (@KellyO) January 21, 2013
Oh, no! What are Obama cheerleaders to do? Suzanne Malveaux gives it the old college try.
Since 5am hundreds now gathering at inaugural checkpoint at 7th & D NW. We wait w/them eager to get in! http://t.co/eA6iqmaV—
Suzanne Malveaux (@SuzanneMalveaux) January 21, 2013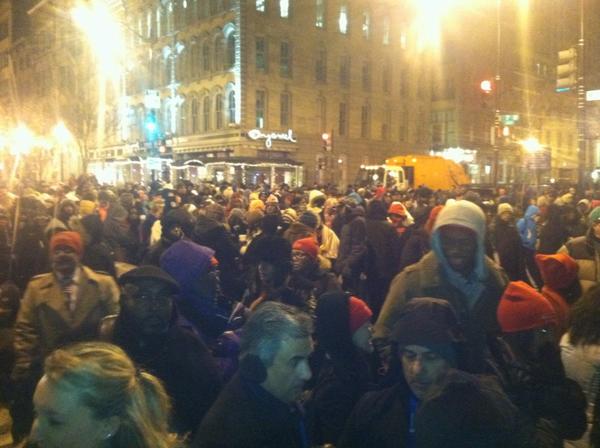 She's so eager and excited! This is even better than the White House Correspondents' Dinner! Gee, Suzanne, you mean there is a crush of people at a checkpoint? Unprecedented!
Crowds already streaming towards the US Capitol for President Obama's second Inauguration bit.ly/13XhHkM—
Jamie Dupree (@jamiedupree) January 21, 2013
For a certain value of "crowds." Others on the scene report the crowds are noticeably smaller than Obama's first Inauguration.
DC Metro had an army of people deployed to help #inauguration visitors. Tourists commenting it is much less crowded today than in '09.—
Patricia Zengerle (@ReutersZengerle) January 21, 2013
Penn. ave still pretty wide open… #pic http://t.co/2ICsn69A—
Ari Melber (@AriMelber) January 21, 2013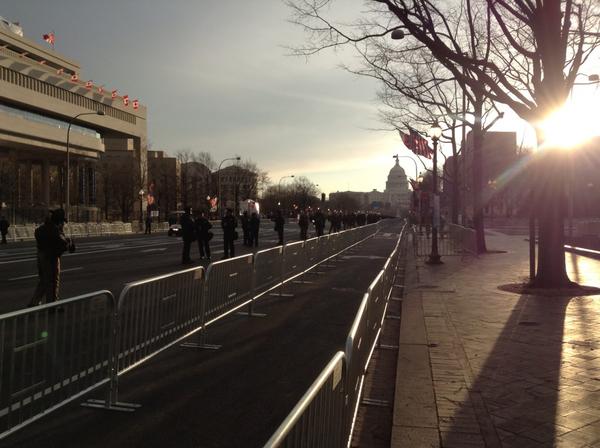 #inaug2013 Media riser on the National Mall. Just a fraction of the crowds from the 1st Obama inauguration.@wusa9 http://t.co/C6OJzxqG—
Andrea McCarren (@AndreaMcCarren) January 21, 2013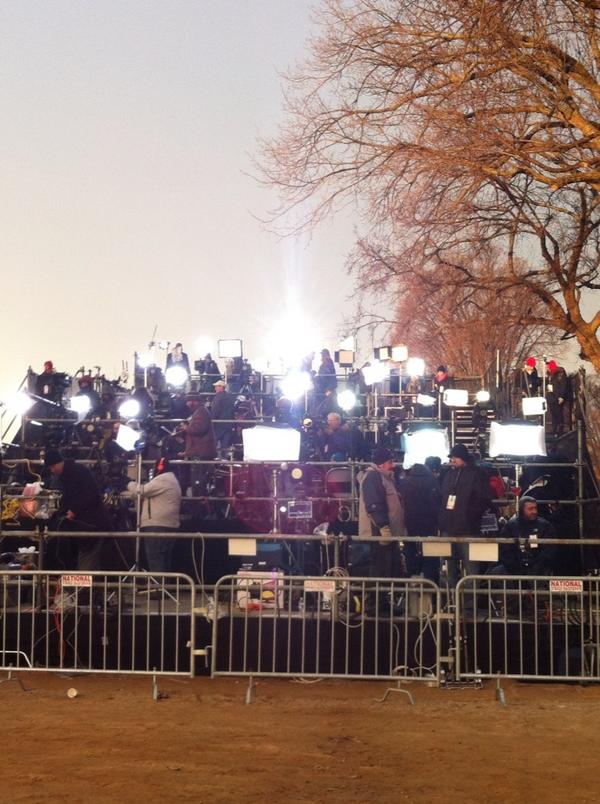 Already in DC for #inaug2013 – getting ready to stage for the parade. Early crowds not bad. Into the city today faster than normal commute.—
Dave Lavery (@davelavery) January 21, 2013
On Metro (empty at Glenmont) on way to Inauguration. Maybe crowds wont be too bad!—
coleman bazelon (@coleboy34) January 21, 2013
Train crowds growing on Green/yellow level at L'Enfant but plenty of room aboard trains. #inauguration http://t.co/mej0noEt—
Robert Thomson (@RT_Thomson) January 21, 2013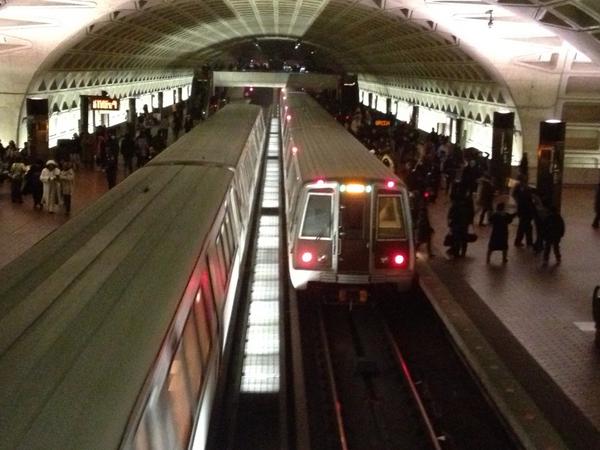 #wmata #inauguration – no lines at fare machines at silver spring. No crowds on train heading into city. http://t.co/XNazMG48—
Dana Hedgpeth (@postmetrogirl) January 21, 2013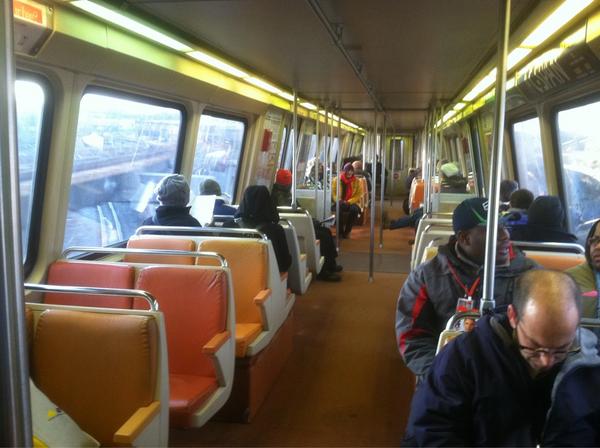 DC Police Chief Lanier says "much, much lighter crowds" than #inauguration four years. Tells #WTOP security gates opened on time — smooth.—
Mitchell Miller (@mmillerwtop) January 21, 2013
RT @lizessley: Crowds starting to arrive at Farragut North, but still less busy than a normal workday #inaug2013 #Metro http://t.co/WMGJgg6y—
Timothy P Carney (@TPCarney) January 21, 2013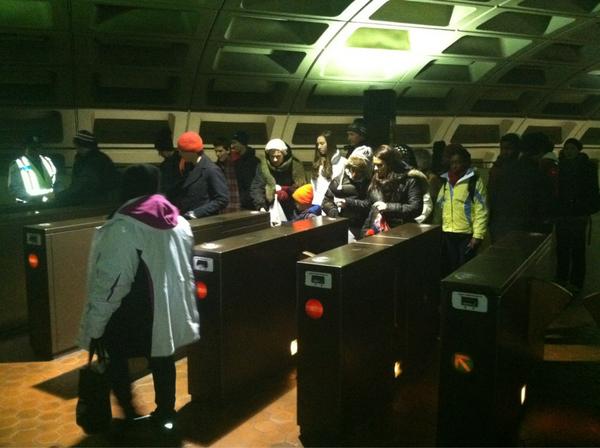 Me and @rafsanchez are OVERWHELMED by the morning #inauguration crowds. HEELLLPPP MEEEE http://t.co/06AtpPkz—
Nicky Woolf (@NickyWoolf) January 21, 2013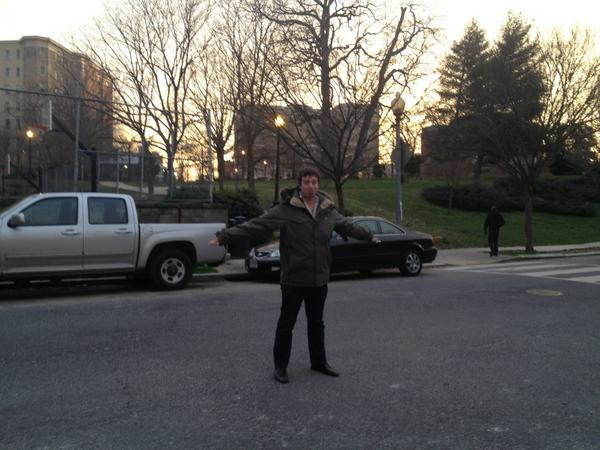 OMG DC IS SO CROWDED IT'S LIKE NY MEETS TOKYO ON SPEEEEED http://t.co/8TEAWruv—
Raf Sanchez (@rafsanchez) January 21, 2013
Heh.
RT @jesseberney: The crowds at #inaug2013 are reportedly lighter than four years ago, so I guess that means Obamacare is overturned.—
(@daveweigel) January 21, 2013
Aww. It stings, doesn't it? He totally planned the smaller crowds. Plus, Obamacare. So, shaddup, wingnuts (which apparently now includes reporters who are daring to post small crowd photos). Perhaps that's why the Obama head cheerleaders in the media are still frantically trying to spin the lines and excitedly squee.
Inaugural festivities draw early crowds – USA TODAY: Washington PostInaugural festivities draw early crowdsUSA T… bit.ly/SqmuZh—
INVESTOR (@KOMERSANT1) January 21, 2013
Excited crowds pour into downtown Washington ahead of Barack Obama's second inauguration as US leader: bit.ly/SqkxMs by @StCollinson—
Agence France-Presse (@AFP) January 21, 2013
Obama Inauguration Draws Hundreds of Thousands nyti.ms/Xsu431—
The New York Times (@nytimes) January 21, 2013
No matter your party its great to see an Inauguration of our president. Already see hundreds of schoolkids on mall. See u on @CBSThisMorning—
Norah O'Donnell (@NorahODonnell) January 21, 2013
Hundreds of schoolkids! MSNBC's Mika Brzezinski gets in on the act.
Headed to the Dubliner. Tons of people out in streets. Washington is buzzing…—
(@morningmika) January 21, 2013
Buzzing!
The line !!! http://t.co/S5ROwyKR—
(@morningmika) January 21, 2013
At The Dubliner. To try to get on television. Oh, sweetie.
On the Metro and running into so many excited about the day yfrog.com/obsu3xxj—
(@AprilDRyan) January 21, 2013
No, for real! People are totally excited, guys. See?
In the Union Station Metro watching the crowds yfrog.com/oe80117611j—
(@AprilDRyan) January 21, 2013
More like a Sandra Fluke "intimate gathering" numbering in the tens.
Related: