Some familiar faces taking part in today's National Day of Service: http://t.co/E0gbV2Wl

—
Barack Obama (@BarackObama) January 19, 2013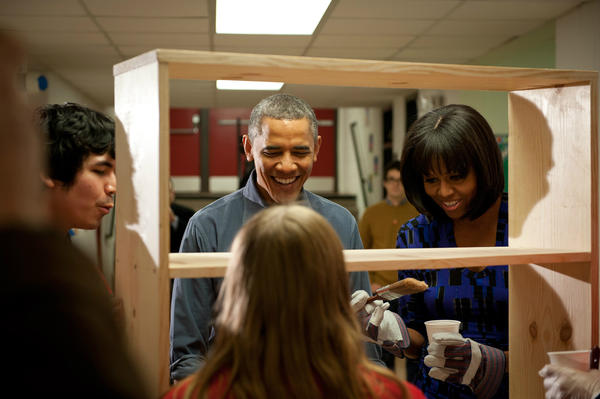 Just in case you missed the plethora of National Day of Service photo ops yesterday, President Obama's Twitter feed is on it. He's totally service-y, guys. Plus, his face … he is President Eye Candy and all. Isn't that what is really important? Once again, his laser-like focus is on his own mug.
Second verse, same as the first.
Related:
HURL! Narcissist in chief Obama on 'The View': 'I'm just supposed to be eye candy for you guys'; Update: Mocking and hashtags begin
Pic: President Eye Candy is crushing so hard
Obama's narcissism during Inouye service even noted by Slate; White House posts Inouye photo starring Obama
Narcissist in chief: Obama maintains laser-like focus on himself at Inouye memorial
Narcissist in chief: President Obama honors Rosa Parks anniversary with picture of himself; Update: Adam Baldwin with the win
Narcissist in chief: Obama honors Neil Armstrong with picture of himself
Look at me! Obama wishes Michelle a happy birthday with picture of himself
All about him: Obama's birthday tweet to Biden is a pic of himself
Narcissist in chief: Obama honors Neil Armstrong with picture of himself
Malignant narcissism in pics: Obama is the nation, plus posts Rosa Parks pic as a 'favorite of year'; Update: Now he is Congress
Disgrace: President Obama commemorates Pearl Harbor attack with photo of himself
All about him: Obama wishes y'all Happy New Year with tax hike and pic of himself