PHOTO: Obama signs 23 executive orders relating to gun violence http://t.co/hSSSYoHB

—
Huffington Post (@HuffingtonPost) January 16, 2013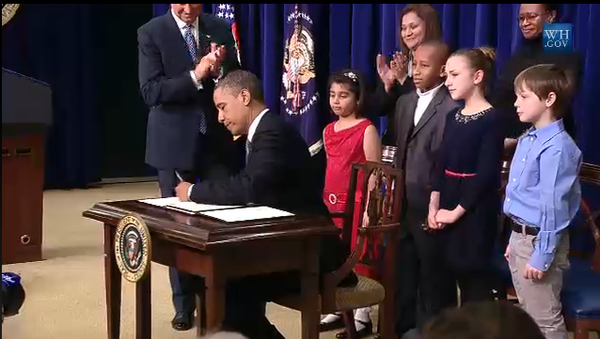 For the (use of) Children™:
@TheObamaDiary: Pres Barack Obama with 11-yr-old Julia Stokes who wrote a letter to him asking for gun control http://t.co/eOuvHSxH #fb—
Lisa Hoke (@lrhoke) January 16, 2013
As we reported earlier, President Obama planned to shamefully use children as props, playing on emotions, during his announcement of his gun control measures. And, that he did. In all its disgraceful glory.
For them theobamadiary.com/2013/01/16/cha… http://t.co/yrwIxdlx—
TheObamaDiary.com (@TheObamaDiary) January 16, 2013
"If [we] stand up & say 'enough, we care too much about our children to allow this continue', then change will come." http://t.co/9YAuITRm—
TheObamaDiary.com (@TheObamaDiary) January 16, 2013
Obama hugging children after he signed the orders: adorable. http://t.co/f2LKOvt9—
(@Upworthy) January 16, 2013
Adorable? The innocent children being used as political props are adorable. But the president's shameless and shameful actions? Not so much.
Obama does high fives w/ kids gathered on stage for gun control announcement.—
Jim Acosta (@jimacostacnn) January 16, 2013
The photo op in chief high fives children after anti-gun Executive Orders #FastandFurious #BrianTerry #ForTheChildren—
Sil (@silb47) January 16, 2013
Obama is nauseating. High fives with prop children before signing useless infringement edicts is not presidential. #guncontrol #NRA #tcot—
Rufus Kings (@RufusKings1776) January 16, 2013
'Thank you, Mr President' – with children who wrote him letters about gun control after Sandy Hook. http://t.co/LJBVekce—
TheObamaDiary.com (@TheObamaDiary) January 16, 2013
High. Fives.
No one at the White House. RT @TheRickWilson: No one sees this is a moment of obscene political theater?—
Phineas Fahrquar (@irishspy) January 16, 2013
RT @jimgeraghty: Clearly, we need a seven day waiting period before a politician can use a child in a photo op.—
Melissa Clouthier (@MelissaTweets) January 16, 2013
Maybe Obama will teach his child-props to sing a little song about how the NRA mentioning his kids is "repugnant and cowardly."—
John Hayward (@Doc_0) January 16, 2013
Then Obama uses kids as human props RT @MajorCBS: Jay Carney calls NRA ad about school security and first daughters "cowardly and repugnant.—
(@Rschrim) January 16, 2013
Nice of Obama to allow taxpayers to fly his child props & the parents who dictated letters to them to the White House today to be exploited.—
Derek Hunter (@derekahunter) January 16, 2013
Watching Obama using the kids as props for his guns control announcement! I don't like using the kids like that! http://t.co/7alWMau5—
Carl Boyd, Jr (@truthzone) January 16, 2013
@caroljsroth thought for a second Obama was signing an apology letter to kids for putting them each in $50,000 debt http://t.co/CZTKvkm2—
Lawrence Cooper (@MagicRatInGA) January 16, 2013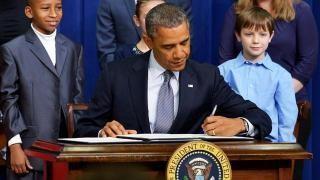 The disgraceful political prop theater continued.
Pres Obama quotes from the handwritten letters about gun violence he received from the 4 children on stage with him.—
Mark Knoller (@markknoller) January 16, 2013
Children as Props Update: Obama telling children to "wave" at his big gun announcement.—
Laura Ingraham (@IngrahamAngle) January 16, 2013
It does seem a bit farfetched, huh. RT @missADelgado: Really? A kid used the phrase "I could not bear the thought of …" ??—
(@Rschrim) January 16, 2013
Biden getting visibly upset as Obama talks about 7-year-old Grace McDonald. #newtown—
Michael Hamad (@MikeHamad) January 16, 2013
"I love my country, and I want everybody to be happy and safe." – Obama | Um, banning guns won't do that. #tcot #obamapresser—
Gabriella Hoffman (@Gabby_Hoffman) January 16, 2013
But, #forthechildren though. RT @guypbenson: Each child on that stage is saddled with a $52,000 share of the national debt.—
Corie Whalen (@CorieWhalen) January 16, 2013
Obama exploited children as props, and failed to mention that his party denies the right to life to millions of children EVERY year.—
Liz Thatcher (@lizthatch) January 16, 2013
That's right. As Twitchy reported earlier, he added epic hypocrisy to that by invoking the right to life. Except for when it comes to abortion, natch.
Of course, using children is nothing new to Democrats.
From Jennifer Bush to Marcelas Owens & more, a brief history of Dem kiddie shield abuse==> michellemalkin.com/2013/01/16/pro…—
Michelle Malkin (@michellemalkin) January 16, 2013
The president's Twitter feed also tweeted something else that was staggering in its lack of self-awareness.
"Along with our freedom to live our lives as we will comes an obligation to allow others to do the same." —President Obama—
Barack Obama (@BarackObama) January 16, 2013
For President Obama, the freedom to be shameful and disgraceful is paramount. Everybody else? Whatever. He knows what should be allowed or not. If, of course, he thinks you deserve the right to life. Or freedom.