That's right. Evidently, vile death threats aimed at NRA members isn't enough. Now there is a video game where one can shoot NRA President David Keene in the face. Ah, new tone! Twitter users point out the irony: Anti-gun zealots who aim to shoot those with whom they disagree.
https://twitter.com/DLoesch/status/291233190738284545
https://twitter.com/TabithaHale/status/291243066952667137
https://twitter.com/hale_razor/status/291202832856645632
Warning: Graphic image.
https://twitter.com/AlanaBurkeSays/status/291230516563296256
Gateway Pundit reported on the downloadable game, and the forum wherein members discuss the game. "On the one hand, f*ck the NRA," says one member. Then he, and other members, go on to worry that it might make fellow anti-gun zealots look bad. You think?
https://twitter.com/talkradio200/status/291233783640887296
As per usual, it is those who walk in leftist lock-step who hurl hate and violent wishes.
Townhall's Katie Pavlich has more:
The creator of the game identified as gizmo01942 Ediot says, "Share this everywhere, especially gun-nut and anti-game websites. Also see if you can't send it in to the NRA somehow, like through the feedback on their website or something."
And two more images from the downloadable game (Warning: Graphic).
Twitter users continue to react with disgust at this appalling game.
https://twitter.com/BWSchank/status/291235585228689409
https://twitter.com/jimantle/status/291234626691821570
https://twitter.com/RedGalBlueState/status/291234111694176257
https://twitter.com/gailtalk/status/291220479958712320
And, paging the lapdogs in the media!
https://twitter.com/Cherrynimbus/status/291234611722346497
Hmm. Sorry, they are too busy clutching their pearls over an NRA app.
https://twitter.com/AmandaMarcotte/status/290846623192453120
https://twitter.com/JoeNBC/statuses/291146099325034496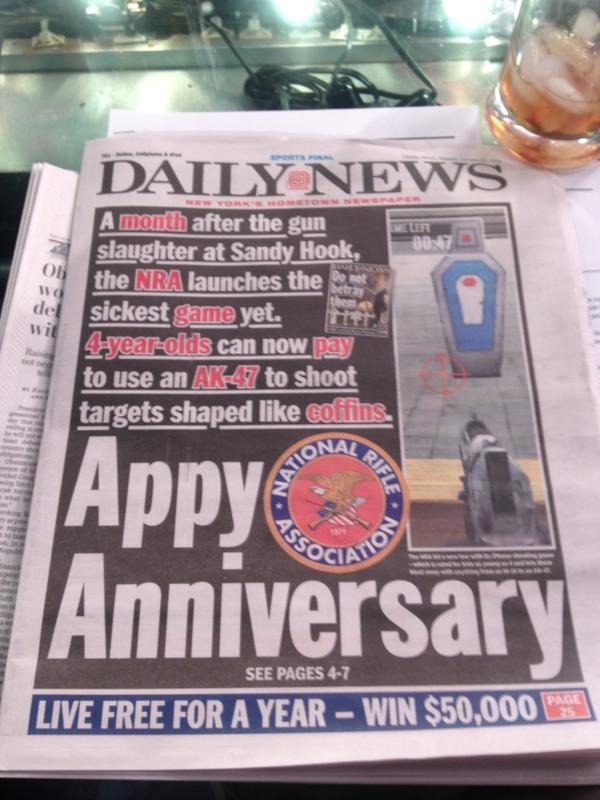 https://twitter.com/morningmika/statuses/291146232875851776
Except, of course, the NRA app is not sick. And is not giddily saying "F*ck" anyone, nor allowing users to kill men by shooting them in the face.
https://twitter.com/DRUDGE_REPORT/status/290942548128722945
https://twitter.com/HCirmo/status/291231088137863168
Bingo.
https://twitter.com/AESPiano/status/291257684068548609
Hypocrisy? Sorry, buddy. Anti-gun zealots have that base repugnantly covered.
***
Update: The NRA app that has members of the media clutching their pearls may not even be an NRA app.
https://twitter.com/DLoesch/status/291298606030405635
Related: