So, looks like Biden meeting with NRA didn't go well. who woulda thunk it?

—
Emily Pierce (@emilyprollcall) January 10, 2013
It didn't take long for that national conversation on guns inspired by the Sandy Hook Elementary shootings to turn into a week's worth of closed-door meetings in Washington, and according to NRA representatives, the conversation was more of a lecture.
As Twitchy reported earlier, Vice President Joe Biden said this week's meetings with his gun task force were not a photo opportunity, but the White House did manage to sneak out a couple of pictures today, including one from this afternoon's meeting.
PHOTO: VP met with gun owner groups today at the White House to discuss efforts to curb gun violence. (WH Photo) http://t.co/R5fJsliB—
Office of VP Biden (@VP) January 10, 2013
NRA "disappointed" after Biden meeting, with stern-faced people to prove it in official photo politi.co/UDlwWk—
Jennifer Epstein (@jeneps) January 10, 2013
And… here's a WH pic of Biden meeting with super happy-looking gun owner groups http://t.co/JygzQp20—
jennifer bendery (@jbendery) January 10, 2013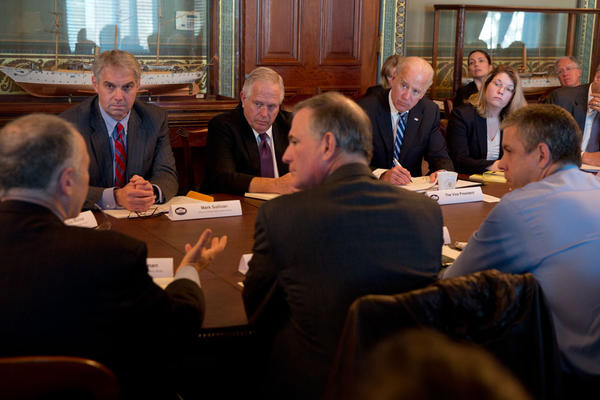 In a statement released after the meeting, the NRA stood its ground (no pun intended) on gun rights.
"We will not allow law-abiding gun owners to be blamed for the acts of criminals and madmen," says the NRA statement.—
Mark Knoller (@markknoller) January 10, 2013
NRA says it will now turn to those in Congress who are "interested in having an honest conversation" about restraining gun violence.—
Mark Knoller (@markknoller) January 10, 2013
Post-Biden mtg, NRA says it's "disappointed w/ how little this mtg had to do with keeping our children safe…" (1/2)—
Peter Alexander (@PeterAlexander) January 10, 2013
NRA cont'd: "… & how much it had to do with an agenda to attack the Second Amendment." (2/2)—
Peter Alexander (@PeterAlexander) January 10, 2013
Biden & #NRA agree to disagree after their meeting on gun violence today. NRA says it's "disappointed." Biden to present proposals by Tues.—
West Wing Reports (@WestWingReport) January 10, 2013
NRA says Biden's task force is about attacking the 2nd amendment. so… consensus might be hard to reach.—
Zach Wolf (@zbyronwolf) January 10, 2013
With the NRA already being blamed, quite literally, for the deaths of 20 children in Newtown, Conn., as well as being the target of several petitions to declare it a terrorist group, there's little chance for the gun rights group to win many public relations battles, and it doesn't look like it's going to try. Rather, it will do what it does; defend the Second Amendment. In the meantime, the media, Hollywood and anti-gun activists will continue to do what they do.
American Federation of Teachers president Randi Weingarten is on board with Charles Blow in his assessment of the NRA as a pro-proliferation group. "Groups like the NRA aren't as much about rights as wrongs. The money being churned is soaked in blood and marked by madness," Blow wrote in yesterday's New York Times.
NRA isnt a "gun rights" group. Its a anti-regulation, pro-proliferation group.  nyti.ms/ZLWlaP—
Randi Weingarten (@rweingarten) January 10, 2013
So disheartening to hear of another school shooting. @VP Biden will talk gun safety with NRA reps today-what do you think needs to happen?—
Katie Couric (@katiecouric) January 10, 2013
New NRA slogan: "Guns don't kill people, public schools kill people."—
Harry Shearer (@theharryshearer) January 10, 2013
The NRA is two public statements away from hauling off and shooting everyone who says guns are to blame for violent crimes in America.—
Tyler Holme (@Tyler_Holme) January 10, 2013
The NRA is going to drag out every lie, every fear tactic, every fabrication to play on gun owner's paranoia in this latest episode.—
(@GStuedler) January 10, 2013
The NRA could care less about 20 dead kids…they just flat out don't give a damn. They only care about gun sales…period.—
(@GStuedler) January 10, 2013
The NRA is a joke and the people in it are delusional. Another school shooting in California.. #giveyourheadashake #GunControl—
Tasha M. (@TeeMc15) January 10, 2013
@Hardball_Chris Ok the NRA had their chance to be safe. Now they should be hit by a truck!—
North_Of_Boston (@Charles_1944) January 10, 2013
Today's @NRA message to the world: 'SCREW YOU'.—
Piers Morgan (@piersmorgan) January 10, 2013