This flu outbreak is real... Sittin here doin paperwork in a mask... Smh Hospital life

—
Everyone 's Ree (@Its_Reesiebabi) January 10, 2013
As Twitchy reported, the flu is spreading and tents have been erected at one hospital for the influx of flu patients. Some stoners are battling the flu with bong hits and weed (no, really), but across the country, non-tokers are taking other precautions: Masks.
Get your flu vaccine peeps. The hospital looks like Outbreak today. Everyone is wearing a surgical mask :/—
Jessica Fogelstrom (@NurseJesse) January 10, 2013
Flu freakout means I get to wear a mask at the doctor smart on their part #influenzaA #positive 😷😭 instagr.am/p/UPdnHkQta_/—
Cyndi Sullivan (@hawkstar74) January 08, 2013
Same here! RT @RPeeezy9: I need a mask in my office. Everybody coming down with flu. I'm not about that life. 😷—
Tara (@ucAnTcMeEe101) January 10, 2013
People wearing mask in the hospital cuz the flu and theres no visits—
yolanda (@yolanda5674) January 10, 2013
That's right; visiting is being cut down at many hospitals.
Mid-Michigan flu presence forces officials at Covenant & St. Mary's in Saginaw to ask that only healthy ppl visit – & limit no. of visits.—
Hal Maas (@HalWHNNnews) January 05, 2013
It's Tuesday! Things to watch: 2013 #mnleg session starts. Flu outbreaks spur visiting restrictions at some Mn. hospitals. Snow for NW Mn.—
Cathy Wurzer (@CathyWurzer) January 08, 2013
Redwood Area Hospital temporarily restricts visitors due to #flu. See linked restrictions before visiting the hospital. ow.ly/gEarz—
RedwoodAreaHospital (@RedAreaHospital) January 08, 2013
In other countries, too.
Flu outbreak on wards restricts visiting times at Welsh hospital: Visiting times have been restricted at a west … bit.ly/VBL1sg—
News Wales (@NewsWales) January 08, 2013
BBC SW: Flu restricts hospital visiting: An outbreak of flu leads to visiting restrictions being introduced at W… bbc.in/WI4h6w—
Sir Benfro (@Sir_Benfro) January 08, 2013
@13News Surge in flu cases has hospitals and care facilities recommending some extra protection before visiting. Details at 11. #hrva—
Brian Farrell 13News (@13BrianFarrell) January 10, 2013
Some doctor's offices and hospitals are requiring masks. And some people are taking that protection into their own hands.
Currently at the doctors & they made me put a mask on…I have cold & flu season 😷😷 instagr.am/p/UT2YNnswTv/—
a'nae (@_NAYDidItOnEM) January 10, 2013
In the hospital. As you can probably imagine I am NOT impressed #sick #flu #mask http://t.co/4Ov7x7Jb—
Jody Leah Mackrell (@jody_leah) January 10, 2013
@LaurenWBZ Hey Lauren…I noticed that you were wearing a mask while interviewing the lady with the flu. That was good to see…responsible—
Mark Scanlon (@MJScanlon50) January 10, 2013
I'm gonna start walking around NYC with a particle mask like its Beijing in 2005 bird flu season soon…stop going to work w/ flu Americans—
Sarcastic Lincoln (@ALVHmoviespoof) January 10, 2013
is it bad that i kinda want to start wearing a face mask and latex gloves on the T? #flu #imscared—
Kelsey Kneeland (@kelseybrooke23) January 10, 2013
Bouta get a mask!!! This flu shit is no joke!!!—
Fyfe⭐ (@XscreaamNETA) January 10, 2013
At urgent care, use promo code "flu" to get a free mask! instagr.am/p/UR2H2HAQED/—
Brady Robinson (@bradyrobinson) January 09, 2013
Lizzette reporting 4 duty! Jen & Jesse literally had a mask w/my name on it! 😄 Day w/2 sick flu ridden boys coming up http://t.co/hKmRyBXE—
Lizzette Villarreal (@LizzetteV) January 10, 2013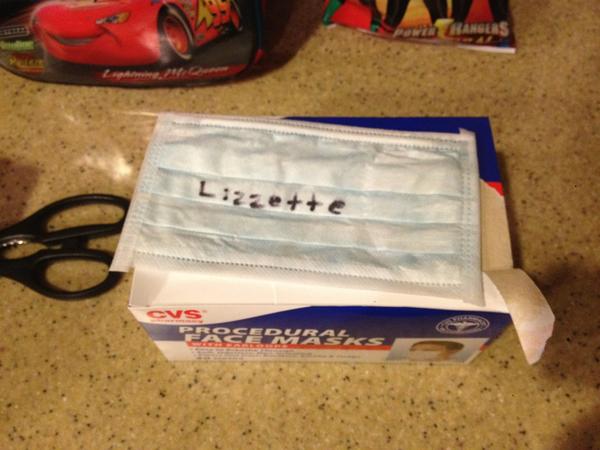 No flu shot…mask life haha instagr.am/p/UTVwCSGbl_/—
Bobby Brown (@change312) January 10, 2013
When your whole nursing home is quarantined #thatswhenyouknow something is going around #masks #handsanitizer #gloves #flu #getaway—
Taylor Rathbun (@Taylurr001) January 10, 2013
Am I absurd and paranoid if I get a packet of disposable masks to wear, or prepared and cautious? #flu—
. (@quietellen) January 10, 2013
This flu season is crazy. I'm about to go buy a massive bottle of hand sanitizer and possibly some face masks. Don't judge.—
Mary Eliz. Huggins (@HuggsBunny) January 10, 2013
My momma told me to wear a mask..so I don't catch the flu. -___- http://t.co/0B0UKcup—
Jame`se (@QuoteCinnamon) January 10, 2013
She's having to wear a mask cause everyone else in my family has the Flu. instagr.am/p/USCWDWTYE8/—
Meghan Stein (@LongLegsForeva9) January 09, 2013
Mask cuz flu http://t.co/lKxvreFR—
Anthony (@GHxStarrBurrstx) January 10, 2013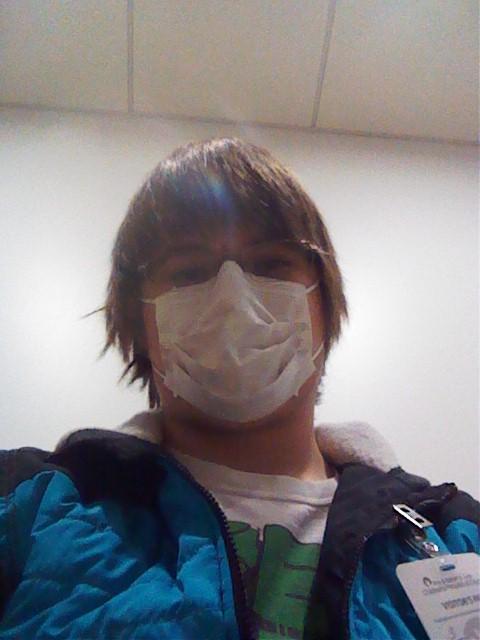 I have the flu and there making me wear a mask instagr.am/p/UURB7qoGAc/—
Adam LaRiviere (@lariviere21) January 10, 2013
Welp! I guess I have to keep my work mask on me, cause everybody walking around like the flu is the new sty instagr.am/p/UT7z_6ri9M/—
Andre The Motivator (@yucdre1) January 10, 2013
I'm at the doctor and they're making me wear a mask cause they think I have the flu wah http://t.co/EyXH7Sfp—
Ryley Deloge (@ryleyalexxx) January 08, 2013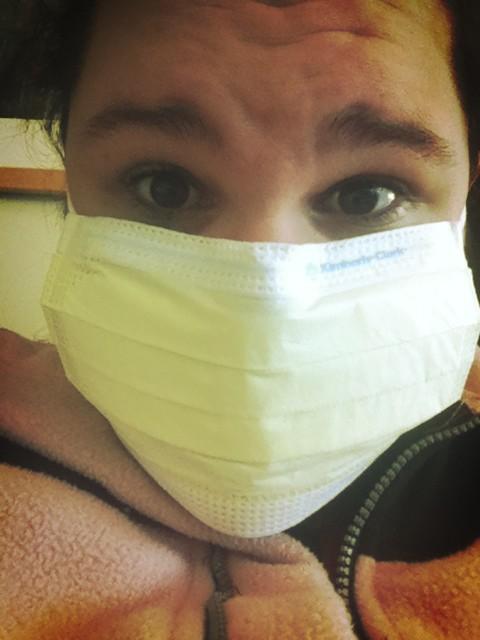 Doctors office…flu mask…my kid catches everything…strep outbreak…flu outbreak…I'm pissed 😣😠😷😑🙊👎🙍🌊💉 instagr.am/p/UUBwEoNYEx/—
TheCourtneyShow (@CourtSings) January 10, 2013
Aww! Stay healthy, all.