UPDATE: At least 16 people injured in bus accident in New Jersey. No kids appear to be on school bus. - @eyewitnessnyc

—
Micah Grimes (@MicahGrimes) January 10, 2013
Live pics of a bus crash in Old Bridge, N.J. School bus on it's side another bus into a tree. Injured being treated/transported #LiveDesk—
Monica Dean (@MonicaNBCSD) January 10, 2013
An Academy commuter bus and mini school bus collided in Old Bridge, NJ Thursday morning. Some reports indicate as many as 16 people are injured, but that no children were hurt. Emergency workers are on the scene where the school bus has toppled onto its side.
School bus and Academy bus crash in Old Bridge Twp., NJ route 9 closed both ways #NBC4NY yfrog.com/h7rxhukj—
Katherine Creag (@katcreag4NY) January 10, 2013
Crews are on the scene of a school bus crash in Oak Bridge, N.J. Multiple injuries have been reported. http://t.co/sKCRtdpD—
41 Action News (@41ActionNews) January 10, 2013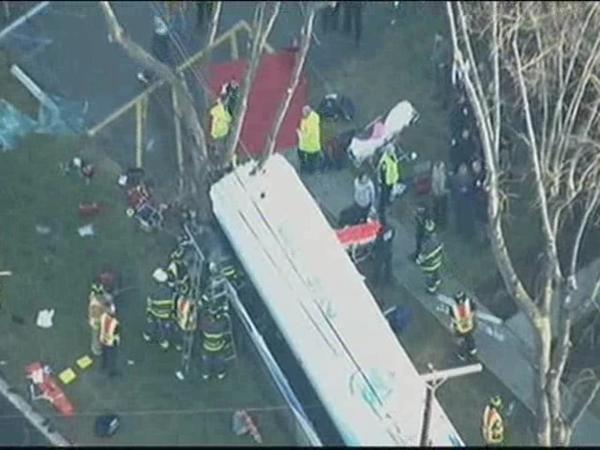 Academy Bus involved in accident w school bus, other vehicles. No kids on school bus. http://t.co/c8nAtYxD—
Tony Aiello (@TonyAielloNY) January 10, 2013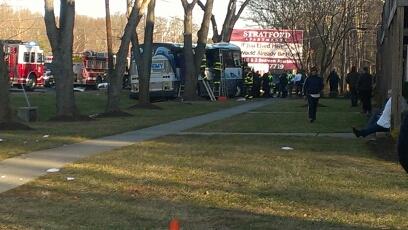 And the local commuting hell continues: Academy bus has overturned on Route 9 in Old Bridge #bus #academybus #commute #crash—
Jeff Sutton (@Jeff_Sutton) January 10, 2013
Bus accident. Old bridge rt 9 instagr.am/p/UTrZ7-LThK/—
Trevor Harmon (@trevharmon) January 10, 2013
Twitchy will monitor reports and update as details develop.
Update:
Injuries appear serious enough to require a Med-Evac helicopter.
A med-evac helicopter has been called to the scene of an Academy bus crash involving a school bus in #OldBridge #NJ tinyurl.com/b3y2k2c—
MyFoxNY.com (@MyFoxNY) January 10, 2013