There is a naked PETA girl outside Dreamland BBQ with a sign saying "meat is murder" because being naked in the street is acceptable #bacon

—
Hannah Elyse Rogers (@xoxELYSE) January 09, 2013
On Wednesday, a woman packaged in plastic wrap and fake blood held a PETA demonstration outside Dreamland Bar-B-Que in downtown Montgomery, Ala. Because, you know, nothing says "meat is murder" like a mostly naked chick.
Time to break out the Southern hospitality!
PETA protest. Bless her stupid heart! #carnivore #sorrynotsorry http://t.co/zy4J7sIh—
Kimberly_Northcutt (@KimN1121) January 09, 2013
PETA has a long history of using a "sex sells" strategy to rally support. But this activist may want to go back to the sexiness drawing board. Hilariously, her oh-so-provocative display included flesh-colored granny panties.
PETA protest outside Dreamland BBQ http://t.co/0V2PQ7lb—
Jenn Oravet (@JennWSFA) January 09, 2013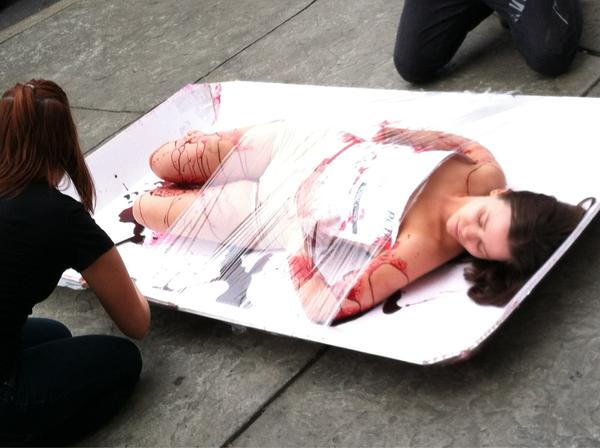 PETA protest in front of Dreamland Downtown Montgomery! instagr.am/p/URkHoBjC3M/—
Justin Dayvolt (@jdayvolt) January 09, 2013
Check out this package of "fresh human" on the sidewalk in a PETA protest Wed. in downtown Montgomery. twitpic.com/btul5f—
Poe Communications (@PoeCommunicate) January 09, 2013
Changing hearts and minds … with blood-spattered granny panties! Bless her heart, indeed!
Dreamland took the snort-worthy display in stride.
We respect PETA's right to lawfully protest at Mont. Dreamland. We're proud of our product & service and hope our guests weren't disturbed.—
Dreamland BBQ (@dreamlandbbq) January 09, 2013
Don't worry, Dreamland! Your guests and future patrons weren't disturbed enough to give up their carnivorous ways.
@FlashGordon800 I know! I don't think she thought this through.—
Hannah Elyse Rogers (@xoxELYSE) January 09, 2013
PETA protest of dreamland makes me want to pour BBQ sauce over a slab of ribs—
Joe McAdory (@JoeMcAdory) January 10, 2013
For some reason I feel like eating at dreamland today #peta—
John Drizzle (@jndrizzle) January 09, 2013
I'd walk out eating meat in front of them! RT @RealRis16: Oh! RT @JennWSFA: PETA protest outside Dreamland BBQ http://t.co/P3P84Fj6—
ā0 (@_ThisIsNicole) January 09, 2013
I don't even eat ribs, but this PETA protest outside Dreamland BBQ makes me want to cop a slab to spite PETA. http://t.co/yoNFZV3a—
Victorious Dash (@WitchDrDash) January 10, 2013
Saw a news article that PETA protested Dreamland today. All it did is make me think of Dreamland and their delicious ribs. Mmmm…..—
Bob Sentell (@Commadore_Bob) January 10, 2013
Crazy PETA members protesting outside Dreamland in Montgomery. Doesn't seem to have slowed the traffic into Dreamland. http://t.co/JdQwgMuH—
Tom McCarthy (@TomMcC334) January 09, 2013