Chantilly, Va gun show has sold out of ALL tickets today. First time ever! #2ndamendment #nra

—
Matt G (@Semper_Fidelity) December 28, 2012
The three-day Nation's Gun Show At Dulles Expo Center in Chantilly, Va., kicked off yesterday, and gun enthusiasts turned out in droves to participate in an Obama stimulus that actually works.
Line stretches for blocks to get into Chantilly gun show. Biggest crowd ever for biggest gun show on East Coast. http://t.co/jBQZFuKU—
Jeff Goldberg (@jgoldbergABC7) December 28, 2012
@jgoldbergABC7 that was just the east side of the building. The west side line is longer.—
wyatt dulaney (@WyattDulaney) December 28, 2012
Line for the Nation's Gun Show in Chantilly, VA around the corner – Told it was that way hours before the show opened http://t.co/HjWPTGQd—
Cameron Gray (@Cameron_Gray) December 28, 2012
Nations Gun Show, Chantilly, VA thousands in long, snaking line,—
Loretta (@anthem59) December 28, 2012
Just had a friend txt me that there are between 3-6K people in line for the doors to open for the Gun Show in Dulles, VA.—
Neil Bonner ♚ (@IrishPrince) December 28, 2012
@Beregond I've never seen anything like it – Some tables are 2-3 people deep—
Cameron Gray (@Cameron_Gray) December 28, 2012
Gun show at Dulles was crazy! Got some good stuff though #gunproblems—
kyle caudle (@bigkcaudle) December 28, 2012
Code Pink protesters also turned up, sans floppy vagina costumes:
A dozen or so Code Pink protesters show up at the gun show at the Dulles Expo Center in NoVa http://t.co/Q7E7KtUL—
Tom Seeman (@TomSeeman_VA) December 28, 2012
But their Fluke-like "crowd" was easily dwarfed by Second Amendment supporters.
Recon team gave early report from Dulles gun show 1600EST; 9 Code Pink protesters, upwards of 1000 people in line waiting to get inside.—
K-Romulus (@K_Romulus) December 28, 2012
Even today's rotten weather didn't deter shoppers.
Despite the snow sleet & icy weather the Dulles Expo Gun Show parking is full spilling over to @Walmart Chantilly http://t.co/0YyEqtz9—
(@MichaelJHill) December 29, 2012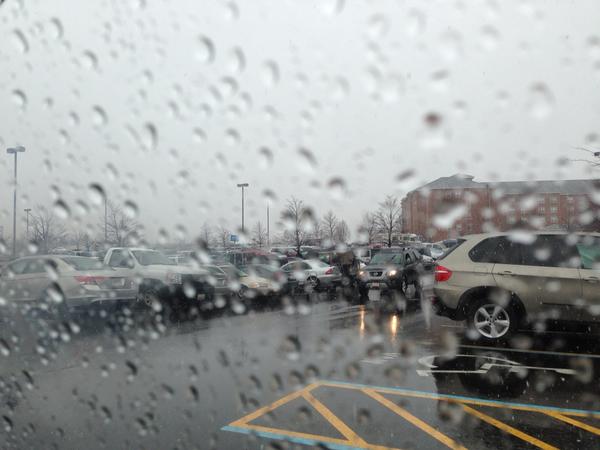 And it's not just in Virginia that people are lining up to shop for firearms.
Gun Show at Ward Ag Center today. Wind blowing, 35°F spitting snow and 150+/- folks standing in line at 0900hrs. ! http://t.co/ZM4aYosi—
Celebrity Top Shot (@celebtopshot) December 29, 2012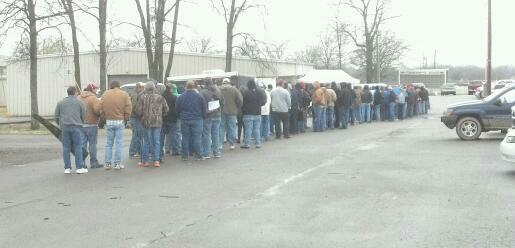 Line outside the OKC gun show this morning. Show has been open over an hour. #ObamaStimulus http://t.co/M0l1kMRa—
Steve Miller (@SteveMillerOK) December 29, 2012
The line just to get in to the Tanner Gun Show. Busiest I have ever seen. http://t.co/QaHi9xf4—
Kelly Maher (@okmaher) December 29, 2012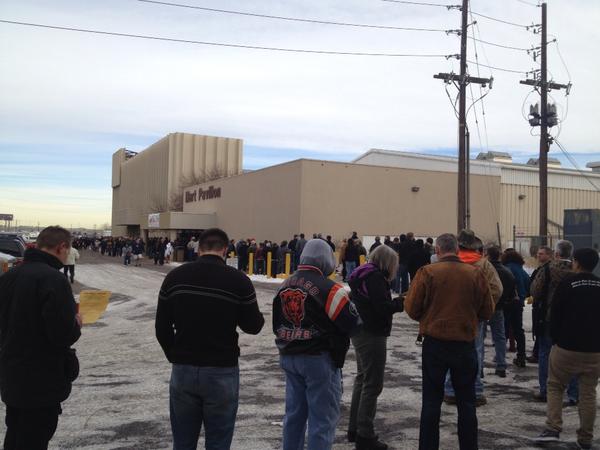 #GunShow line hundreds of yards long with thousands of people. http://t.co/BzbPX28Q—
Kevin M. Cannon (@kmcannonphoto) December 29, 2012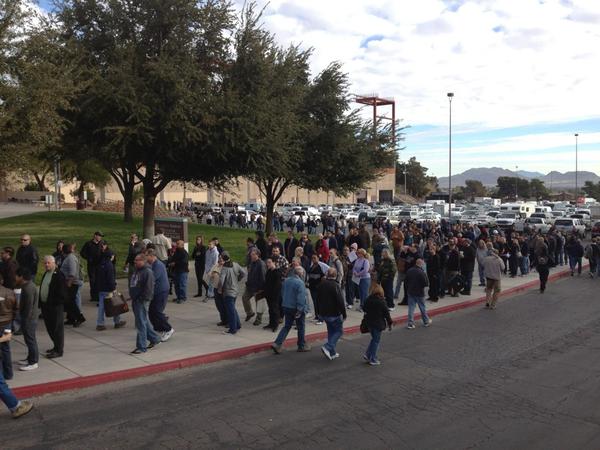 Knoxville gun show, 15 minutes before it opens. What a line! http://t.co/cr5HMAMG—
Doug Johnson (@johnsondoug) December 28, 2012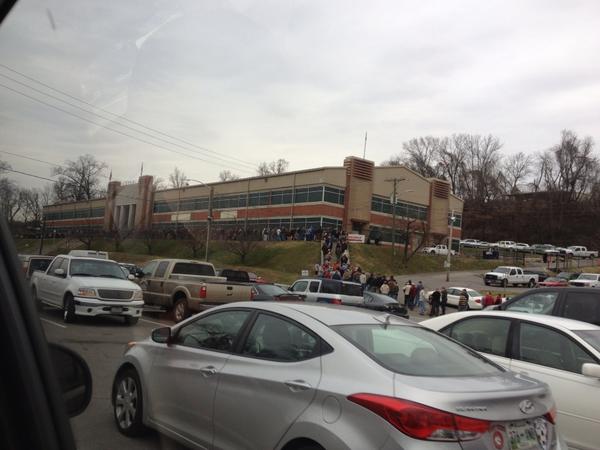 @alex_lloyd "@startelegram: RT @JScottNishimura: Somewhat long line to into today's #fortworth #gun show. http://t.co/LyoW0WKc "
// #WTF—
John R. Fulton Jr. (@fultonjr) December 23, 2012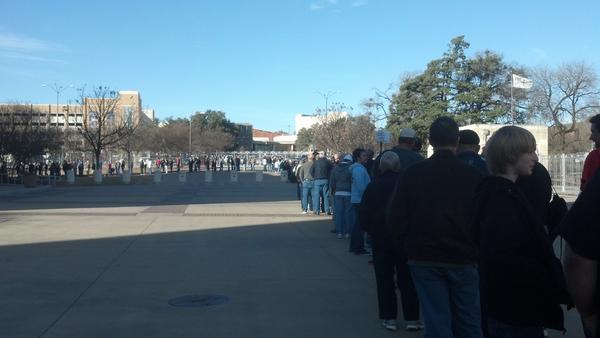 Line to get into ftw gun show. Was wrapped around building and cars backed up over a mile. #obamapanic http://t.co/DLuMKmPZ—
Shane Coleman (@deltashane) December 22, 2012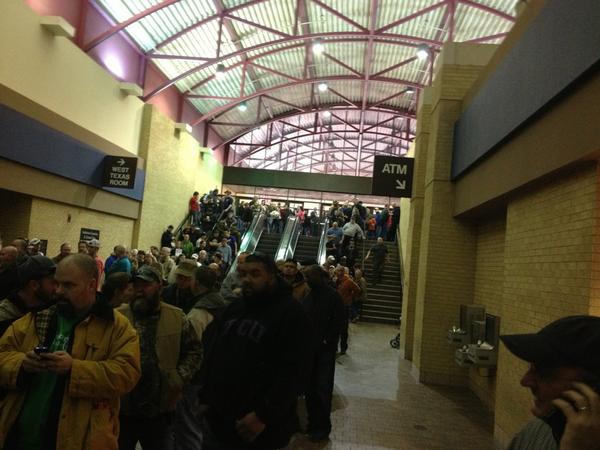 Hey, President Obama and Sen. Feinstein: You did build that.