Dude, Where's Pelosi's Car?

—
Alex Fitzpatrick (@AlexJamesFitz) December 28, 2012
The suspense! Usually, lawmakers exit a closed door meeting and head straight for the TV cameras. House Speaker John Boehner and Minority Leader Nancy Pelosi were uncharacteristically quiet leaving their fiscal cliff meeting with President Obama this afternoon, but Pelosi's getaway was anything but clean. Reporters anxious for a scoop managed to catch Pelosi searching the parking lot for her SUV.
https://twitter.com/HansNichols/statuses/284771241116704769
Just what was going on in there? Must have been some intense negotiations.
https://twitter.com/Peter_Eller10/status/284771403071373312
https://twitter.com/JoshGlasser/status/284773408556847104
https://twitter.com/WBH_Politics/status/284773539402379264
https://twitter.com/PruPaine/status/284771282485121025
https://twitter.com/AG_Conservative/status/284773544414572546
https://twitter.com/ethanklapper/status/284772655297613824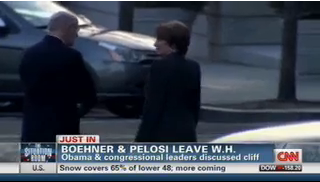 https://twitter.com/skenigsberg/status/284771876012695553
https://twitter.com/ChampionCapua/status/284775313328726016
Seriously, has anyone seen it? It has the giant novelty gavel on the roof.
https://twitter.com/saeverley/status/284775325320237056
Oh, in other news, no one else looked happy exiting from that meeting, either. Not even Sen. Harry Reid looked happy — not that we'd know what that looks like.
http://twitter.com/markknoller/statuses/284775623795286016
It looks like Boeher had his ride ready to go, and he's not coming back.
http://twitter.com/frankthorpNBC/statuses/284774701983748096
Dang, that was quick!
https://twitter.com/zoeythegreat/status/284777776379224066