oh, you know, just your #christmas eve #airport evacuation. nbd. :P #miami #why http://t.co/dUyLctkC

—
vanessa (@heresvanessa) December 24, 2012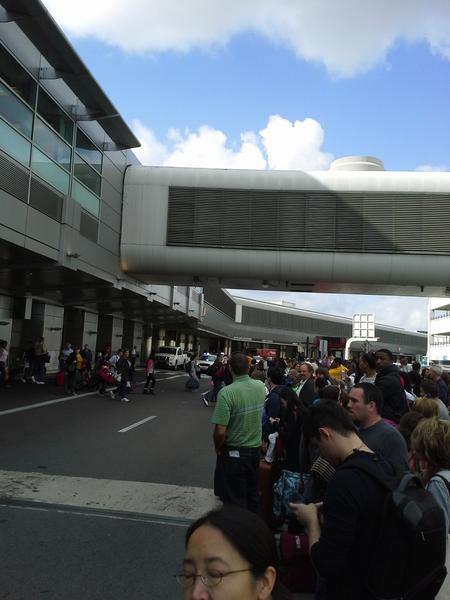 As if holiday travel couldn't get worse, the dreaded "suspicious package" just turned up at Miami International Airport. #BREAKING—
Chris Shepherd (@ChrisShepherd) December 24, 2012
Those familiar with holiday travel know it can be a real hassle, but perhaps no one understands that better today than travelers at Miami International Airport. After a 'suspicious item' was found …
Suspicious item reported at Miami Intl Airport. Police on scene. Live aerial signal on CH 3 from @WPLGLocal10.—
CNN Newsource (@CNNNewsource) December 24, 2012
#BREAKING Police responding to report of possible explosives found in a bag at Miami International Airport: Cops bit.ly/179fn7—
NBC 6 South Florida (@nbc6) December 24, 2012
… the entire airport was reportedly evacuated.
Miami airport evacuated http://t.co/Wh3A6qTt—
David Petrie (@Davidwpetrie) December 24, 2012
@rauldemolina. Miami intl Airport evacuado todos los pasajeros estamos afuera en la calle. yfrog.com/eso3jirej—
Jessica (@yuli_usa) December 24, 2012
Needless to say, travelers are frustrated and confused:
Whole #delta terminal evacuated at #miami #mia #airport, police everywhere. No idea what's going on http://t.co/fzO063Tm—
Reena Roy (@reenaroy) December 24, 2012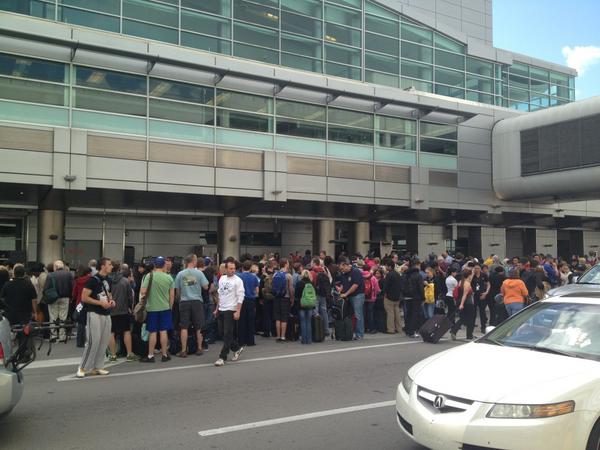 Miami airport on lockdown #getmetothebeach 😳😔—
Emily Johanson (@EmJohanson) December 24, 2012
They just evacuated the whole damn airport. What the hell!? #Miami #airport #international instagr.am/p/ToCdzpqOjD/—
Jigg (@Jiggolo) December 24, 2012
The entire Miami airport was just evacuated #whatthefuck #theresnoplacelikehomefortheholidays—
Maddie Perlmutter (@whyyouMAD_dog) December 24, 2012
Just got evacuated from Miami Intl Airport. Standing in parking garage. What is going on??—
Raya Samet (@LibraryRaya) December 24, 2012
Getting evacuated at Miami airport #sketchy—
Ty Bennett (@tybennett_23) December 24, 2012
SCREW YOU MIAMI, SCREW YOU MIAMI INTERNATIONAL AIRPORT, NEVER EVER AGAIN—
Kimberly (@kimmy_mariee) December 24, 2012
Grenade found in Miami airport. How the fuck you get away with that shit—
Big Meech ®™ (@JoshyD_JetLife) December 24, 2012
#tsa #mia Miami Airport just evacuated; I'm trying to get back to Brooklyn. Merry Friggin' Xmas.—
Gianni Mano (@theWSO) December 24, 2012
Security nightmare at Miami International airport. A hassle but glad that airport police are keeping us safe!—
Mira Samet (@msamet86) December 24, 2012
Twitchy will continue to monitor this story and update with any developments.
***
Update:
It appears that the 'suspicious item' that triggered the evacuation was, in fact, a lighter shaped like a grenade.
Miami airport shuts down over lighter shaped like grenade… bit.ly/TmoQtE—
Planet 2.0 (@P2GN) December 24, 2012
A lighter was mistaken for a grenade at Miami International Airport, prompting a security scare on Christmas Eve, said Miami-Dade Police.
The item was found in a bag in Concourse J. The upper floor of concourses J through H was shut down for about an hour, said Marc Henderson, the Media Relations Manager for the Miami-Dade Aviation Department.
Airport activity is now relatively back to normal. Better safe than sorry!