Way crowded at the gun store tonight... http://t.co/uOAuwuE8

—
Brandon Darby (@brandondarby) December 20, 2012
The scene above is a phenomenon sweeping across the heartland. The White House is finally responsible for a stimulus that works.  The nationwide gun-buying frenzy? Gun buyers say President Obama built that:
OMG, went out today to look at buying a rifle for Christmas. Every gun store in North Idaho was packed! Guess they watched O's press conf.—
Janet Adams (@JABfor24) December 19, 2012
Obama is the greatest gun dealer there ever has been…everyone is buying up all the assault rifles in every store around here…#ProGun—
BibleBeltBlackSheep (@rgonzales48) December 19, 2012
Just saw a line to get in a gun store! Congrats #Obama for stimulating the economy #tcot #DNC #tlot #p2 #teaparty http://t.co/7KnnGFop—
Average Joe (@AverageJoe1776) December 19, 2012
#Obama 2012 gun industry Man of the Year. Gun store inventories have sold out in 3 days. When will they learn its them we fear. #foxnews—
The Horny Monk (@TheHornyMonk) December 19, 2012
just spoke with a gun store owner in CT: "It's a pretty well known fact that Obama is the best gun salesman we've ever had"—
Versha Sharma (@versharma) December 18, 2012
Never thought id find myself waiting outside a gun store for them to open black friday style. Hahaha whatever thanks @BarackObama—
FofoMcflowjoe (@Mini_Fofo) December 19, 2012
The shelves are emptying fast:
One of the display shelves at my stepdad's gun store.. And the camo one was sold right after I took this. http://t.co/TdLqJq33—
Allison Davis (@allison_davis5) December 18, 2012
I just left my local gun store this is what's left now… instagr.am/p/TcJh3VDqeR/—
Dmitri (@TheFPShow) December 20, 2012
Our son went looking for a gun today. Virtually every single store is empty as the Hostess Twinke shelves. Bullets? Shelves are bare as….—
Barbie Lee (@UF2) December 20, 2012
After waiting 2hrs at the #gun #store I was able to buy the last 4 they had! #ar15 #red #white and #blue #2 instagr.am/p/Tcsb5cimsk/—
Ankur (@AnkurMusic) December 20, 2012
Ray's gun store in Dallas. AR section. Officially sold out. We bought the last S&W .223. instagr.am/p/TbhXgJLaGN/—
Will Bush (@wbbush) December 19, 2012
The lines are long and out the door:
Friend reports long lines at local Miami gun store. There were 30 people ahead of him in line. $RGR $SWHC http://t.co/AKwAjmCG—
Angel Acosta (@aacostavmgfl) December 17, 2012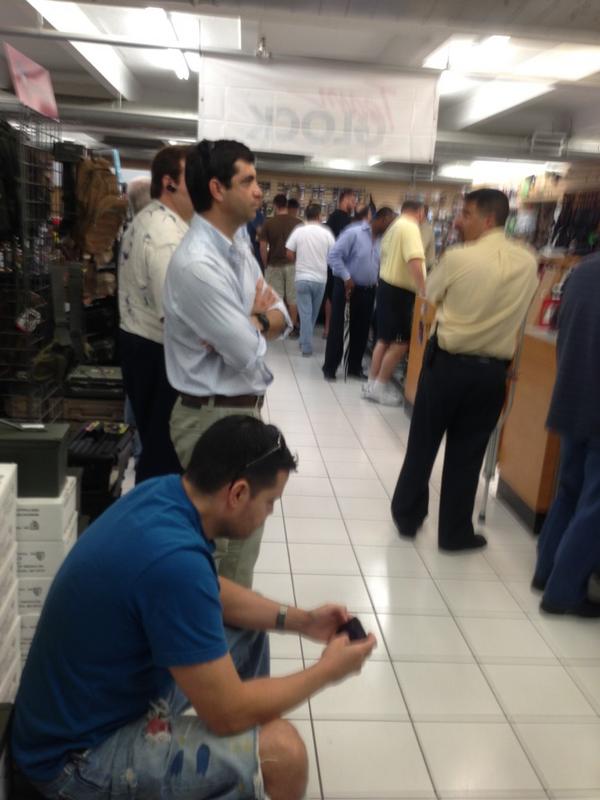 Waiting in line to get into a #gun #store only in #Texas #love this state #overcapac @ Independence Firearms instagr.am/p/TbfB3nTTWC/—
Richard Crouch (@RichardCrouch13) December 19, 2012
Parking lots are overflowing:
Hoffmann gun store on the pike is so packed #staystrapped #bangbang 🔫🔫 http://t.co/w7F6ZC8v—
Saudin Kuljancic (@saudinkuljancic) December 18, 2012
The local gun shop parking lot was full with a line on the road for people to drive in. #2ndAmendment #WakeUp—
Michelle Ripley (@Maybecrzy) December 19, 2012
From Pennsylvania to Florida to Illinois to Texas to Utah and all points in between and beyond, gun stores are packed:
Monroe co. Store packed with gun customers. We talk to shoppers and the store mgr. @WBRETV http://t.co/TTMP2CDk—
Lonnie Miller (@Lonniemiller1) December 18, 2012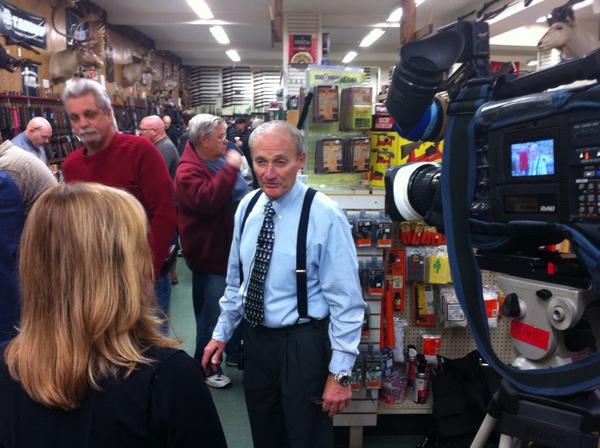 Welcome to the gun store…I've NEVER seen it this busy! #standingroomonly #guns #ammo #stockingup #everyone instagr.am/p/TcH4LdGWqi/—
Nikki H (@Nikki1156) December 20, 2012
Went in a gun store today. Store was packed! Long line all the way outside door. Was the only black person. Was completely ignored.—
LadyGlenChicagoStyle (@ladyglenChicago) December 20, 2012
My husband is the manager at a local gun store/shooting range. Today was another recordbreaking sales day for them.—
RG (@rhigirl) December 20, 2012
It appears my local gun store sold 300 AR-15's, yesterday. Get your guns now folks. My c&c instructors classes are filling. So surprised.—
Rachel B (@theanswerwoman) December 20, 2012
Today,I stopped in at a mom and pop gun store just south of Chicago. There has been a run on the place! They were out of everything!—
uriel trejo (@urieleschingon) December 20, 2012
If you want to see what a grocery store looks like prior to a hurricane, drop by your local gun store today. Bare walls and lines.—
Jon Stokes (@jonst0kes) December 19, 2012
There are LINES at the gun store in Birmingham, Alabama.—
ChristineBrandt (@LavishTantrums) December 17, 2012
At a local gun store…and there is literally a line out the door.—
Missak Tokhmanian (@followMissak) December 20, 2012
@LibertyLynx was at a gun store in Franklin, TN today. Line at the door waiting for opening. Lots of clips and ARs purchased. Was a frenzy—
Gator (@gatorairforce) December 19, 2012
I was off work for 3 days from 12/14 and came back to the gun store to find nearly empty shelves. We are nearly out of guns!.—
HANDGUNSAFETY (@handgunsafety) December 19, 2012
Went into my favorite gun store today and rifle shelves for ARs and AKs were completely empty. Discount ammo store wiped out. #nobama—
(@treasure_pug1) December 19, 2012
@trish_regan just left a gun store in Salt Lake City and I couldn't move it was so crowded! Everything was gone and helped we're empty!—
Taylor Napierski (@TaylorNapierski) December 19, 2012
Soo this gun store in Dallas is crowded as fuuuudge—
Stewart Shrauner (@StewartShrauner) December 17, 2012
At the gun store today, and man, was it packed in there. I guess everyone's gotta get there's before it becomes illegal. #guncontrol—
Jesse Bustos (@jessebustos) December 19, 2012
I just left my local gun store 2pm on a wed and it was packed! This anti-gun hysteria is just the boost local family owned business needed!—
Jeremy Lee Green (@JeremyjleeGreen) December 19, 2012
Why is the neighborhood gun store packed as hell??????????—
skano (@SK4NO) December 19, 2012
Just got back from a local gun store. IT WAS PACKED. You couldn't move in there. They still had half a dozen AR-15's but no .308's—
Jeff Frederiksen (@JeffFrederiksen) December 20, 2012
I have never seen so many moms in a gun store before. It's packed during lunch break.—
(@mwbowler) December 18, 2012
At Vances Gun Supply Store and not only is the place packed, but there are no less than 10 Cops here buying fire arms…. #interesting—
Joseph F Miller III (@joemillerwired) December 18, 2012
Bottom line: Americans are serious about self-defense and unapologetic about exercising their Second Amendment rights while they still have them.