Dawn Hochsprung, 47, school principal who died while lunging at the gunman in an attempt to overtake him. Rest in peace #PrayersForNewton

—
kelsey pollon (@kelspollon) December 15, 2012
As Twitchy reported, those who knew Adam Lanza said they weren't surprised to hear his name mentioned in connection with the mass shooting at Sandy Hook Elementary School. Those who knew the school's principal, though, say they're not at all surprised to read reports that Dawn Hochsprung was killed in an attempt to overtake the gunman.
Friends of deceased principal Dawn Hochsprung said when they heard reports of her heroic actions they didn't doubt it for a second #newtown—
Danny Gold (@DGisSERIOUS) December 14, 2012
Hochsprung, 47, was the mother and stepmother of 5 girls and joined Sandy Hook as principal in 2010. As with teacher Vicki Soto, she is being hailed as a hero for lunging at the shooter in an attempt to save lives.
#Hero school principal Dawn Hochsprung died lunging at the gunman as she tried to overtake him.—
Josh Rimer (@JoshRimerHockey) December 15, 2012
Headteacher Dawn Hochsprung died after attempting to tackle the gunman at the school in Connecticut, hero. RIP.—
Motherfucker Jones (@BradHousley) December 15, 2012
dawn hochsprung and victoria soto gave their lives to protect their students. in all this ugly tragedy let's not forget their sacrifice.—
The Match & The Moth (@thematchthemoth) December 15, 2012
Spare a thought for Dawn Hochsprung the Head Teacher who died trying to protect the children from the mad gunman in the US. A SAINT!—
Howard (@howiehippobum) December 15, 2012
Rest in Peace Principal Dawn Hochsprung..you are a hero who put your children first. #DawnHochsprung—
Denise Walsh (@CarthyWalsh) December 15, 2012
R.I.P. my friend, my fellow educator, my HERO
Principal Dawn Lafferty Hochsprung Was Loved By Kids: Friend people.com/people/package…—
Gilbert Martin, Jr. (@GILinrealLife) December 15, 2012
A true hero, risked her own life to save kids. What an amazing person Dawn Hochsprung was. #americanhero—
Logan Parker Fields (@LoganFields17) December 15, 2012
Dawn Hochsprung loved her school. Looking through her twitter page (@DHochsprung) is heartbreaking—
Danny Maher (@dandanmaher) December 15, 2012
Just two days earlier, Hochsprung had tweeted a photo of rehearsals for the school's winter concert.
Sandy Hook students enjoy the rehearsal for our 4th grade winter concert – a talented group led by Maryrose Kristopik! http://t.co/EEN0afV7—
Dawn Hochsprung (@DHochsprung) December 12, 2012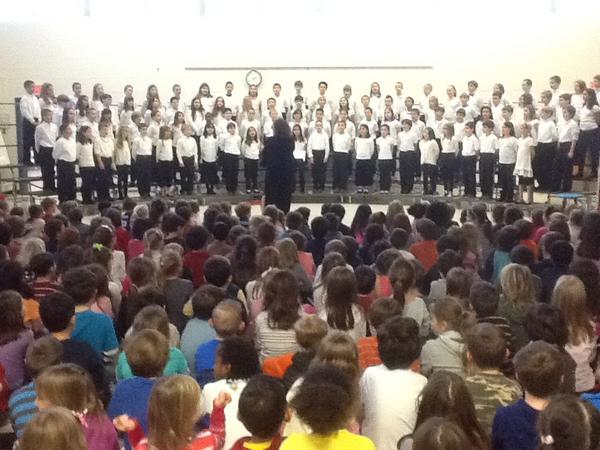 Heartbreaking, indeed.
At the Sandy Hook Elementary School holiday concert cheering nieces, Joan and Bridget.—
Rep. John Frey (@johnfrey) December 14, 2012
24 hrs ago, I was at Sandy Hook Elementary School Holiday Concert. Pure innocence, now shattered. Impact of today setting in… So, so sad—
Rep. John Frey (@johnfrey) December 15, 2012
We at Twitchy send our prayers to the friends and especially the family of Dawn Hochsprung.
.@time has not yet named the person of the year. Late nomination for the teachers and staff at Sandy Hook elementary school?—
Niels Lesniewski (@nielslesniewski) December 15, 2012