Do they have to interview kids????? Why not some of the teachers instead????

—
Kathleen McKinley (@KatMcKinley) December 14, 2012
While many members of our oh-so-esteemed media were ghoulishly weaving the Sandy Hook Elementary School massacre into their beloved gun-grabbing narrative, others were more concerned with getting a scoop … out of the mouths of babes.
Before the blood of 20 murdered children was dry, reporters descended on Newtown, Conn., to pry terrified reactions from traumatized schoolchildren.
Traveled to CT today, speaking with #SandyHook students instagr.am/p/TPXS_vSZMo/—
Katie Couric (@katiecouric) December 15, 2012
Just look at the concern on Katie Couric's face as she interviews those kids. What compassion!
Sensitive "real journalist" Piers "Musket" Morgan got in on the action too, bringing a child on his CNN program after spending the day politicizing the tragedy on Twitter.
is @piersmorgan serious? youre interviewing a kid who was traumatized today/lost her schoolmates. shame on you @cnn. #PrayForNewtown—
mallory (@SoCalMal88) December 15, 2012
Piers Morgan is vile. Interviewing little kids and a classmate who said the kid "kept to himself." Come the fuck on, this is "journalism?"—
Jill F (@jillyfitts) December 15, 2012
Anderson Cooper refused to join his colleagues.
In answer to your tweets, no, Of course i will not be interviewing children from the school. I do not think that is appropriate at this time—
Anderson Cooper (@andersoncooper) December 14, 2012
But dozens of other journalists sought out fragile child witnesses and frightened classmates with no regard for their state of shock or the further damage that might be done.
Good #CNN maintaining policy to interview child victims/witnesses of #Newtown shooting ONLY w/presence of their parents #media #journalism—
Michael Bociurkiw (@mikeybbq) December 14, 2012
That pathetic CYA policy didn't fly with viewers, and Cooper's fellow CNN reporters were among the most criticized offenders.
Really CNN? She's in 3rd grade. "Was everybody crying, scared, wanting their parents to come get them?" cnn.com/video/?hpt=hp_…—
Geoff Campbell (@GeoffBCampbell) December 14, 2012
I love how CNN has an opinion piece about not interviewing kids after a tragedy, along with 2 kid interviews. twitpic.com/bm0iry—
James Finlay (@james_finlay) December 15, 2012
Seriously this guy on CNN is an idiot the media is terrible for interviewing a little kid after this horrific tragedy—
blue (@jeffblue16) December 15, 2012
@seriouslyemily i saw cnn taking a statement from a kid like RIGHT after it happened when i was at work today. i got queasy—
sean (@drunkpiano) December 15, 2012
@CarrieKvas It's disgusting. I saw one clip on CNN of a journo (as the parent is being interviewed) blatantly pulling over kid for interview—
Phillip Smyth (@PhillipSmyth) December 15, 2012
CNN wasn't the only network seeking out children for interviews.
These kids just witnessed mass murder, why is CNN, Fox, MSNBC reporters the first people they are talking to, and not a child psychologist?!—
Dwayne Wayne (@Double_Olv7) December 15, 2012
Dear NBC, CNN, FOX, and MSNBC, stop interviewing children. Its unethical and can be damaging to them later. Its not necessary.—
Carrie Miller (@Carebear755) December 14, 2012
And local reporters joined their national brethren in their attempts to be first at pulling tearful quotes from horrified children.
@LizaPersky You would have been sick at 12:30 a Ch2 Reporter was hammering a kid with questions, mom was w/him but I think she was just numb—
Ellen Karis (@GreekChickComic) December 15, 2012
@PaulSurreal the local reporter who basically said 'I don't believe you' to that kid should be f*cking ashamed of himself. Disgusting.—
Mojaxx (@MojaxxVDJ) December 15, 2012
One journalist even suggested it was all for the greater gun-control good.
It's awful to see traumatised kids interviewed. But just maybe, it's emotive & shocking enough to spark some real change in DC #SandyHook—
Jacqueline Maddock (@Jacqui_Maddock) December 15, 2012
People of all political stripes, including some members of the media, were appalled by the quest to add to these kid's emotional trauma in the name of "journalism."
As a parent, I'd just like to make it clear that reporters interviewing kids right now are disgusting… #HaveSomeRespect—
Mario Lopez (@MarioLopezExtra) December 14, 2012
INDEED. MT @gretawire: Might be a good time for the media to rethink whether to air interviews with children… bit.ly/XnGdGG—
Jedediah Bila (@JedediahBila) December 14, 2012
If a news reporter tried to stick a camera in my kids face to talk about this after they were just inside I would knock them out—
Big Bob (@FSBigBob) December 14, 2012
Any media interviewing the children involved in the CT shooting should be taken off the air.—
Jill Pantozzi (@TheNerdyBird) December 14, 2012
Interviewing children whose school has been under siege. Keep up that class, media! Dirty laundry, indeed. #Newton—
di butler (@dibutler) December 14, 2012
CNN interviewing children at the scene… hard to overestimate the moral depravity of today's media :( #newtown—
Randell C. (@northernsooner) December 14, 2012
Dear media brethren. LEAVE THE SURVIVING KIDS ALONE…do not interview them…let them be enveloped with hugs & kisses from their families.—
Lisa Horne (@LisaHorne) December 14, 2012
Some reporters had the audacity to interview Sandy Hook students right after their classmates got shot. How would they think that was ok?—
Ryan Lloyd (@DietPotter) December 15, 2012
Here's a novel idea for media covering Conn. tragedy. LEAVE THE KIDS ALONE. QUIT INTERVIEWING THEM. THEY'RE KIDS, FOR CRYING OUT LOUD!!!—
Mike Chappell (@mchappell51) December 14, 2012
Dear national media: it is universally NOT okay to interview little children after 14 of their schoolmates have been shot. #Newton—
Elamin Abdelmahmoud (@elamin88) December 14, 2012
There is a 9 year old on TV right now, and she's talking about the guns she saw. Have you any moral judgement left, television news? #Newton—
Elamin Abdelmahmoud (@elamin88) December 14, 2012
There is no way a reporter can ask a child a question that is developmentally appropriate and safe in that situation. You are doing damage.—
Lyndsay (@GeekyLyndsay) December 14, 2012
Repulsed to see reporter interviewing kid. Kid is astonishingly composed, likely in shock.—
Elizabeth Scalia (@TheAnchoress) December 14, 2012
Media stooping even lower than usual by breathlessly interviewing traumatized children. Scum.—
(@Mamadoxie) December 14, 2012
Today I saw the same media that preaches at me from a moral highground interview children at th scene of a schol shooting. No, really.—
John Nolte (@NolteNC) December 14, 2012
Take a bow, "real journalists." You've outdone yourselves this time.
Update:
While survivors of the massacre are hopefully home with their families today, the vultures are still circling at Sandy Hook Elementary:
"NO MEDIA BEYOND THIS POINT" RT @thomaskaplan: Reporters are pouncing on any non-reporter who ventures near Sandy Hook. http://t.co/s7amrofE—
Brian Stelter (@brianstelter) December 15, 2012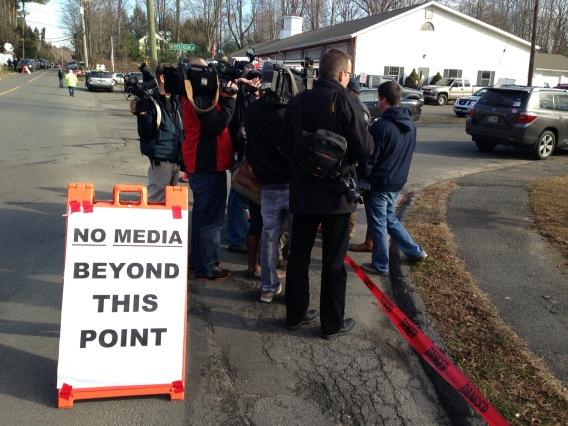 Let's hope those non-reporters they're pouncing on don't include children today.