Kanye...c'mon now a skirt!?! Do u try to be a jackass at these events? #kanyeprobs http://t.co/IXk0NYzW

—
Taylor Burgess (@tjburg13) December 13, 2012
Because nothing says "relief for Sandy victims" like a pleated leather skirt paired with a hoodie, here's what Kanye West wore to the 12-12-12 benefit concert: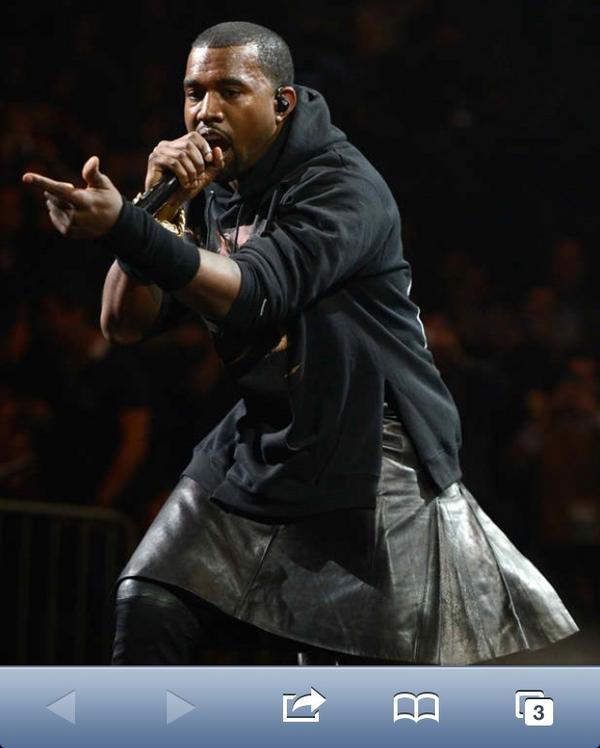 Imma let you finish, but the Twitterverse is pretty sure where Kanye got that skirt.
KANYE IS WEARING A LEATHER SKIRT Kim K. must have picked that out…thats the only logical explanation 4 this… #121212concert—
Tion (ティオン ) (@tiooonnn) December 13, 2012
Kanye is that skirt from the Kardashian Kollection? #121212concert—
Louis Loiodice (@LouisLoiodice) December 13, 2012
in lighter news, kanye seems to be wearing a skirt…must of borrowed it from kim #classyman—
Lauren (@therealLsweitz) December 13, 2012
How nice of Kim kardashian to let kanye borrow her skirt for the night—
emily strich (@emilystrich) December 13, 2012
Could it be? Did Kanye raid his girlfriend's closet?
At least we know where Kanye got the skirt… http://t.co/kE1LIovH—
Lauren Platt (@LAURCELtheSHELL) December 13, 2012
Kim loved the look, natch.
Awwwwwwww I'm so excited right now!!!!! He looks so cute!!—
Kim Kardashian (@KimKardashian) December 13, 2012
More importantly:
Does Kanye's skirt have a Twitter account yet?—
Jean Martha (@TheJeanMartha) December 13, 2012
Of course! It had to happen:
Nothing but the finest pleather money can buy. Yeah, i'm fly. #121212Concert—
Kanye's Skirt (@KanyesSkirt) December 13, 2012
Sorry everybody. This is awkward for me too. #121212Concert—
Kanye's Skirt (@KanyesSkirt) December 13, 2012
Damn, i was hoping @jamiefoxx would show up in person. Maybe in a leather halter top. #121212Concert—
Kanye's Skirt (@KanyesSkirt) December 13, 2012
Anybody know if @foofightersdave is looking for something to wear for his set? #121212Concert—
Kanye's Skirt (@KanyesSkirt) December 13, 2012
For those of you wishing to purchase a similar garment, go to your local Scottish S&M outlet.—
Kanye's Skirt (@KanyesSkirt) December 13, 2012
Im thinking of doing a duet with Roger Daltrey's pecs.—
Kanye's Skirt (@KanyesSkirt) December 13, 2012
Getting outperformed right now, @kanyewest. And Sir Paul is wearing mom jeans.—
Kanye's Skirt (@KanyesSkirt) December 13, 2012
Alright, goin in the suitcase for the night. @kanyewest is taking me shopping for matching hooker boots tomorrow.—
Kanye's Skirt (@KanyesSkirt) December 13, 2012