Paul Krugman's "This Week" appearances really don't help his credibility...

—
Emmett Macfarlane (@EmmMacfarlane) December 09, 2012
Heh. President Obama touted The New York Times' Paul Krugman as "one of the smartest economic reporters out there' not too long ago. That's not really surprising. It's no wonder he thinks Krugman is smart; Math is hard! Math, and reality, are also hard for Mr. Krugman.
Twitter users, unlike the president, don't squee over the absurd Krugman. And the response to his "This Week" appearance this morning was no different.
The oh-so-classy Krugman attempted to slam Sen. DeMint by making a "joke" about DeMint's new gig at The Heritage Foundation.
.@NYTimesKrugman: Demint's departure from Senate to Heritage is like taking Think out of Think Tank #ThisWeek—
This Week (@ThisWeekABC) December 09, 2012
@ThisWeekABC @NYTimeskrugman Krugman has neither think nor tank.—
(@DismantleFed) December 09, 2012
Zing!
The always ridiculous Krugman then prattled on, relentlessly letting his idiocy show. Bless his heart.
@pete_earle That's because Krugman is a propagandist, not an economist.—
copycat (@copycat042) December 09, 2012
Go Mary !! Keynesian Lunacy is absolutely correct. It's always entertaining to hear Krugman try to defend the indefensible ….—
Elliot (@ekarlin) December 09, 2012
Wait a min. Krugman says @RepPaulRyan budget is a fake doc? Has he seen Obama's budget? EVERY Sen Dem voted against Pres budget. #ThisWeek—
Tara DiJulio (@TaraDiJulio) December 09, 2012
Dad: "Krugman seems almost ignorant at times." Me: "Almost? At times?"—
Michelle Ray (@GaltsGirl) December 09, 2012
Dad: "Yeah, but isnt Krugman a Nobel prize winner?" Me: "Yeah. So is Obama"—
Michelle Ray (@GaltsGirl) December 09, 2012
Boom!
#thisweek Krugman is a flaming idiot.—
N Behr (@BehrN) December 09, 2012
@robertwlambert paul krugman needs bald eagle punched in the face #marxist #cantstandhim—
Raymond Jean Bourque (@Ray_Bourque77) December 09, 2012
Krugman is an liberal idiot. Pay up rich guy. Give up 90% of your income if you feel so strongly about taxing the rich.—
(@DarTell) December 09, 2012
Paul Krugman has the intellectual heft of my 14 yr old Jack Russell terrier #ThisWeek—
(@iuubob) December 09, 2012
Mary Matalin to Paul Krugman: Are you an economist or a polemicist? #ThisWeek—
Ian (@i88schwartz) December 09, 2012
Mary Matalin's reaction to Paul Krugman on @ThisWeekABC http://t.co/A3sHv8kV—
(@igorvolsky) December 09, 2012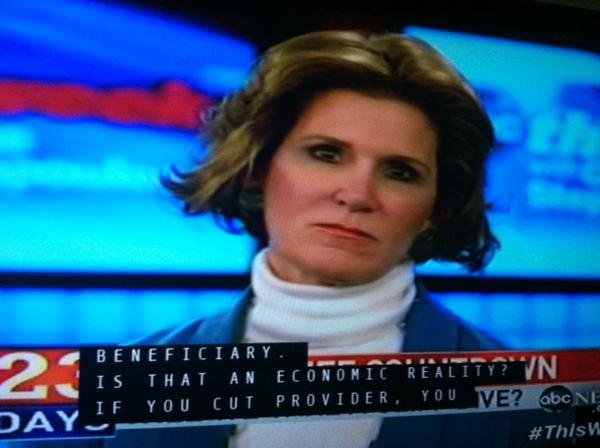 Well faced, Mary! Of course, she could have been looking aghast at his tie.
You know what's total nonsense, Krugman? Wearing a thick half Windsor with an Oxford button-down collar.—
J.P. Freire (@JPFreire) December 09, 2012
@JPFreire Woven ties should only be tied four-in-hand. Any bigger knot is an abomination against civilization and God Himself.—
VaTxn ☆ (@VaTxn) December 09, 2012
He lacks common sense and fashion sense. Double fail, Krugman!