Woke up to people in a panic about some pics,please guys I'm happily married,sometimes fans & friends take silly pics.Its harmless. #RELAX

—
Coco (@cocosworld) December 07, 2012
"Ice Loves Coco" is currently in its third season and there's nothing like a very public marital spat to get the ratings up. Yesterday pics surfaced of Coco getting a little too close for Ice-T's comfort with rapper AP.9.
Coco how could you do this to Ice. There's no hope left in this world! http://t.co/HoslsnDC—
Linda Eder (@lme1988) December 08, 2012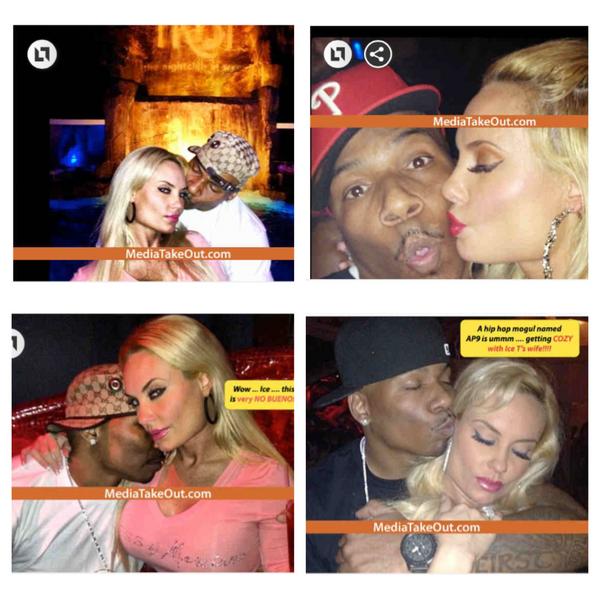 Coco assured fans there was nothing going on in the photos that show her canoodling with another guy. But Ice-T wasn't about to let it slide. In a since deleted tweet, he wrote, "Coco's in Vegas. She has given me her explanation of the pics on the net from her fist weeks out there with some dude."
> She said he knew someone in the crew from our show and would pop up where ever they would go. He also said he knew me.. I don't know dude>—
ICE T (@FINALLEVEL) December 08, 2012
Regardless.. They would take Posed pics every time. Most of them disrespectful and in bad taste. She's made me look.. And feel like shit.>—
ICE T (@FINALLEVEL) December 08, 2012
I saythison Twitter because there's no way to avoid the obvious misconduct of a married couple.That's it.Any more questions ask @Cocosworld—
ICE T (@FINALLEVEL) December 08, 2012
Don't get it twisted… I'm not happy about this shit.—
ICE T (@FINALLEVEL) December 08, 2012
Daily Game: Trust no one..—
ICE T (@FINALLEVEL) December 08, 2012
Ice deleted all but one of the tweets about an hour later. So much for needing to "say this on Twitter."
But Coco was on hand to make things even more awkward by responding on Twitter.
Ice is right,the pics I took with this man were in poor taste & I disrespected my husband however the pics were the only thing that happened—
Coco (@cocosworld) December 08, 2012
I feel so sad,the bottom line is I love Ice & I can understand why he's upset theres no excuse for my actions.I'm so sorry baby & to evryone—
Coco (@cocosworld) December 08, 2012
Luckily, Twitter is full of armchair marriage counselors and private investigators.
I only saw 1 of the Coco pics. As a married woman I'd never pose like that w/ another man! She'd better learn the church hug! Sheesh!—
Mrs. DeeCee3 (@ConventionalDee) December 08, 2012
I don't wanna say CoCo cheated BUT. There were 3 different outfits in the pics, meaning she was with or met up this man for days straight—
:-) (@_FiftyShadesofK) December 08, 2012
"Sometimes fans take silly pics" she said ;____;! Man, how many of yaw ever took a silly pic nuzzling and snuggling with Coco?—
Sean Bishop (@Sean_Bishop) December 08, 2012
Leave Ice and Coco alone ya'll lol….damn. Who hasn't taken a few flirty pics with the wrong dude—
Ari Ari Bo Bari (@_FranklyMyDear_) December 08, 2012
I highly doubt coco did Ice dirty. She took some pics, oh well. She's a sweetheart she loves her man. They'll be aight—
DVOXO (@__YOxMONICA) December 08, 2012
Coco took more than just pics with that man…judging by the pics,that was not just 1 night…and who lets another man hold them like that..—
RemonaVogue (@MonaVogue) December 08, 2012
If ice t and coco can't make it, nobody can.—
Jetesy Hammersticks (@TheJetesTweets) December 08, 2012
We always thought those crazy kids would make it.
Update:
Why did Ice delete his tweets?
RT @ZombieRedskin: Why did Ice delete all his tweets about the Coco situation?/ I said my part. No need to promote the situation.—
ICE T (@FINALLEVEL) December 08, 2012
File under: Things To Consider Before Tweeting To 330,000 Followers.