#CairoUniversity is the symbol of modern #Egypt.Now Islamists demonstrate in front it to rally 4 a constitution that deny this equality. #MB

—
Nervana Mahmoud (@Nervana_1) December 01, 2012
Thousands of Islamists gathered near Cairo University today to rally in support of Shariah law and Mohamed Morsi, the Egyptian president who recently granted himself dictatorial powers.
I think the headline for this event is the main stage slogan. "الشرية والشرعية" Islamic Law and the Right Islamic Path. Not subtle.—
Cliff Cheney (@cliffcheney) December 01, 2012
Organized by the Muslim Brotherhood, the rally follows a week of large anti-Morsi demonstrations and the passage of a draft constitution by an Islamist-led assembly.
People chanting : "we love you oh Morsi" sign says "rule belongs to Allah alone" #Egypt—
betsy hiel (@betsy_hiel) December 01, 2012
Just in case we were in any doubt. They are calling the pro-#Morsi rally at #CairoUniversity the "legitimacy & sharia" rally. #Egypt—
Con Psalios (@nogods4me) December 01, 2012
Wow RT @SarahEbeid Ikhwan protest 12:00 PM . http://t.co/xNMpMThm—
Erin Cunningham (@erinmcunningham) December 01, 2012
Large crowds already at pro- #Morsi demo in Cairo. #Egypt http://t.co/3Ar57AND—
Derek Stoffel (@DerekStoffelCBC) December 01, 2012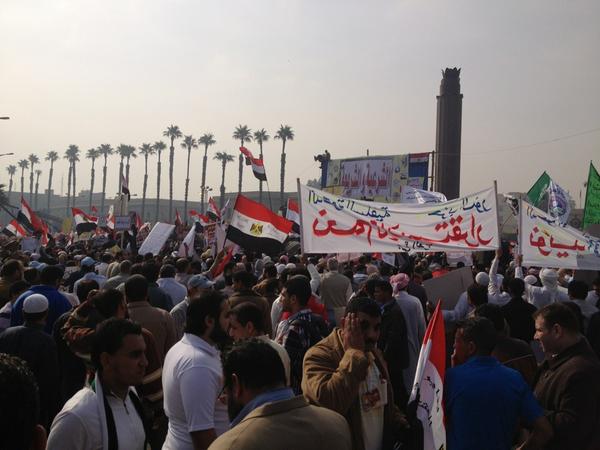 Pro Morsi rally chants "Morsi God is Great,Morsi" "Islamiya Islamiya" "people want 2 implement Allah's law" #Egypt http://t.co/d1efhlA0—
betsy hiel (@betsy_hiel) December 01, 2012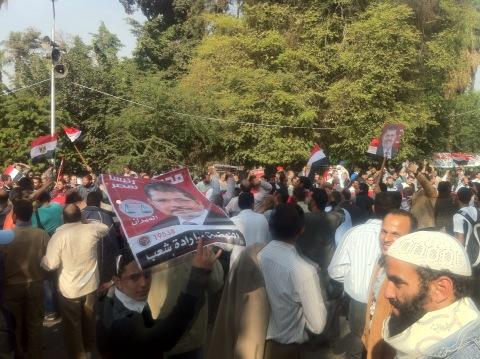 At pro-Morsi demo people chant "coming coming oh Islam" #Egypt http://t.co/PTIxoHqy—
betsy hiel (@betsy_hiel) December 01, 2012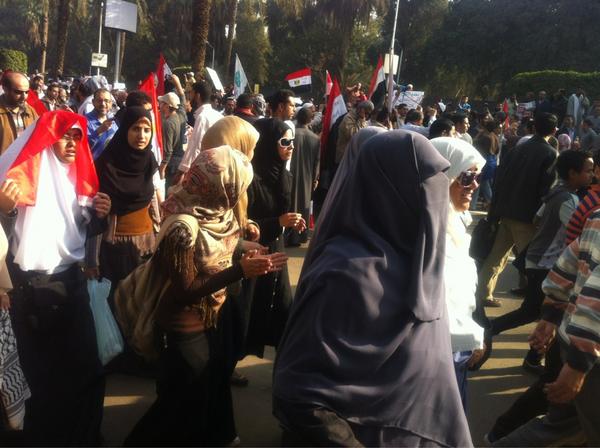 Salafi sheikh also says those in #Tahrir r doing "hanky panky" & previously said wants to lower age of girls marriage http://t.co/ieoFDmVa—
betsy hiel (@betsy_hiel) December 01, 2012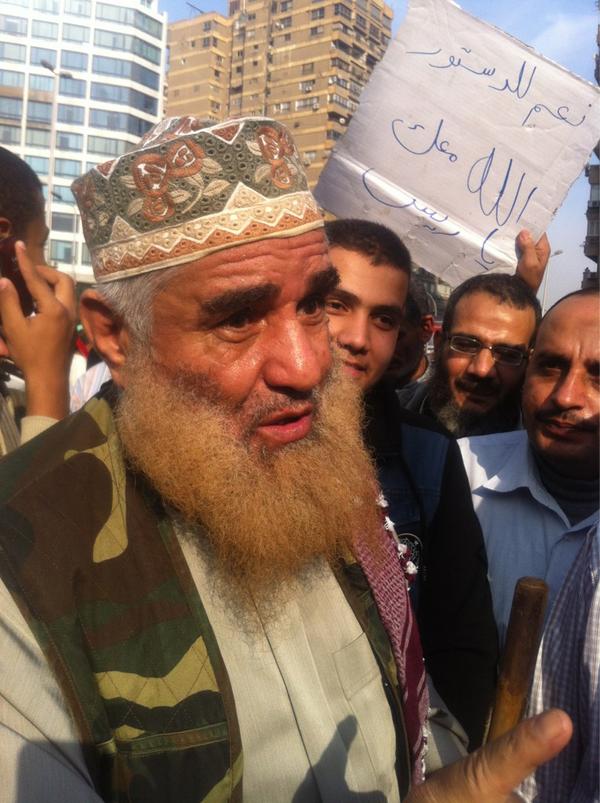 The U.S. Embassy in Cairo is closed to visitors again today due to "security concerns."
Due to security concerns, we are rescheduling Sunday's consular appointments. We are anticipating normal ops Monday onwards.—
US Embassy Cairo (@USEmbassyCairo) December 01, 2012