Both opponents & supporters ve spoken up loud & clear, time to let the ballot box decide what direction the country will take #Democracy

—
(@Ikhwanweb) December 01, 2012
As Twitchy reported earlier, thousands of Mohamed Morsi supporters took to the streets in front of Cairo University today in what's being called the "Million Muslim March" to show support for the new president. The rally culminated in Morsi's call for a nationwide referendum Dec. 15 on the country's newly drafted constitution.
#BreakingNews Egypt's Morsi calls Dec. 15 referendum on constitution dlvr.it/2Z8CjV—
Israel News (@IsraelNewsNow) December 01, 2012
Though those on the ground were reported to be chanting "Rule belongs to Allah alone," a scan of the Muslim Brotherhood's tweets gives a very Western impression of the proposed constitution and praises the limits on the president's power — a week after Morsi granted himself dictatorial powers and inspired an ongoing protest in Tahrir Square.
#Morsi: the Egyptian people are determined to fulfill the goals of the blessed #Jan25 revolution—
(@Ikhwanweb) December 01, 2012
#morsi: Constitution limits the power of the president and makes the people the source of all sovereignty—
(@Ikhwanweb) December 01, 2012
The Muslim Brotherhood, via its official English-language Twitter feed, is also publicizing several articles highlighting the democratic basis of the constitution.
Article 34: individual freedom is a natural right, safeguarded and inviolable—
(@Ikhwanweb) December 01, 2012
Article 80: any encroachment on any of rites & freedoms guaranteed by Con shall b considered a crime…state shall grant fair compensation—
(@Ikhwanweb) December 01, 2012
Article 81: rights & freedoms pertaining to the individual citizen shall not be subject to disruption or detraction—
(@Ikhwanweb) December 01, 2012
Morsi's critics, though, are posting those sections of the proposed constitution that are more worrisome to the West.
Art 10: The state shall ensure reconciling between duties of women towards her family and her work—
Sarahngb (@Sarahngb) December 01, 2012
#EgyConstitution – Art 31 – No human shall be insulted or humiliated—
Sarahngb (@Sarahngb) December 01, 2012
#EgyConstitution – Art 44 – Insulting Prophets or apostles is prohibited—
Sarahngb (@Sarahngb) December 01, 2012
#EgyConstitution – Art 4: Azhar's Senior Scholars to be consulted on all matters relating to Islamic Shar'a—
Sarahngb (@Sarahngb) December 01, 2012
#EgyConstitution -Art 219: Principles of Islamic Sharia includes all evidence, fundamental rules, jurisprudence & sources in Sunni doctrines—
Sarahngb (@Sarahngb) December 01, 2012
#Morsi's constitutional decree is a recipe for sectarianism. It's inherently Sunni & affront to Shia & other minorities.—
Julie (@MsIntervention) December 01, 2012
President #Morsi has torn #Egypt apart, made it two countries, two people, inside one border. May history remember his deeds. Well done.—
Omar Kamel (@omarkamel) December 01, 2012
Do side-by-side aerial photos of the anti-Morsi protest in Tahrir Square and the Muslim Brotherhood's march suggest that the constitution might not survive the Dec. 15 referendum?
Protestors against decree. Those for decree below. This should give hope for a defeat of referendum. #Morsi #Egypt http://t.co/pp9IX1cq—
Nermien Riad (@NermienRiad) December 01, 2012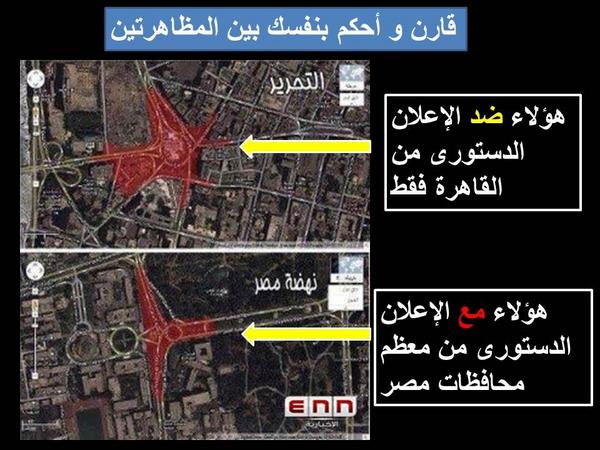 In fact, several observers noted that the large group of Morsi supporters dissipated very quickly once the announcement of a vote had been made, leaving opponents to ponder the nation's precarious situation.
What does it tell you that #MB #Morsi demonstrators all went home when the buses left? Cairo University square empty now. All orchestrated.—
Barbara Ibrahim (@blibrahim) December 01, 2012
Cairo university is now empty while #tahrir still full why isn't @aljazeera @CNN @AlArabiya reporting this #Egypt #tahrir #Morsi. All r dogs—
Mina Abdel Maseh (@MinaShaq) December 01, 2012
I thought #Morsi & MB would move smarter and try to reach compromise !! totally wrong—
Redha Al-boori (@Redha_ph) December 01, 2012
#Morsi calls for referendum on his #Ikhwan #constitution. It means he ignored 25 Jan #Egypt's revolution's demands and chose the civil war!.—
مجدي صلاح أبوسالم (@Magdy_AboSalem) December 01, 2012
https://t.co/Tikuf1FN #MB flag not #egypt flag. the picture speaks for itself . #morsi #ikhwan #egypt—
mohammed soliman (@soliman91) December 01, 2012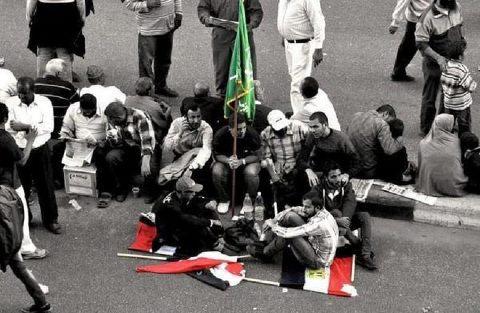 @SherifMorris Constitution referendum on the 15th of December. What constitution? It's a piece of dirty dog shit.—
Peter M. Boktor (@petermboktor) December 01, 2012
Rejoice #Morsi , you managed to alienate more than half of your population in record time. Good luck enjoying your "victory"—
Amani Massoud (@amassouda) December 01, 2012
That awkward moment when thinking about #Morsi freaks you out more than the thought of the world ending in #2012—
Arwa Al-Sabahi (@Arawyy) December 01, 2012
You can guarantee that the result of the referendum will be turned into a referendum on #Morsi by #MB .—
H.A. Hellyer (@hahellyer) December 01, 2012
In a nutshell, #Morsi held #Egypt hostage until he reached the results he wanted. Dec15 referendum is just a formality.—
Nervana Mahmoud (@Nervana_1) December 01, 2012
In deep depression with what's happening in the country. Muslims brotherhood are truly terrorists. #Morsi—
Diana DeeDee (@africanstormz) December 01, 2012
Anyone else feeling the Iran 1979 vibe as #Morsi grabs power in the name of God? #Egypt—
Eva Sajoo (@esajoo) December 01, 2012
#morsi just pulled the plug at the barely visible, feeble, dying candle light at the end of the long, narrow, claustrophobic tunnel—
Mohamed Gad El-Hak (@MO_G_) December 01, 2012
Amid the propaganda, the Muslim Brotherhood did find the time to respond to one critic.
Is that the kind of "dialogue" we shld ve when future of our country is at stake?! RT@hana_elhattab: Lol @ikhwanweb really need to get laid"—
(@Ikhwanweb) December 01, 2012