Breaking news the Internet in the entire country of Syria has been shut down!

—
Dwayne moore (@nationdivided) November 29, 2012
Not good. The Internet in Syria has gone dark today as fighting intensifies in the capital city of Damascus. Telephone communications are reportedly blocked as well.
Akamai traffic data supports @renesys observation ( renesys.com/eventsbulletin…) that Syria is effectively off the Internet http://t.co/haNHwb5y—
StateOfTheInternet (@akamai_soti) November 29, 2012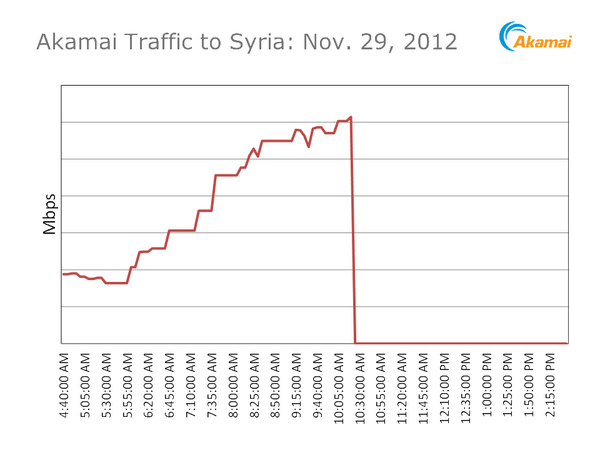 Phone lines & internet reported cut off in #Damascus. Imagine a regime that has to cut the phone in its own capital city. #Syria—
(@AletheiaLibya) November 29, 2012
Two hours ago the #internet was cut at least in most neighborhoods in #Damascus. This is troubling news. #Syria—
Razan Ghazzawi (@RedRazan) November 29, 2012
2 US-based Internet-monitoring companies say Syria has shut off Internet nationwide—
The Associated Press (@AP) November 29, 2012
No mobile networks n #Latakia whatsoever! this is the 2nd time 4 that 2 happen there, the 1st was when the regime shelled Raml Janobi #Syria—
zain (@ZainSyr) November 29, 2012
Again a total blackout on #Syria's two biggest cities #Damascus and #Aleppo. No phones, no internet and no electricity!—
(@fadihaliso) November 29, 2012
Syria has disconnected from the Internet. All 84 of Syria's IP address blocks have become unreachable, effectively removing the country f…—
Bogdan Petre (@Petre_Bogdan) November 29, 2012
The Damascus airport is reportedly inaccessible and flights to the region are being canceled.
#Breaking: All roads to #Damascus airport are closed #Syria—
(@kindakanbar) November 29, 2012
EgyptAir cancels Friday flight to Damascus due to situation around Damascus airport, Cairo airport official says.
AFN International—
Al-Furqan News (@afnalerts) November 29, 2012
Egypt Air and Emirates both cancelled flights to #Damascus due to fighting there as reports of Internet shutdown emerge. #Syria v/ @ASE—
Bilal Randeree (@bilalr) November 29, 2012
Damascus Airport closed by fighting. Flights cancelled. FSA offensive in suburbs to north, northeast, south & southwest of capital #Syria—
Jon Williams (@WilliamsJon) November 29, 2012
Twitchy will monitor this developing story and update as more information becomes available.
Update:
Reuters and the BBC report that telephone lines are working "intermittently" and mobile phone systems have been cut off.
some landlines working sporadically in #Syria via Reuters—
Michael Downey (@mgdowney) November 29, 2012
Some Twitter users indicate that electricity has been cut or is working sporadically.
Many people are reporting that cell phone, electricity, and landlines reported down in several cities of #Syria—
Nighat Dad (@nighatdad) November 29, 2012
Landline still working in his area. Electricity cuts in 3 hr cycles. Sometimes only source of news is radio. Missiles still over bldg #syria—
HS (@Hindoisms) November 29, 2012