The WH wants middle class taxpayers to tweet to #My2K on the impact a $2200 tax hike would have if tax cuts not extended for them.

—
Mark Knoller (@markknoller) November 28, 2012
No, really. The White House launched another pitiful hashtag campaign. The latest sad attempt is about extending the Bush tax cuts. Wait, what? We thought those were evil?
Obamairony: Same ppl who claimed "Bush Tax Cuts" were only 4 rich now argue to keep them b/c they help the poor. tinyurl.com/c5udmrg—
Victoria Taft (@VictoriaTaft) November 28, 2012
"the Bush tax cuts—people didn't need them, and they weren't even asking for them."–Obama 07: ow.ly/fEsN9—
Seth Mandel (@SethAMandel) November 28, 2012
Whatever! He evolved.
Pres Obama today launches another hashtag campaign: #My2K. It's his campaign for extending middle class tax cuts but not for top earners.—
Mark Knoller (@markknoller) November 28, 2012
Now with more class warfare and lies! Their earlier hashtag failures weren't titanic enough, evidently.
Pres Obama has launched other hashtag campaigns: #40dollars for payroll tax holiday & #dontdoublemyrate for student loan interest rate bill.—
Mark Knoller (@markknoller) November 28, 2012
Heh. #Dontdoublemyrate was a classic hijack, filled with comedy gold! Hey, White House, what's the definition of insanity again? And, away they go, delusionally pimping yet another hashtag.
"Call your members of Congress. Write them an email. Tweet it using the hashtag #My2K." —President Obama—
Barack Obama (@BarackObama) November 28, 2012
"Tweet using the hashtag #My2k" —President Obama calls on Americans to speak out to extend middle-class tax cuts: wh.gov/my2k—
The White House (@whitehouse) November 28, 2012
What does $2,000 mean to you? Tell us with #My2k http://t.co/l0CBS0pW—
The White House (@whitehouse) November 28, 2012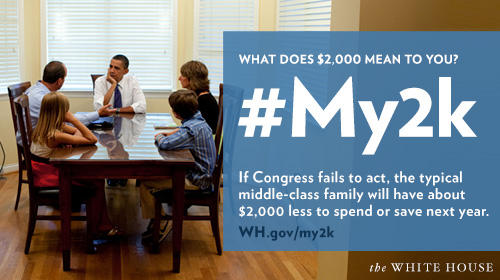 See? He's totally sitting around your kitchen table! And he reads letters, in the form of tweets.
Pelosi gets in on the idiocy.
I join President Obama in his call on Congress to pass a middle class tax cut bill right now. #My2K—
Nancy Pelosi (@NancyPelosi) November 28, 2012
Fiscal cliff, shiscal cliff. President Obama starts hashtag games. New slogan: The Hash stops here.
Happy warriors aren't buying it, and the mockery begins swiftly.
@markknoller Why can't Pres. Obama negotiate with Congress??? He's not a social media marketing guru, he's the president of the USA!!—
Sharon Riddle (@riddlesnd) November 28, 2012
Uhh…@whitehouse, isn't it misleading that you just retweeted someone who thinks #my2K is an additional $2k per month?!—
Emily Zanotti (@emzanotti) November 28, 2012
Dear Obama faithful, #My2K doesn't mean you automatically get $2,000. Know of what you tweet BEFORE you tweet.—
Meredith Jessup (@MeredithJessup) November 28, 2012
And, the hilarious hijacking begins.
I'm enjoying the new #My2K cite created by the White House. It's not often the Obama White House pushes a Bush initiative.—
Ari Fleischer (@AriFleischer) November 28, 2012
Don't call my bluff, bro. #my2k—
Stephen Green (@VodkaPundit) November 28, 2012
"Use your Tumblrs and your Instadewhickeys to uh uh uh uh..tell them that I won again. uh uh Tweeter" #My2K—
S.M (@redsteeze) November 28, 2012
Shorter Obama: only 2K is yours. The rest is mine. #my2k—
Greg Pollowitz (@GPollowitz) November 28, 2012
FDR crushed the Nazi menace. Kennedy sent Americans to the moon. Obama started a Twitter hashtag game. #My2K—
Jon Gabriel (@ExJon) November 28, 2012
Why is it we always talk taxes…when my government's problem is spending…not tax collection #My2K—
Marc Miller- ndcajun (@ndcajun) November 28, 2012
Dear @whitehouse: May I suggest a more accurate hashtag for your #my2k propaganda campaign? How about #SeizeMy401k? #tcot #p2—
Randy Herrmann (@Herrmann8er) November 27, 2012
#My2k doesn't mean crap if you keep spending! Keep taxing and we all pay the price through higher prices for consumer products.—
Scott Sebenaler (@fdipays) November 28, 2012
Well that's interesting RT @politicalmath Every time a hummingbird flaps its wings, the gov't spends #My2K (57 times per second)—
Bret Baier (@BretBaier) November 28, 2012
Dear #My2K liberals: For all our sakes, please consult a dictionary as to the difference between "given" and "taken away." #caring—
Angela Nelson (@angelaisms) November 28, 2012
Because what Americans need right now is to become even flinchier. #my2k—
Stephen Green (@VodkaPundit) November 28, 2012
RT @bethanyshondark: When Work Is Punished: The Tragedy Of America's Welfare State ow.ly/fEuJL #my2k—
Kristina (@KristinaRibali) November 28, 2012
It is truly telling that the Obama administration wants to use hashtag #My2K. It's all about ME. Even though somebody else pays my salary.—
Ben Shapiro (@benshapiro) November 28, 2012
#My2K should really be #SomeoneElses2K since people begging government not to take their money are telling them to take it from someone else—
Derek Hunter (@derekahunter) November 28, 2012
If the President spent half as much time identifying spending cuts as he does playing hashtag games… #my2k—
Rory Cooper (@rorycooper) November 28, 2012
FYI @WhiteHouse: House GOP voted to stop #my2k tax rate hikes & defend #smallbiz jobs. What spending will Dems cut to stop #fiscalcliff?—
Speaker John Boehner (@SpeakerBoehner) November 28, 2012
Doug Benson gets in on the action.
The President of my country asked me to tweet #MY2K. Done. Now I"m asking him to stop the war on drugs. #AndWarsInGeneral @BarackObama—
Doug Benson (@DougBenson) November 28, 2012
Heh.
Oh, it's trending.
Why is #My2k trending on @twitter in the US? Find out and share your story: on.wh.gov/8Bx3NPT—
The White House (@whitehouse) November 28, 2012
But not in the good way, White House.
I give it just a few minutes before the conservative Twitter community completely floods #my2k. Doesn't the administration know by now?—
Ellen Carmichael (@ellencarmichael) November 28, 2012
#Protip for the @WhiteHouse: If you're going to make the hard sell on a hashtag, buy the rights to promote it first. Idiots. #My2K—
Bethany S. Mandel (@bethanyshondark) November 28, 2012
Bless your heart!
And, a three-way tie for the win.
#Y2K was caused by programmers failing to limit date codes to 4 places. #My2K was caused by Americans failing to limit Obama to 4 years.—
Michael Deppisch (@deppisch) November 28, 2012
#My2K is just a warm-up. We'll know Obama is really serious about the fiscal cliff when he creates a Pinterest board.—
Jon Gabriel (@ExJon) November 28, 2012
If tax cuts get extended for 98%, give O White House credit for the #My2K hashtag. Give Pres. Bush credit for the tax cuts.—
Ari Fleischer (@AriFleischer) November 28, 2012