I'm following the stream of angry tweets about KMart's bait and switch $199 TV. Lol

—
Michael Weber (@m_weber) November 22, 2012
Black Friday came one day early at Kmart this morning with long pre-dawn lines at stores throughout the country:
#This is really happening… #Thanksgiving sales.. #Kmart #pre #blackFriday instagr.am/p/SVJYjoEvCu/—
ITweetCha (@TwittaBeata) November 22, 2012
Outside of KMart waiting in line #freezing—
LanceJetJetson (@L_Nino357) November 22, 2012
I can't believe how many people are outside of Kmart right now.—
Brianaaa ♥ (@SimplyBri_15) November 22, 2012
Kmart off Da Chain….. @ Kmart instagr.am/p/SVJp6QzNyb/—
Trawood Iz Hood (@_trawood) November 22, 2012
Incredibly long line here at the Kmart in North Alabama. It's only 347am and people are lined up, wrapping around the building.—
Adam Henry (@viewofadam) November 22, 2012
HAPPENING NOW: The Davenport @Kmart parking lot is already full. More than 100 people lined up for 6 AM opening: twitpic.com/bfcwjk—
David Nelson (@davidatkwqc) November 22, 2012
Many shoppers are hoping to score an inexpensive television set or tablet.
Bargain shoppers started lining up at midnight at the Kmart in McIntyre Square. All tell me they are buying tv's. http://t.co/FixdzGiB—
Lori Houy (@WPXI_Lori) November 22, 2012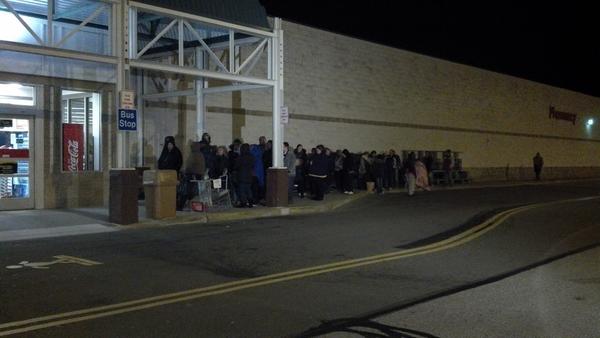 Just found out my mom is currently waiting in line for a ticket to a tv at Kmart #trooper #seriousshopper—
Ian Hibbs (@ihibbs) November 22, 2012
Hitting up Kmart at 5am for a TV, then back home to enjoy my favorite thing about the holidays…the Macy's Thanksgiving Day Parade :)—
Tiffany Cole (@TLCole29) November 22, 2012
Waiting 6 hours at Kmart for some tv action! 📺—
Jacob Bitzer (@Jacobbitzer) November 22, 2012
All ready to camp out tonight at kmart for a tv :) starting black friday early!!!—
danielle evans (@danii_vicious) November 22, 2012
Waiting at kmart for 8 hours just to get a damn tv—
Chuck Maresh (@ChuckMaresh) November 22, 2012
Pissed I waited at Kmart since 4, and didn't get my tablet bc they only had 3 of em.—
Donna Petersen (@ohheydonna) November 22, 2012
Up at 530 to get to Kmart, to wait in line and pray they have an android tablet left so i can buy it for my dad. #EveryoneBuyTheTVInstead—
Megan Hautekeete (@MeganMegoo) November 22, 2012
Wooooaah . Sitting outside of kmart at 2:46 am . I'm gon' get my tablet !—
a l a i n a . (@alaainanalani) November 22, 2012
Mike and I be in line at Kmart for an hour… Don't open till 6.. but we are getting this tv and tablet..—
Kels (@scmelso420) November 22, 2012
My sister just told me were going to Kmart to buy a tablet and TV AT FIVE IN THE MORNING !!!!—
peter ^~^ (@_lissssa) November 22, 2012
Kmart Jack two bitches was bouta fight over a TV—
☜♚DecemBURRRRR 30™ (@iJoeDaFlyGuy) November 22, 2012
This is stupid. Dragged to Kmart at 5 in the morning because my parents want a tv. I just wanna go back to bed. http://t.co/DcdajEsE—
Debra Jones (@debzjay) November 22, 2012

This is what most in the line of 200+ wanted @ Kmart in Mableton, but there are only 12 on sale. #news http://t.co/mSX5vuPe—
Jennifer Leslie (@jleslie11alive) November 22, 2012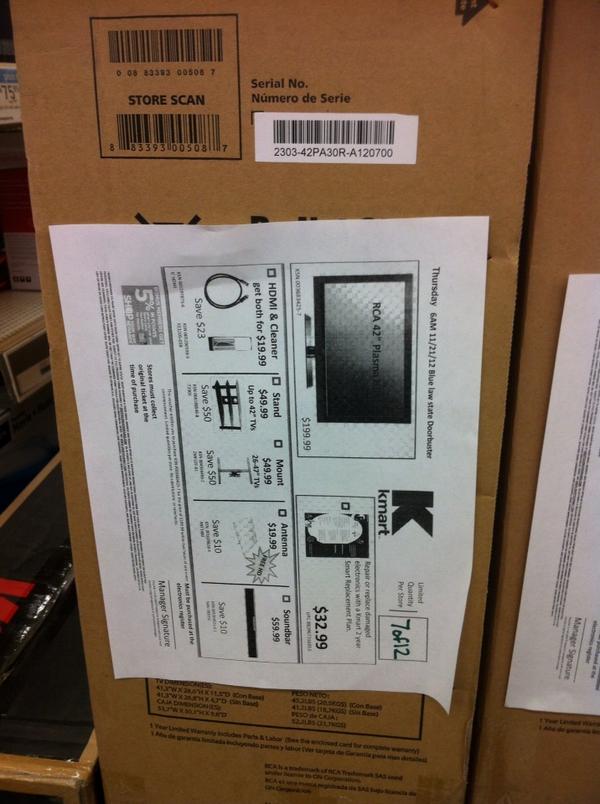 Unfortunately, the TVs and tablets sold out quickly, leaving many consumers empty-handed and disappointed:
Pissed I waited at Kmart since 4, and didn't get my tablet bc they only had 3 of em.—
Donna Petersen (@ohheydonna) November 22, 2012
I was up a 5 to go get a damn tv for my momma from Kmart and they only had 12. And the line was damn near to the road..—
XxNOV27_MyDayxX (@XxjusMEBellaxX) November 22, 2012
This why KMart so damn stupid now! How tf you gone have 1 TV?—
☀ (@CarlyKierra_) November 22, 2012
Is it wrong that I wanna twerk for my life out here in this line? I'm outside with Jackie for this $97 tv at Kmart. I get nothing—
Bobby ♓ (@RJ_Gunner) November 22, 2012
alas, ye olde, kmart was stuffed with many a peasant. a line an andoconda would be put to shame in length. i will not own a tablet nor tv.—
Anthony Valencia (@anthanus) November 22, 2012
KMART IS PETTY AS FUCK!!!!!—
AngelLucy (@An_GellyBean) November 22, 2012
Never fucking again will I stand outside to get something ! FUCK YOU KMART—
Krystal Gomez ™ (@_KrystalGomez6) November 22, 2012
Shoppers at @kmart are furious! I'm glad I wasn't shopping for electronics!—
SHARRON MABRY (@CIPE_Sharron) November 22, 2012
Some tweeters had a different reaction to the news:
Holy crap Kmart still exists?—
Tareque Sekandari (@tsekandari) November 22, 2012