KMGH renames Petraeus book "All Up In My Snatch." Seriously. This actually aired last night on @DenverChannel. http://t.co/nWRvluBD

—
Daniel Brogan (@dbrogan) November 13, 2012
Dude.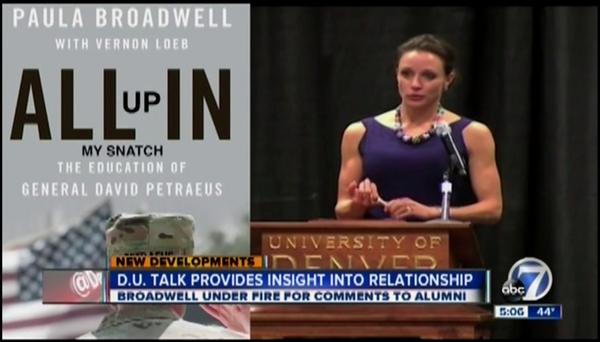 Video at NRO:
OOPS: Local station accidentally airs doctored image of Petraeus biography…title not Twitter-propriate (VIDEO) – bit.ly/UESCEo—
National Review (@NRO) November 13, 2012
No, ABC Denver, Paula Broadwell's Book is Not Titled 'All Up In My Snatch': With a 24/7 news cycle, it's … q.gs/2Zbah #bronx—
Bronx, NY News (@Bronx_NY_News) November 13, 2012
Intern gone wild? Or was ABC's Denver affiliate doing a little New York Post-style editorializing about the scandal involving Gen. David Petraeus and his biographer, Paula Broadwell?
Broadwell's Petraeus biography is actually titled "All In" (already unfortunate and snicker-worthy).
All In: The Education of General David Petraeus — the cover with Ms Broadwell's pic is suddenly deeply ironic! http://t.co/FD2hbWpT—
ejaz haider (@ejazhaider) November 10, 2012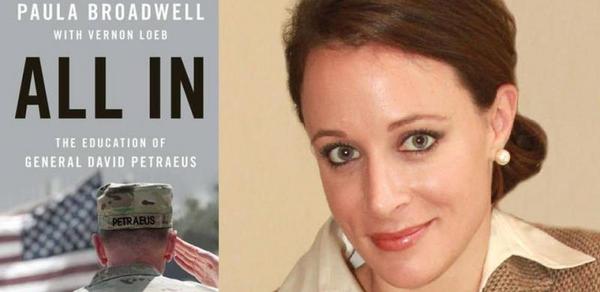 Top tip: When working in local TV, don't digitally alter a book cover to get smutty laughs in the office weeklystandard.com/blogs/abc-affi…—
Toby Harnden (@tobyharnden) November 13, 2012
A call placed the affiliate's assignment desk confirmed the unfortunate "mistake."

"That's correct," said the women working the assignment desk, confirming that the wrong book cover had been aired. "It was a mistake."
A mistake? Hmm:
Google has no trace of "All Up in My Snatch" photoshop. May be a Denver ABC original americablog.com/2012/11/abc-de…—
F. Bill McMorris (@FBillMcMorris) November 13, 2012
We have a feeling that "mistake" is likely to cost at least one person.
Who is being fired for changing the book title of Broadwell's book to "All up In my snatch" on the Denver channel this morning.—
(@tobyjack) November 13, 2012
Update:
KMGH news director to @Romenesko: Doctored Petraeus book cover pulled from the Internet – bit.ly/T1WEKt—
Matthew Keys (@TheMatthewKeys) November 13, 2012
The KMGH-TV news director claims, "The editor pulled the image of the book cover from the Internet without realizing it had been doctored