New York Post is merciless on Petraeus. instagr.am/p/R2jWJ-q8Ms/

—
Garrett Haake (@GarrettNBCNews) November 10, 2012
Obligatory Petraeus punning from the New York Post following the CIA director's admission of an extramarital affair.
Since @RobGeorge is the only writer for the NY post I know, I applaud him for this… lockerz.com/s/260340170—
John Brodigan (@brodigan) November 10, 2012
The NY Post's cover line on the Petraeus affair is "Cloak and Shag Her." I bet they've been sitting on that one since the 60s.—
Ellen Wernecke (@neithernor) November 10, 2012
The Daily News also got in on the action, but there's really no competing with the Post.
The Post and Daily News are stoked about the Petraeus scandal: http://t.co/59f8wiaL—
Andrew Gauthier (@AndrewGauthier) November 10, 2012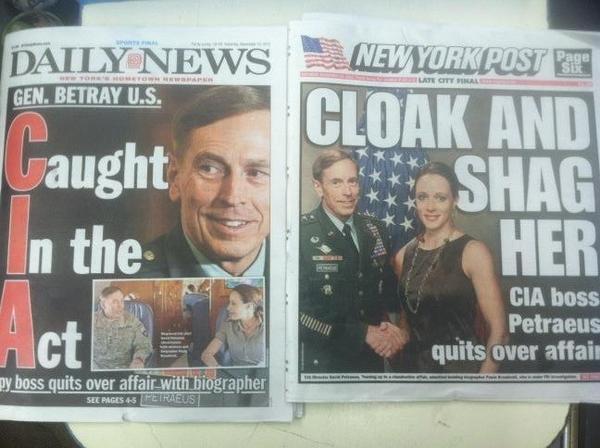 Sorry, Daily News, the New York Post wins this round.
NY Post definitely wins today's tabloid headline battle, Petraeus edition. twitpic.com/bbzo3v—
Aman Batheja (@amanbatheja) November 10, 2012