Damn polling in ohio is getting heated. Group of x navy seals on route to stop black panthers from scaring republican voters. Seals are BA!!

—
Sam Gonzalez (@_BeanDip_) November 06, 2012
As Twitchy reported, the New Black Panthers are in Philadelphia, thuggishly trying to intimidate voters. There are now also reports that they are in Ohio.
There are black panthers standing outside polling booths in Ohio, If a white supremacist group did that it would be racist—
Ryan Knight (@Knightryan21) November 06, 2012
Black panthers in Ohio. This is messed up America. Voter intimidation again…someone alert atty gen holder, oh…neverfrickin mind…—
eric lundberg jr (@EricLundbe) November 06, 2012
Black Panthers at Cuyahoga county Ohio board of elections.. http://t.co/vWoAsmeS—
Katie Williams (@katieb_williams) November 06, 2012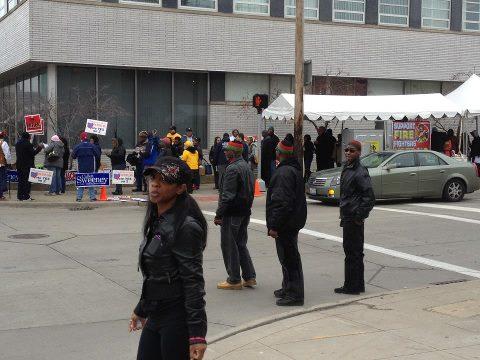 Other reports now indicate that former Navy SEALs, perhaps from True the Vote, are on their way to help guard against this voter intimidation.
Oh my. RT @ToddKincannon: Rumor is that Navy SEALs from @TrueTheVote are about to confront the Black Panthers at the Philly polling location—
Lachlan Markay (@lachlan) November 06, 2012
Fox News seems to be confirming.
Reports now of Black Panthers at polling places in PA and Cleveland, OH. Don't be intimidated, Americans!—
(@toddstarnes) November 06, 2012
Heard on Fox news that Former Navy Seals @ polling places to make sure people are not being intimated…GO VOTE—
Armybratt1 (@jilllane) November 06, 2012
@SalenaZitoTrib And Fox News reporting Navy Seals are showing up in Philly—
Barbara R (@PeriwinkleDsgns) November 06, 2012
NAVY SEALS to confront Black Panthers at polling places—
jeanne kelley (@jkellone) November 06, 2012
Special Forces in Ohio, Navy Seals in Philly to keep Black Panthers from harming & Intimidating Voters. What's THAT tell you America?—
Terri (@Diggin_Digital) November 06, 2012
BREAKING! SEALS have arrived at polling places in Phillie where Black Panthers are intimidating voters! God bless our Navy SEALs!
#Romney—
(@dq24) November 06, 2012
Democrats bring in the UN and the Black Panthers to watch the polls. Republicans bring in the Navy SEALs. #Merica—
Tyler Hunter (@tylerhunter23) November 06, 2012
Black Panther at door of Philly polling place.Ret Navy Seals say they will be there to insure voters get to vote.Rem O & Holder upheld this!—
RealTexasRodeoQueen (@reltxrodeoqueen) November 06, 2012
Twitchy will monitor and update as confirmation and new developments occur.
Update:
Black Panther reported at the polls in… Cleveland. Looking for pics.—
Election Journal (@electionjournal) November 06, 2012
More info on the SEALs and Special Ops program to counter voter intimidation:
GET OUT THE VET!!!!!—->>>>SEALs stare down the New Black Panthers in Philly. Now, who's tough? blogs.phillymag.com/the_philly_pos…—
Feminae Vitam (@mxrmill) November 06, 2012
Fox News has video on "Get out the Vet":
Navy SEALS to stop Black Panther voter intimidation. I DARE MSM to call them racist #tcot #gop #p2 #Romney #election video.foxnews.com/v/185768697300…—
Simon Templar (@SimonTemplarPV) November 06, 2012