Million Puppet March on Capitol Hill bit.ly/Qe6SIo One skunk puppet w placard 'Romney Smells Funny' @maddow @dailykos @granholmtwr

—
(@LOrion) November 03, 2012
Big Bird-obsessed whiners were shooting for a Million Moocher Meltdown in Washington, D.C., today. The Million Puppet March did have a better turnout than a Sandra Fluke rally, but just barely.
Damn, I missed the Million Puppet March today. Apparently, so did 999,500 puppets. #tcot #millionpuppetmarch—
Leigh Scott (@realleighscott) November 04, 2012
Million Muppet March draws…."hundreds" hahahaha, snicker, snort #!—
Susan Jones (@toomanyyungins) November 03, 2012
Halloween's over but people dress up for the million #puppet march at the reflecting pool. @wusa9 instagr.am/p/RkzAi2SY5e/—
(@suraechinn) November 03, 2012
Although both organizers and media reports claimed the event was a "nonpartisan march," that didn't stop people from dressing up as Sesame Street's Ernie and Bert and marching alongside small children carrying signs reading, "Mitt RobMe, Our shows teach acceptance and tolerance. Apparently you missed that lesson! Brought to you by the letters F and U!"
My report from the Million Puppet March airs tomorrow am on #News4Today. & @ United States Capitol Building instagr.am/p/Rlfq2OHAg9/—
Seth Lemon (@sethalemon) November 03, 2012
At least one woman dressed as Romney's Binder, and several Big Birds were spotted in the wild as well, one carrying a trash can with a Mitt Romney effigy inside. Cookie Monster was spotted also, carrying a placard claiming that the Disney-owned Muppets are the 47 percent.
Taken earlier today at the 'Million Puppet March' in Lincoln Park, an event held in support of #pubmedia http://t.co/Vl8aQ66Q—
Ayşe Alibeyoğlu (@aysealibey) November 03, 2012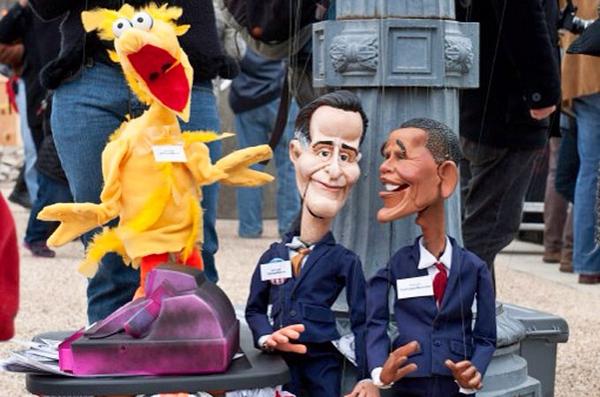 #millionpuppetmarch in Washington #savebigbird http://t.co/hpGYwL6g—
John Wilson (@wilsonjohnw) November 03, 2012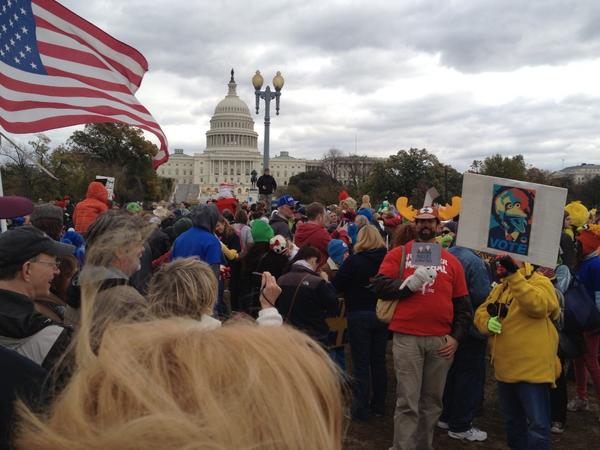 Organizers concluded that the gathering was truly amazing.
Truly amazing #mpm2012 http://t.co/HfVhGzFE—
Million Puppet March (@MillionPuppets) November 03, 2012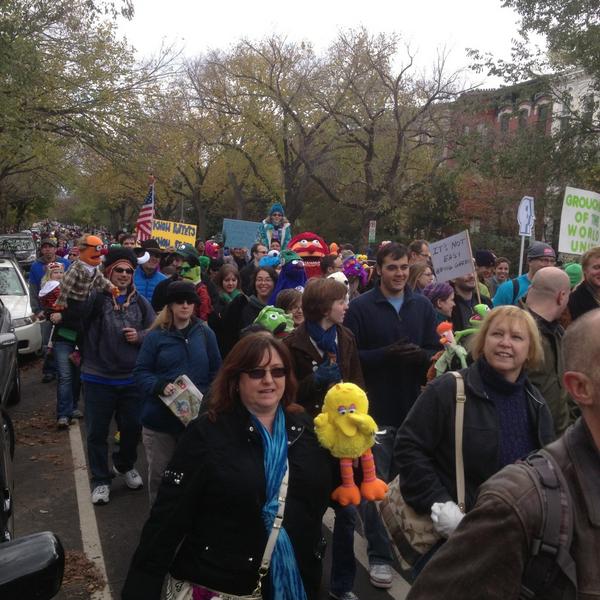 These people were amazed as well.
m.washingtonpost.com/blogs/arts-pos… Seriously? Shouldn't we be focused on helping #sandy victims?—
The Siren's Tale (@TheSirensTale) November 03, 2012
There's a Million Puppet March going on today in DC to show support for PBS. Seriously.—
Steve Bonner (@humanist_steve) November 03, 2012
Fail of the Century? Million Puppet March draws crowd of like 12 muppets or something despite #Sandy devastation: on.fb.me/VmWRtb #tcot—
(@RacerX30) November 03, 2012
Million puppet march?!?! Are you freakin' kidding me?!—
(@nerdopansey) November 03, 2012
@MuppetsHenson it was an amazing day. something to remember forever.—
Million Puppet March (@MillionPuppets) November 03, 2012