Poser of the United States dons Top Gun jacket huffingtonpost.com/2012/11/01/oba… ==> Photo-op prez michellemalkin.com/2012/11/02/pos…

—
Michelle Malkin (@michellemalkin) November 02, 2012
Just call him Iceman.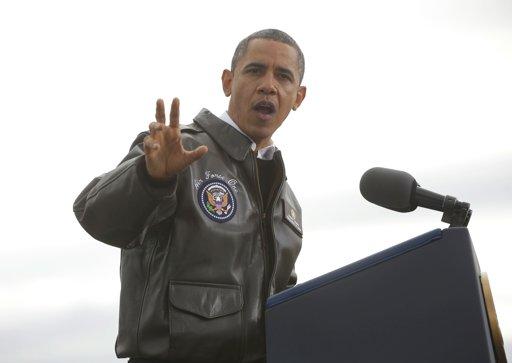 No doubt finding it increasingly difficult to be taken seriously, President Obama is trying to win the nation's respect by donning a bomber jacket. But conservatives aren't feeling the macho act:
@michellemalkin obama looks silly in that bomber jacket. All image. Zero substance. No wonder the shallow hollyweirdo crowd loves him ! ! !—
(@obamaisdone) November 02, 2012
**Hey @DanaMilbank remember when you freaked out about George Bush wearing a bomber jacket? Why so quiet now? bit.ly/TznaL2 #tcot #p2—
el SOOPer (@SooperMexican) November 02, 2012
OBAMA DONS BOMBER JACKET; WILL LIBERALS REMEMBER CALLING BUSH A FASCIST FOR DOING THE SAME? goo.gl/fb/HDkjw—
iOwnTheWorld (@iotw) November 02, 2012
Nah. Consistency isn't exactly the Left's strong suit.
Staten Island is turning into a Mad Max movie while the press praises Obama for his bomber jacket show. #sandy #tcot—
RB (@RBPundit) November 02, 2012
Don't fret Staten Island for #Obama will send you some swell pictures of him wearing a Bomber Jacker for you to chew on. #tcot #p2 #wiunion—
James Madison (@SpiritOfMadison) November 02, 2012
What a dope! Obama's running around today in a bomber jacket with a patch that says "President Obama Commander in Chief/" He REALLY is nuts!—
Robbie, American!! (@RROKC) November 02, 2012
Am I the only one who thought Obama's "bomber" jacket looked ridiculous? It was like kindergarten. He had his name badge glued on it.—
Nite Owl Mom (@niteowlmom3) November 02, 2012
As a person who earned the right to wear a Bomber Jacket (and doesn't) it makes my blood boil to see obama pretending to be CINC with one.—
James P (JP) Morgan (@minerjp) November 02, 2012
What's w/ #Obama & bomber jacket. He insults miltry by wearing it. Dems think that right jacket (doctors coats) make their lies credible.—
Taxed2Death (@Taxed2Death911) November 02, 2012
MT "@toddstarnes: 47 degrees — and no power in NYC… Meanwhile, Obama campaigns." In a cozy leather bomber jacket.—
Tank (@Tank_Adams) November 02, 2012
Obama in his "bomber" jacket; great Halloween costume. Maybe he has another in extra small for Bloomberg.—
Joseph Tracey, Sr. (@jptsr71) November 02, 2012
Obama wearing a bomber's jacket is so glib.I bet he has a letter jacket in his closet he didn't earn right by an unwarranted Nobel Prize.—
JD Bowen (@jd_bowen) November 02, 2012
Whoever told Obama to run across the Tarmac in a bomber jacket with #Bengahzi and #Sandy people denied help due to unions should be 5150ed.—
Mark Hudson (@MarkHudson3502) November 02, 2012
After Obama told our military to STAND DOWN ..he has the nerve to show up in his bomber jacket? #disgusting—
Sunny (@lilmsunshne) November 02, 2012
It's a disgrace that Obama's wearing a Bomber Jacket w/ prez logo on it. Salt in the Seal's wounds. Can't wait until Tuesday!!—
chris black (@chrisblack35) November 02, 2012
Love that 'The Obama' broke out the Bomber jacket for #Sandy & final campaign stretch, beats the feet pajamas he slept in during Benghazi—
Tom (@TRCreamer) November 02, 2012
Was Obama wearing his cute tough-guy bomber jacket when Benghazi was under attack for all those hrs?—
Laura Ingraham (@IngrahamAngle) November 01, 2012
We'd go to the photo of Obama in the Benghazi situation room, but there isn't one.
The Empty Suit is now the Empty Bomber Jacket. is.gd/wqSNM1—
VoiceInTheWilderness (@VoiceInTheWild2) November 02, 2012
And the threads are unraveling.