Rush Limbaugh target Sandra Fluke campaigning for Obama at UF. http://t.co/TiDETiLL

—
Nathan Crabbe (@nathancrabbe) October 31, 2012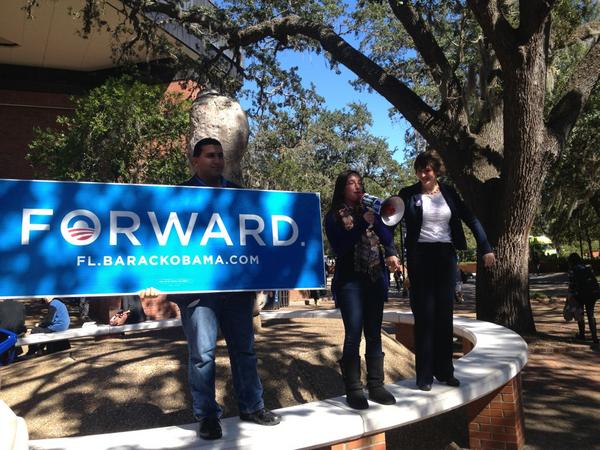 On Wednesday, lady parts grievance-monger and full-time Obama cheerleader Sandra Fluke brought her rah-rah-victimhood routine to the University of Florida.
#FiredUp crowd of #GatorsforObama @ @UFlorida. they get how important it is that #students #gotv in #florida for #Obama2012.—
Sandra Fluke (@SandraFluke) October 31, 2012
A "crowd"? Oh, honey, can't the Obama campaign spring for a dictionary along with your birth control?
Fluke whipped out her Obama for America pom-poms in front of a "crowd" that reportedly numbered in the TENs. Moving on up! Just last month, Fluke fired up an enthusiastic gathering of just ten people at the Sack 'N Save in Reno, Nevada.
So, with crowds like these, Sandra Fluke will be on the bar mitzvah/wedding circuit soon right?—
Matt Cover (@MattCover) November 01, 2012
Sandra Fluke Draws Massive Crowd of 40 at University of Florida jammiewf.com/?p=19875—
JammieWearingFool (@JammieWF) November 01, 2012
Via Jammie Wearing Fools, The Alligator reports:
Fluke stopped at UF as part of her "It's On You" Youth Early Vote Campus Outreach tour.

About 40 students gathered by the potato statue to listen.
Jammie Wearing Fools caught this tweet which captures just how humiliating the turnout was for the woman Dennis Miller dubbed Moan of Arc.
@JammieWF You have to be familiar with the UF to know how truly pathetic this was. The rally was held at a main hub on campus. #fluke—
Matt Stevens (@MStevensG8r) November 01, 2012
A few images from the kaffeeklatsch, er, "rally":
Today @SandraFluke was at UF to help make sure everyone gets out and votes. Thanks for helping turn out Florida voters. instagr.am/p/RdOyyZsmpM/—
Kathryn Elizabeth (@rynthetyn) October 31, 2012
RT @jordan_budd: Hey @SandraFluke! Thanks for speaking to #GatorsforObama today! #obama2012 instagr.am/p/RdEl8hgZie/—
The Happy Feminist (@HappyFeminist) October 31, 2012
Hey UF: @SandraFluke wants you to #VoteEarly! We'll drive you! #YesWeVan #Obama2012 instagr.am/p/RdE8E9AZiq/—
Jordan Budd (@jordan_budd) October 31, 2012
Oh, goodness! The turnout was so great, they might have to grab a second van. Forward!